Basketball: French Cup
Trophée Joë Jaunay
Trophée Coupe de France féminine
The first basketball Coupe de France for women was played during the season 1956-57 and was won by As Monferrand. They defended the title the following season.
The competition was played once more in the 1959-60 season. (The list of all the winners from the various competitions including the youth one can be found on our French cup history honours page.)
From 1960 until 1995 the competition was not played at a national level.
In 1995 the competition became national with all the teams in France having the right to participate. However during the 2004-2005 season the competition was modified and split into two competitions.
The French cup became the Trophée Joë Jaunay and was restricted to teams in the LFB and the LF2 (former NF1).
Yet the finalists from the Trophée Coupe de France féminine are also allowed to participate in this competition.
The amateur version of the French cup is open to all the other teams of any division in France. There are a number of regional qualification rounds before the first round proper of this competition.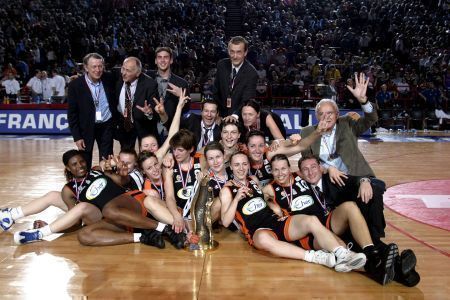 Yet the French Basketball Federation rewards the finalists of the amateur cup from the previous season by allowing them to participate in the Joë Jaunay competition if they have not been promoted to LF2.
Since the number of teams in LF2 was reduced, other clubs from NF1 are invited to take part, too, while skipping the early rounds of the amateur version. Once these amateur teams are eliminated, they are reintegrated into the current round of the amateur version of the competition.
The third national basketball cup competition is known as the Cadette Cup (Coupe de l'Avenir) with the name of the trophy tending to take on the sponsor name. This competition was restricted to players in the under 18 categories and is since 2013 restricted to players under the age of 17.
You can move between sections as they appear by clicking on the links below or by scrolling down the page.
1. Coupe de France / French Cup news (current season)

2. Trophée Coupe de France - French amateur cup news
Archived News from previous season
---
French Cup News
Season 2014

11 May 2014: Tango Bourges Basket get their hands on the trophy

10 May 2014: Lyon BF are U17 winners for the first time since 1975

16 February 2014: Bourges Basket to meet Villeneuve d'Ascq in May

01 February 2014: Home court advantage helped three teams

02 November 2013: 8 teams from the LFB qualify for quarter-final
16 October 2013: Geispolsheim's Coupe de France battle
08 October 2013: 32 teams drawn in the first round
---
Trophée Coupe de France - Amateur French Cup News
10 May 2014: CSP Rezé roll over Geispolsheim for the title
05 May 2013: Saint-Etienne (CASE Basket) lift the winners trophy
19 May 2012: L'Union Féminine Angers Basket 49 win trophy for second time
15 May 2011: US Laveyron win the cup second time around
19 April 2011: CSP Rezé and US Laveyron qualify for Amateur cup final
16 May 2010: Angers Union Féminine Basket take the amateur cup home
19 April 2010: Angers-UFB & AS Villeurbanne will contest Amateur Cup final
22 March 2010: Beaupréau Fief Sauvin Basket dreams continues

Return to the page index
---
Visit our basketball news page

Coupe de France picture credits:


Bellenger/IS/FFBB - Ligue Féminine de Basketball


Date created: 12 January 2010
Last update: 11 May 2014
Like this page / Aimez cette page