FIBA Europe Under 18
European Championship for Women
The very first youth FIBA international event for women under 18 was the Europen Championship which was inaugurated in 1965.
11 teams participated in the first edition of the competition and the Soviet Union (USSR) became the champions with a perfect 9-0 record.
The competition was held every two years until 2004. The only exception was in 1984, when it was decided to change the tournament to be played in an even numbered year.
The USSR dominated the competition in the early years winning the first five editions: 1965, 1967, 1969, 1971, 1973.
Czechoslovakia broke the Soviet Union's sequence in 1975 and also again in 1983. Yugoslavia was the only other nation to win a European Championship in 1984 apart from the Soviet Union.
The Soviet Union won their last title in 1990 (11th title), but were winners again in 1992 under the name as the CIS.
Russia took over from the USSR and won the competition in 1996, 2000, 2002 and 2004. Italy became the first team outside Eastern Europe to win the title in 1994, while Spain won in 1998.
In 2005 FIBA Europe introduced the two-division concept for the U18 Championships, with 16 teams in Division A and the rest in Division B.
By doing this it became possible to have a championship every year and the concept of relegation and promotion was introduced.
The bottom two teams from the Division A championship are replaced by the top teams from the Division B tournament every year.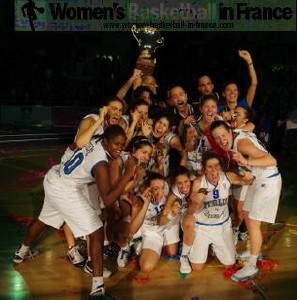 Serbia won the first Division A title in 2005 and also had success in 2007.
Spain added two more titles to their name in 2006 and 2009. Lithuania picked up their first title in 2008 and Italy won for the second time in 2010. Belgium added their name to the winner's list in 2011.
France have never been U18 champions of Europe but were silver medallists on three occasions: 1981, 2002, 2009. France also won bronze in 2010.
The U18 Championship is also used as the U19 World Championship qualification event for the European zone every other year, in which the top five teams qualify.
You are able to find the links on the right side of this page of our own coverage from previous U18 European championships.
---
Return from FIBA Europe U18 European Championship for Women to "What's New" page
Return to the top of page
---
Picture credits:


womensbasketball-in-france.com
FIBA Europe - Elio Castoria

Date created: 03 August 2011
Last updated: 24 August 2011
---