LFB round 19: Miss Go shines in
defeat - not a good week for Arras

French international Emilie Gomis is finally back on the basketball court. She has joined Croatian international Antonija Misura at Toulouse.
With the focus on qualifying for the end-of-season play-offs, Arras, Charleville-Mézières and Nantes-Rezé received bad news from the French Basketball Federation. All three clubs were deducted 1 point for financial violations. The clubs concerned have the right to appeal.
Veuillez trouver des informations en français sur la 19ème journée de la LFB en bas de la page.
The biggest losers of the weekend were Arras on and off the basketball court. This week's defeat and the point deduction may cost them a place in the top 4 at the end of the regular season.

Michelle Plouffe rolled her ankle during training in midweek and is out for at least two weeks. To complete Arras' nightmare week, during the match, Marielle Amant, a former Arras player and playing this season for Villeneuve d'Ascq accidentally stepped on the foot of Maggie Lucas with a little over six minutes played.
For "Machine Gun Maggie" the game was over while Villeneuve took full advantage to overturn their hosts and win the derby match (78-64).
For the first time this season all ten players from Villeneuve d'Ascq played and scored at least 4 points.
With this win Villeneuve move up to third while Arras drop to fifth place.
Rest of LFB news from round 19

Emile Gomis
7 consecutive points by Emilie Gomis on her LFB debut for Toulouse and her exploit during the fourth quarter almost rocked the defending champions Lattes Montpellier on their home court. The game was tied (58-58) with just under two minutes to play.
However Toulouse failed to score again and the French Champions crawled home (64-58). With Mistie Bass out for the rest of the regular season (she had an operation on her knee), Naomi Halman took the opportunity to show off her offensive capabilities with a 5-of-7 shooting day and 10 points.
With this victory Montpellier join Bourges Basket as the only teams to be assured a place in the top 8 at the end of the LFB regular season. Toulouse remain in 11th place. But one more victory this season should be enough for them to stay in the elite.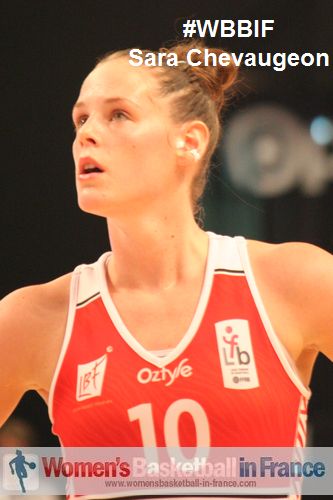 Sara Chevaugeon shot 8-of-10 from the floor
It does not matter who starts for Tango Bourges domestically, the final result is always a victory. This time Bourges rolled over Lyon (84-53) with nine players clocking up 20 minutes. Pauline Lo with 6 assists and 11 points was the pick from the players who started off the bench. Sara Chevaugeon was at her offensive best for Lyon with 19 points coming from 8-of-10 attempts.
Basket Landes are not flying. Yet they still had enough fire power to hold off Hainaut Basket (68-52) while Tarbes ended their five-game losing streak with a win against COB Calais (76-65).
Angers went on a 16-0 run during the first quarter against Charleville-Mézières (26-11) but then failed to finish off their opponents. Instead the match went down to the wire as both sides missed crucial free throws.
Charleville-Mézières had the chance of stealing the game with the very last shot. However Angers' defence held out making the last attempt next to impossible. Angers won (65-63) and remain in sixth place while Charleville drop out of the top 8 for the first time this season.

Nantes-Rezé, with the return of Emiljia Podrug (16 points) from injury and a dominant Aurélie Bonnan (16 points, 6 assists and 17 rebounds) were too physical for Mondeville. 
Nantes' margin of victory (74-58) means that they have the advantage over Mondeville in case both sides finish level at the end of the season.
However due to the point deduction for Charleville and Nantes, Mondeville move up to 8th place.

---
Miss Go revient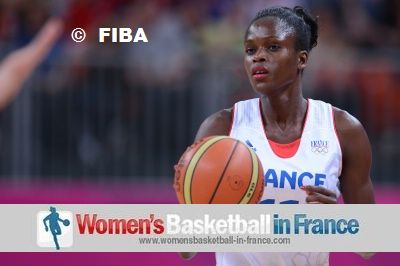 Emilie Gomis
Arras souffre non pas seulement de l'absence de ses blessées, la Canadienne Michelle Plouffe et l'Américaine Maggie Lucas, et ainsi succombe à la 19e journée, mais aussi du fait que la formation a eu un retrait d'1 point ferme dû aux sanctions par la Commission de Contrôle de Gestion (CCG).

Pendant le derby du Nord, dès la sixième minute, Lucas sort à cause d'une blessure à la cheville. Puis Villeneuve d'Ascq en profite et remporte le match (78-64).

Avec ce résultat l'ESBVA-LM monte sur la troisième pendant que Arras tombe à la cinquième place du classement.

Le retour de Emilie Gomis au sein de la LFB et sur le terrain de basket ne reste pas inaperçu. Avec 7 points consecutifs, Gomis égalise pour Toulouse Métropole à moins de deux minutes de la fin de la rencontre.
Mais les Toulousaines échouent contre Lattes Montpellier. Les Héraultaises, emmenéés par Valéria Ayayi (15 points), assurent pour une victoire de (64-58) et une place dans le top 8 à la fin de la saison régulière.

Comme d'habitude, Tango Bourges Basket gagne sa rencontre à domicile. Les Tango s'imposent (84-53) contre Lyon BF. Pauline Lo (11 points) accumule autant de passes décisives que sa co-équipière Céline Dumerc (9 points).
Sara Chevaugeon de Lyon est très adroite pour Lyon BF avec 19 points de 8 sur 10 tirs réussis.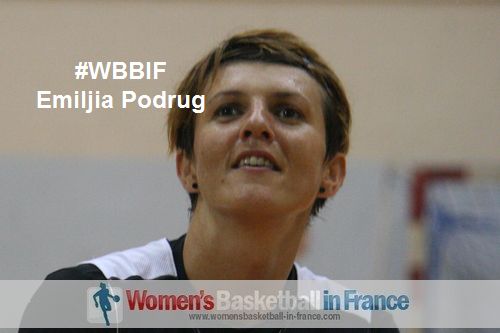 Emiljia Podrug
Basket Landes gagne à nouveau. Mais la victoire est laboureuse contre Hainaut Basket (68-52) pendant que Tarbes - après cinq défaites consécutives - bat COB Calais (76-65).
Angers commence fort dans le premier quart contre Charleville-Mézières (26-11) mais ne l'achève pas. Ainsi Charleville grignote aux scores mais la défense de son adversaire reste quasi infranchisable au money time et Angers gagne de justesse (65-63). Angers reste à la sixième place du tableau pendant que Charleville quitte le top 8 pour la première fois de la saison.
Le retour de Emiljia Podrug (16 pionts) après blessure et une bonne performance de Aurélie Bonnan (16 points, 6 passes décisives, 17 rebonds) sont bénéfiques à Nantes-Rezé qui s'impose contre USO Mondeville (74-58). 
Mais la perte de 1 point comme Arras et Charleville-Mézières, fait monter Mondeville à la huitième place du classement actuel.
Like this page / Aimez cette page