When the ball is dropping
in the LFB round 18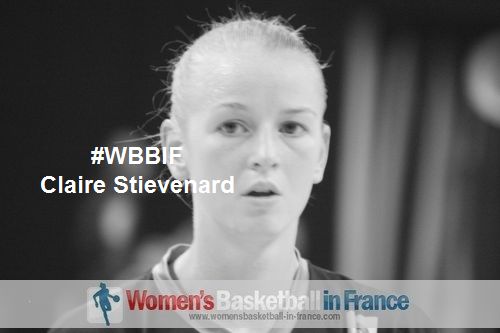 LFB player Claire Stievenard scored 10 points in 10 minutes
We have come to the point in the LFB regular season when the teams that are more accurate in their shot selection tend to win games. This weekend all the winning teams hit more than 46% of their shots from open play.
With the confirmation that the Ligue Féminine de Basket will remain at 14 teams at least for the 2015-16 season, only the bottom two teams are concerned with the threat of moving out of the elite.
Veuillez trouver des informations en français sur la 18ème journée de la LFB en bas de la page.
Toulouse defy Bourges in the first half of the encounter
Toulouse held their own for 22 minutes and led Bourges Basket  by 1 point (38-37). But by the end of the third quarter Bourges Basket had taken control (57-45) and then cruised to victory (72-57) by hitting 47% of their shots.
Marianna Tolo had the honour of leading the offensive with 18 points. Every single player from Bourges registered at least 1 assist. Olivia Epoupa finished the game with the most defensive rebounds that is 9. But it was her team-mates Miranda Ayim and Abby Gaye that provided the offensive fire power with 19 and 13 points each.
Rest of LFB news from round 18

Lattes Montpellier finished with an even 50% success rate from open play and 78% from the charity stripes in their victory against Villeneuve d'Ascq (76-63).
The Lattes Montpellier bench with Gaëlle Skrela (19 points, 5 assists), Mistie Bass (15 points) and Ingrid Tanqueray (6 points) outscored the starting five with 40 of their team's 76 points.
Villeneuve played much better than in the last week's defeat against Bourges. Yet with just over 45% of their shots connecting and fewer trips to the free-throw line, they had no chance to challenge their opponent despite a near perfect evening for Ann Wauters who filled the stats sheet with 12 points, 2 blocks, 2 steals, 2 assists and 5 rebounds.
Arras are just having fun this season. They travelled to Tarbes, hit 46% of their shots and won the match (72-66). Djene Diawara had a monster performance at both ends of the court (23 points, 9 offensive rebounds, 10 defensive rebounds, 2 blocks).
Erin Rooney who does not score many points dished out 8 assists to go with her 8 points while the remaining starters all scored 10 or more points. Alex Bentley was the only player from Tarbes in double digits with 23 points.
Basket Landes had an easy weekend with a comfortable victory against COB Calais (89-45). All 11 players got on the court with nobody playing less than 12 minutes.
Hainaut Basket signed two new players this week, Katerina Zohnova and Ana Poceks. However nothing changed as they suffered their 12th straight LFB defeat at the hands of USO Mondeville (65-74).
In the remaining games of the weekend Lizanne Murphy with 19 points and 19 rebounds, and Elise Prodhomme with 20 points, fired Angers past Lyon (83-73).
Nantes-Rezé had the best shooting percentage of the weekend with a 54% success rate. This helped them win on the road against Charleville Mézières (70-64).
Shona Thorburn, on her debut for the winners, dished out 8 assists to go with her 8 points while Claire Stievenard helped herself to 10 points from 5-of-6 shooting in just 10 minutes off the bench.
---
L'adresse mène à la victoire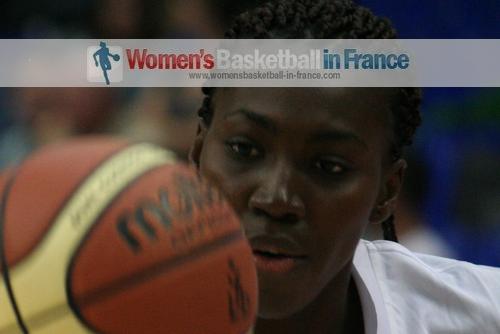 Djéné Diawara
Les vainqueurs de la 18e journée sont toutes des formations qui ont été plus adroites au shoot.
Pourtant rien de surprenant que les Tangos (avec 47% de réussite au shoot de l'extérieur et 74% à la ligne de lancer franc) vaincront les Toulousaines quoique la première moitié de la rencontre est plutôt équilibrée. Mais le moment que Bourges Basket remet ses bretelles, Toulouse succombe (57-72).
---
Lattes Montpellier prend le dessus contre Villeneuve d'Ascq avec 50% de réussite au shoot et gagne (76-63). Remarquable est aussi que les remplaçantes, Gaëlle Skrela (19 points, 5 passes décisives), Mistie Bass (15 points) et Ingrid Tanqueray (6 points) contribuent plus de points que les cinq majeurs.

Arras bat Tarbes (72-66) avec une réussite au tir de 46%. L'équipe gagnante est emmenée par Djéné Diawara (23 points, 19 rebonds, 2 contres).

Basket Landes fait tourner les joueuses pour s'imposer conte le COB Calais (89-45).

Sur le parquet de son adversaire, Nantes-Rezé réussit un deuxième succès consécutif en battant Charleville-Mézières (70-64). La clé pour la victoire est aussi une bonne adresse au shoot, 54% de réussite des tirs.

Grace aux bonnes performances de Lizanne Murphy (19 points, 19 rebonds) et de Elise Prodhomme (20 points), Angers signe une nouvelle victoire et bat ainsi Lyon BF (83-73).

Pour en finir, Hainaut Basket souffre une nouvelle défaite, perdant contre USO Mondeville (74-65).
---
Like this page / Aimez cette page