FIBA Europe EuroLeague Women index
Women's basketball at its best
The EuroLeague women's basketball competition brings together the top teams from various European basketball leagues.
The ELW competition format was changed for the 2011-2012 season by replacing the final four with a final eight.
The original plan was to have 24 teams split into three groups of eight, with the top four teams from each group qualifying for the knock-out stage alongside the best fifth placed teams.
The host of the final eight qualifies directly for the final phase.
However with just 21 teams for 2012-13, all three groups have seven teams.
Prior to FIBA Europe taking over the organisation of this competition in 1992 the competition was known as the European Cup for women's champions club.
The format has changed over the years and although it is still viewed as the highest professional competition in Europe, it is no longer reserved for the best clubs from national championships but allows in clubs that can afford to participate.
The 2012 champions Ros Casares from Spain stopped their activities in women's professional basketball from 2012-2013 because the demands of EuroLeague Women basketball over the years made the club financially ruined.
You are able to find the relevant links on the right side of this page of our coverage from the various editions of this competition.
We will be also updating this page with articles on major changes to the competition and historical moments.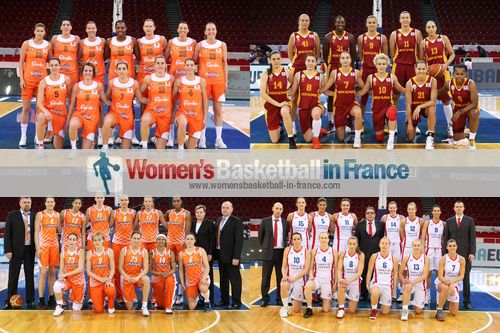 Historical Moments

24 March 2013: 2013 EuroLeague Women Champions are UMMC Ekaterinburg
01 April 2012: Ros Casares are champions of Europe
10 April 2011: Halcon Avenida end the reign of Sparta&K Moscow Region
11 April 2010: Spartak Moscow are four times champions
05 April 2009: Spartak Moscow Region are champions are again
13 April 2008: Spartak Moscow are back to back champions of EuroLeague Women
Other stories:

14 December 2011: Final Eight - Galatasaray Medical Park are first hosts
12 October 2011: ELW new competition format explained
08 March 2011: 2011 final four hosts are UMMC Ekaterinburg
08 March 2011: Rest of the World win 2011 All star game
25 October 2010: Changes for the 2011 Edition of ELW
08 March 2010: Ros Casares to host final four
09 March 2010: Europe beat The Rest of the World (93-89)
03 November 2009: Shabtai von Kalmanovic killed in Moscow

31 October 2009: Eurosport will show EuroLeague Basketball on television
20 October 2009: CSKA Moscow officially withdraw from competition
04 March 2009: Perfumerías (Halcon) Avenida will host final four
---
Visit our home page

Visit our "What's New" page
Picture credits:
womensbasketball-in-France.com

Date created: 09 October 2009
Last updated: 06 November  2013
Like this page / Aimez cette page