FIBA Europe EuroLeague Women index
2011-2012 season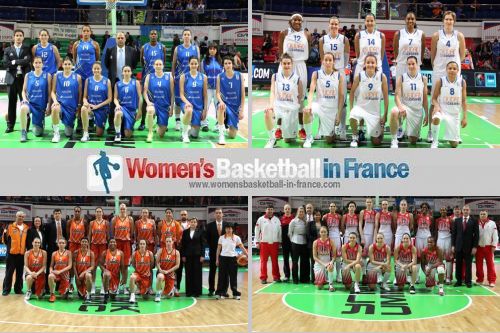 The
EuroLeague
women's basketball competition brings together the top teams from various European basketball leagues.
The
ELW competition format
had been changed for the season (2011-2012) by replacing the final four with a final eight.
The original plan had been to have 24 teams split into three groups of eight, with the top four teams from each group qualifying for the knock-out stage alongside the best fifth place teams.
The host of the Final Eight qualifies directly for the final phase.
However with just 23 teams this season, one group had seven teams.
The competition is still played in three distinct phases:
1. the group stage (round robin) in which eight teams are eliminated,
2. the second round - best of three series - in which seven teams are eliminated,
3. the final eight.
You are able to find the relevant links on the right side of this page of our covering the EuroLeague Women from previous seasons.
If live basketball coverage is not available on television or by live streaming during match day, it is possible to follow the play-by-play live actions of the matches here.
You can move between sections by clicking on the links below or by scrolling down the page.

1. General news

2. Final Eight

3. Second round

4. The qualification round news

---
EuroLeague Women general news
13 June 2012: USO Mondeville nominated because Lattes Montpellier decline ELW

21 May 2012: ELW 2013 modification may effect the French qualification system

05 April 2012: Season has come to an end - Looking ahead to 2013

11 January 2012: La Gazzetta dello Sport 2011 European player of the year is Alba Torrens

30 November 2011: Where to watch EuroLeague Women basketball

12 October 2011: ELW new competition format explained

12 May 2011: Diana Taurasi has signed for Galatasaray Medical Park

Return to the page index
---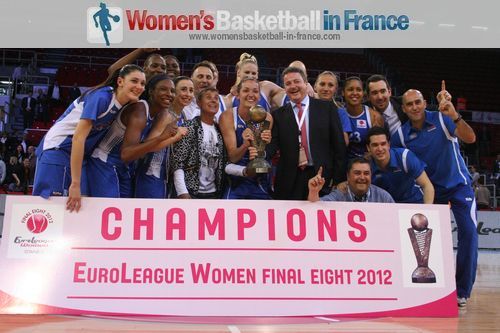 Final eight news
01 April 2012: Ros Casares are champions of Europe

28 March 2012: Final Eight - Tournament page

14 December 2011: Final Eight - Galatasaray Medical Park are first hosts

Return to the page index
---
Second round
29 February 2012: Joy for Sparta&K Moscow Region and Rivas Ecópolis

25 February 2012: No Final 8 for Perfumerías Avenida

21 February 2012: News from the first leg of the play-offs

01 February 2012: Seedings and brackets confirmed

Return to the page index
---
Qualification round
02 February 2012: Regular season over - Fenerbahçe SK unbeaten

26 January 2012: What did we learn about the teams in round 13

20 January 2012: Injuries spoil Galatasaray's victory - Qualification system explained

19 January 2012: Week 12 is all about ranking

12 January 2012: Round 11, 3 teams eliminated from Group A

15 December 2011: Bourges survive thriller, Natalia Hejkova is gone

15 December 2011: Fenerbahçe SK and Ros Casares qualify for second round

09 December 2011: Round 9 disappointment for Spanish clubs

08 December 2011: Round 9: Bourges Basket surprise UMMC Ekaterinburg

02 December 2011: Round 8: Not an exciting week for French clubs

01 December 2011: Pure EuroLeague Women basketball on day one of round 8

23 November 2011: Fenerbahçe SK undefeated at halfway stage

23 November 2011: Another perfect afternoon of Russian basketball

17 November 2011: Géraldine Robert playing to win

16 November 2011: Electricity in the air as teams battle for ranking points

09 November 2011: News and stories from round 5

04 November 2011: Bourges Basket lose again on the road, Galatasaray impressive

03 November 2011: Lattes Montpellier, only host to lose on first day of round 4

03 November 2011: Summer time in Ekaterinburg and Moscow

03 November 2011: Tarbes in trouble, joy of CCC Polkowice

27 October 2011: Ros Casares look so strong

26 October 2011: Galatasaray MP are not taking it easy

20 October 2011: History for Seat Unisze Györ - double-double for Elodie Godin

19 October 2011: Sparta&K Moscow Region lose at home - Alba Torrens explosive for Galatasaray MP

19 October 2011: UMMC Ekaterinburg handled the ball better than Bourges Basket (68-50)

13 October 2011: Sucessful return for Taurasi - good start for defending champions

13 October 2011: French veterans having fun while Russian clubs strike hard on opening day

Return to the page index
---
Return from FIBA Europe ELW page to "What's New" page
Return to Home page
EuroLeague Women Picture credit:

womensbasketball-in-france.com

Date created: 03 July 2012
---