Deanna Nolan and Sandrine Gruda spoil return for Céline Dumerc in EuroLeague Women encounter
Bourges Basket had to travel for this EuroLeague Women match without
Kiesha Brown
because they were unable to secure her visa. With Cathy Joens injured and players from the Basket Academy in school Bourges travelled with just eight players.
For Céline Dumerc it was a return to the club she had played for between 2009-2011. But it was her former team-mates who had the last say in this game.
Sandrine Gruda and Deanna Nolan (below in picture) continued from where they left off in ELW round 1 by once again sharing the scoring honours for UMMC Ekaterinburg with 16 points and 5 rebounds each.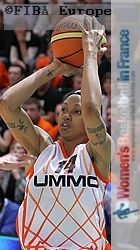 The suspense did not last long after a couple of minutes of observation (2-2).
UMMC finally warmed up and went on the offensive with Olga Arteshina scoring first with a pair from the charity stripes. Gruda and Nolan added points from open play before Anete Jekabsone-Zogota concluded the run with more points from the free-throw line (11-2). Jekabsone-Zogota had to leave the game shortly after scoring and did not return.
Styliani Kaltsidou put a brief halt to the Russian onslaught. Yet Bourges Basket trailed (6-19) after eight minutes.
Kaltsidou kept Bourges in contact with a total of 9 first-quarter points as her team reduced the deficit slightly with a 7-0 finish to the quarter (13-19).
Any hope of a Bourges' revival came to an end with a 10-2 run by the hosts which included three-pointers by Svetlana Abrosimova and Cappie Pondexter (29-15).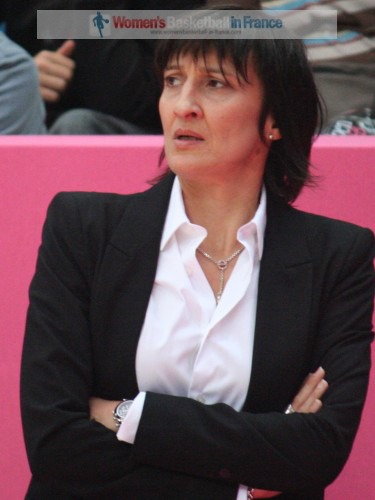 Valérie Garnier (in picture) called a time-out with 14 minutes played to put a stop to UMMC's dominance. Her tactics worked in slowing down the hosts. But turnovers and poor shooting saw her side head into the locker room trailing (23-38).
A 6-0 start by UMMC after the break more or less ended the game as a contest. However they continued to attack to go into the final quarter with a 23-point advantage (55-32).
During the final quarter the hosts dropped the intensity allowing Bourges to reduce the deficit to end the match (50-68).
UMMC Ekaterinburg: Olga Arteshina 3 (4 assists), Anete Jekabsone-Zogota 2, Sandrine Gruda 16, Yelena Leuchanka 9, Hana Horakova 2, Maria Stepanova 4, Deanna Nolan 16, Tatiana Vidmer 0, Ekaterina Bezgodova DNP, Cappie Pondexter 11, Svetlana Abrosimova 5
Coach: Algirdas Paulauskas
Bourges Basket: Margaux Galliou-Loko 2, Ieva Kublina 2 (9 rebounds), Nwal-Endéné Miyem 12, Styliani Kaltsidou 17, Céline Dumerc 9 (4 assists and 4 steals), Jennifer Digbeu 2, Marielle Amant 6, Christelle Diallo 0
Coach: Valérie Garnier
---
Visit our 2011-12 Ligue Féminine de Basketball page
Visit our EuroLeague Women index page
Visit WBBIF Blog for latest news
Return to the top of EuroLeague Women news page
EuroLeague Women picture credits:


womensbasketball-in-france
FIBA Europe
Date created: 19 October 2011
---