EuroBasket Women
Championnat d'Europe
de basket-ball féminin
The EuroBasket Women competition as it is known today is the European championships. The term EuroBasket was introduced in 2005. Prior to 2005 the competition was known as the European Championship for Women and Eurowomen.
The first competition was held in Rome, Italy in 1938. The second one took place in 1950 and since then the event has been played every two years until 1980.
A Championship was played in 1981 so that the women's event would be aligned with the men's event.
The current two-year cycle has been in place since 1983. Today EuroBasket alternates between serving as a qualifying tournament for the Olympic Games and the FIBA World Championship.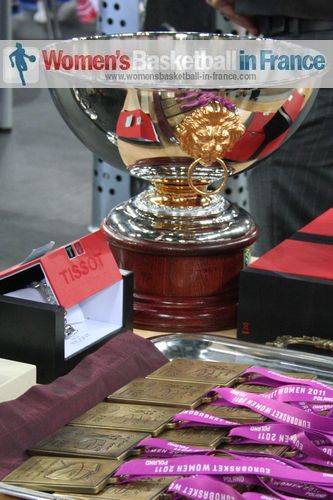 EuroBasket has used a number of different formats, ranging from the simple round robin used in 1983 to the three-stage tournament currently in use.
The current format begins with a preliminary round. The 16 qualified teams are placed into four groups of four, and each group plays a round-robin tournament.
The top three teams in each group (12 overall) advance to the qualifying round.
The two groups of six in the qualifying round are each a combination of two preliminary round groups: Preliminary Groups A and B form Qualifying Group E while Preliminary Groups C and D form Qualifying Group F.
Results from the preliminary round are maintained, and each team plays once against teams from the other Preliminary Group in its Qualifying Group.
The top four teams in each Qualifying Group advance to the quarter-final. The knock-out stage consists of:
1. a bronze medal game for the semi-final losers,
2. classification games for the quarter-final losers to determine fifth to eighth places.
For the tournament in 2015 it has been announced that the final round will be increased to 20 teams.
France have been crowned European Champions on two occasions: 2001 and 2009 while the former USSR holds the record of 21 championship titles.
You can find the links on the right side of this page of our own coverage from previous EuroBasket Women tournaments and qualification news.
EuroBasket Women Medal Table
Position
Nation
Gold
Silver
Bronze
Total
1
Soviet Union
21
1
0
22
2
Russia
3
3
2
8
3
France
2
4
1
7
4
Spain
2
1
4
7
5
Bulgaria
1
5
4
10
6
Poland
1
2
2
5
7
Italy
1
1
1
3
8
Lithuania
1
1
0
2
Czech Republic
1
1
0
2
10
Ukraine
1
0
0
1
11
Czechoslovakia
0
7
8
15
12
Yugoslavia
0
4
2
6
13
Hungary
0
2
5
7
14
Slovak Republic
0
1
1
2
Turkey
0
1
1
2
16
East Germany
0
0
1
1
Germany
0
0
1
1
Belarus
0
0
1
1
---
Leave our EuroBasket Women page and visit our FIBA news page
Visit our French senior women page
Visit our blog page for latest news
Return to the top of page

Picture credit
womensbasketball-in-france

Date created: 05 December 2011
Last Updated: 01 July 2013
Like this page / Aimez cette page