Its March madness time in the LFB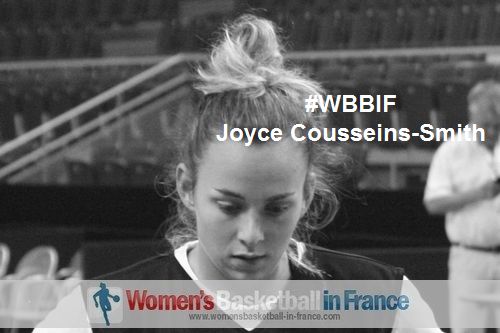 Joyce Cousseins-Smith LFB, sixth player of the week
March started with the "Championnes de Coeur", the all-star-event of the champions of the heart to mark women's day and promote social events that the players of the Ligue Féminine de Basketball are sponsoring.
Then Villeneuve d'Ascq qualified for the 2015 EuroCup Women final while Bourges Basket were eliminated for the 2015 EuroLeague Women final 4. Yet players and teams have no time to rest with French cup action and midweek regular season games to come.
Veuillez trouver des informations en français sur la 21ème journée de la LFB et sur la demi-finale de la Coupe de France féminine en bas de la page.
Tarbes may have lost Kalis Loyd for the rest of the season, but with Greek international Stella Kaltsidou as her replacement, the "joker medical", Tarbes are preparing for their post season.
They crushed Lyon (92-51) with a great display of three-point shooting. Joyce Cousseins-Smith (in picture above) led the way (coming off the bench) with 6-of-9 from beyond the arc to lead all scoring with 22 points.
She shared the player-of-the-match award with her captain Sylvie Gruszczynski who chipped in 13 points while dishing out 7 assists.
Kaltsidou scored 15 points in her first match in the LFB for almost a year.

The rest of the LFB news

Lizanne Murphy (15 points) returned for Angers. Her team-mate Amélie Pochet (14 points) went a perfect 12-from-12 from the charity stripe and Rebecca Tobin picked up a double-double of 22 points and 17 rebounds to help Angers edge out USO Mondeville (87-72). In the victory Camille Aubert and Romania Hejdova contributed 16 and 17 points respectively.
Mondeville's fate was sealed in the last quarter when they were blown away by the hosts 12-28.
USO Mondeville also had five players in double digits and a near perfect night from the free-throw line (9-of-10).
Maggie Lucas returned for Arras and scored 25 points. But Basket Landes held on to win on the road (57-62). Basket Landes pulled away in the second quarter 23-9 and stayed in front the rest of the way.
If the point deduction stands at the end of the season for Arras, the defeat against Basket Landes may cost them any chance of finishing in the top 4 at the end of the LFB regular season. Arras are now in 7th place.

Tango Bourges Basket destroyed Hainaut Basket (92-48) in a one-sided match.
Hainaut Basket were punished for their poor ball handling with Bourges picking up 28 points from their 21 turnovers. Hainaut Basket have now lost 14 consecutive LFB games.

Lattes Montpellier required one quarter to get going (20-21). Then they went on to dominate Charleville-Mézières for a comfortable victory (70-55).
Olayinka Sanni returned to the starting line-up for Charleville-Mézières but managed just 18 minutes on the court due to foul problems.
Onayssa Sbahi steps up in overtime for Calais
Nantes-Rezé are finishing the LFB regular season strong, beating Villeneuve d'Ascq (79-73) on the back of 24 points and 4 assists from Shona Thorburn.
COB Calais pulled off the surprise of the round by beating Toulouse in overtime (67-60). Onayssa Sbahi's 6 points in overtime made the difference as Calais won their second game of the season.
Due to the fact that Villeneuve d'Ascq have two games to play in the EuroCup Women's final they pushed forward their week 23 game against Tarbes.
Tarbes' three-game winning streak came to an end (61-82) while Villeneuve are one step closer to joining Bourges and Lattes Montpellier in the end-of-season final 4.
---
French Cup - Coupe de France

Lattes Montpellier and Tango Bourges Basket will face each other for the first tine in the final of the French Cup. For the clubs from the North - playing at home - it was a disappointing end to the competition.
Arras lost (64-80) to Montpellier while Villeneuve fell (58-70) to the defending champions, Tango Bourges Basket.
The two leaders in the LFB will meet in the final on 2 May 2015 in Paris at the Halle Carpentier.
---
C pour compétitivité
C pour COB Calais

Cyril Sicsic
Hainaut Basket devient la lanterne rouge en LFB après une victoire bien méritée des Calaisiennes contre les Toulousaines. Aussi Nantes-Rezé fait un bel exploit après avoir battu Villeneuve d'Ascq pendant que Lizanne Murphy rejoint le rangs des Angevinnes pour s'imposer contre les Normandes.
La défaite pour Toulouse (60-67) en prolongation fait le bonheur des joueuses de COB Calais. Bien concentrées, les Calaisiennes interceptent 15 ballons et c'est Onayssa Sbahi (5 interceptions, 9 passes décisives et 10 points) qui enfonce le clou dont ses 6 derniers points en prolongation sont crucials dans cette victoire.
Hainaut Basket encaisse sa 14e défaite consécutive en s'inclinant (48-92) contre Tango Bourges Basket.
Les co-équipières de Aurélie Bonnan (15 points, 8 rebonds, 4 passes décisives, 4 interceptions), Margret Skuballa (18 points) et Shona Thorburn (24 points) réussissent à revenir après avoir été menées par Villeneuve d'Ascq 52-42 à la première mi-temps. Finalement, Nantes-Rezé arrache la victoire à ses adversaires (79-73).
Charleville-Mézières se démène, mais Montpellier retrouve son élan après un premier quart difficile pour dominer son adversaire. Lattes Montpellier s'impose finalement (70-55).
Emmenée par Rebecca Tobin (22 points, 17 rebonds) et Romania Hejdova (17 points), Angers remporte cettre rencontre contre un adversaire combative, USO Mondeville (87-72). Les deux formations s'illustrent dans l'adresse aux lancers francs.
Tarbes assure et bat facilement les Lyonnaises (92-51) qui encaissent leur 21e défaite. Joyce Cousseins-Smith est très performante pour ses 24 évaluations avec 22 points, 5 rebonds, 2 passes décisives et 2 interceptions.

Bien entré dans la partie et malgré les 25 points de Maggie Lucas, Arras échoue contre Basket Landes (57-62). Ce sont Gunta Basko-Melnbarde et Danielle Page qui mènent l'équipe gagnante avec 15 et 14 points respectivement.
---
Tarbes joue déjà le match de la 23e journée mais n'enregistre pas sa quatrième victoire consécutive dans la saison régulière. Les Tarbaises s'inclinent contre Villeneuve d'Ascq (61-82).

Coupe de France féminine : demi-finales -
Bourges et Lattes Montpellier en finale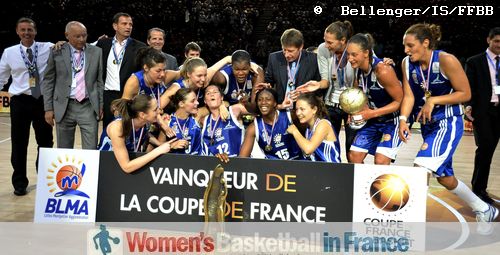 Malgré une incroyable prestation de Djéné Diawara (27 points, 13 rebonds, 3 passes décisives, 1 interception pour une évaluation de 36), les Arrageoises tremblent. Lattes-Montpellier, vainqueur de l'édition 2013, est porté vers la victoire (80-64) par Jenna O'Hea (23 points) et ses co-équipières.

Dans l'image de Endy Miyem (20 points, 4 rebonds, 4 passes décisives), Tango Bourges Basket bat Villeneuve d'Ascq (58-70).
Montpellier et Bourges vont se rencontrer à la finale le 2 Mai 2015 à Paris, à la Halle Carpentier.
---
Like this page / Aimez cette page