LFB round 20: Some good performances and the absence of key players bring February to an end

| | |
| --- | --- |
| LFB top scorer: Yuliya Andreyeva | Elodie Godin 18 rebounds |
While Yuliya Andreyeva was on fire with 30 points for Nantes-Rezé and Elodie Godin picked up 18 rebounds for Lattes Montpellier, it was the absent players who made the headlines. Injury struck clubs and their defeats bring the month of February to an end.
Arras and Angers suffered heavy defeats while the Tango Bourges Basket players punched their ticket for the end-of-season LFB Championship final four.
Veuillez trouver des informations en français sur la 20ème journée de la LFB en bas de la page.
As the regular season is drawing to an end, the month of February turned into a nightmare for Arras. Not only had they been deducted a point for budget violation but they also lost Maggie Lucas and Michelle Plouffe to injury.
So dropping their last game of the month to Toulouse (66-85) was not really a surprise. The contest only lasted two minutes. Then Toulouse went on a 11-0 run. Arras never recovered and Tolouse paced themselves to victory with the starting five all reaching double figures. Olivia Epoupa helped herself to 12 points and 10 assists, another double-double while her side is assured a place in the LFB next season.
Basket Landes missed the chance of extending their advantage over Arras with a surprise defeat at home. Leading by 6 points going into the fourth quarter, Basket Landes switched off with Tarbes punishing them with a 12-0 run. Tarbes went on to dominate the final quarter 30-9 to win the match (69-54). Alex Bentley led the way to victory with 25 points.
Courtney Hurt
USO Mondeville lost Pauline Krawczyk after two minutes against Lattes Montpellier and ended up losing the match by just 3 points (56-59). Courtney Hurt scored 22 points and picked up 21 rebounds for the hosts in defeat.
Montpellier that were without Jenna O'Hea and Mistie Bass (replaced by Ines Ajonovic) needed the rebounding qualities of Elodie Godin (18 rebounds) and the youthful exuberance of Valériane Ayayi (20 points) to escape with the victory.

Bourges Basket were given a tough match by Charleville-Mézières. They were trailing by 6 points going into the final quarter. Then the Tangos stepped up a gear and with about 10 seconds to play Celine's Dumerc's dagger three-pointer silenced the hosts for good. Bourges won (70-65) and became the first team to book their ticket for the LFB French Championship.
The absence of Lizanne Murphy for Angers was all Villeneuve d'Ascq needed to blow their opponents apart (74-38). Angers had a poor shooting day with not a single long shot going in. It was so easy for Villeneuve that  Frédéric Dusart was able rotate his bench without overplaying anybody.
Lattes Montpellier and Villeneuve d'Ascq remain on course to join Bourges Basket in the end of season LFB French Champship final four.
The battle for 4th place is getting more exciting because the defeats of Arras, Angers and Basket Landes have opened the door for Tarbes to sneak back into the picture.
At the other end of the table, Hainaut Basket were destroyed at home by one player, Yuliya Andreyeva, who fired in 30 points for Nantes-Rezé. The visitors not only returned home with the victory (90-66) but also moved up to 8th place.
Lyon move further away from the relegation zone with an easy victory against COB Calais (91-57). Lyon fired in a total of 16 three-pointers from 26 attempts in the blow-out victory. Mélanie Plust and Milca Dabovic led the scoring with 17 points each.
Despite starting from the bench for COB Calais, Jasmine Hassel was the most efficient shooter from open play with 7-of-8 of shots hitting the target.
---
Elles ont su en profiter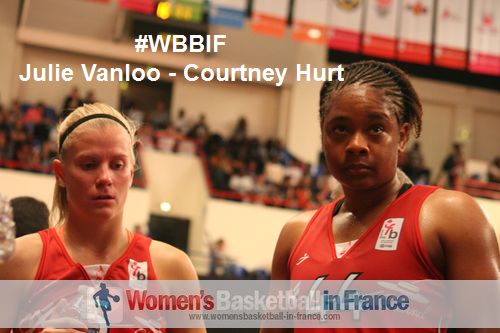 Julie Vanloo - Courtney Hurt
Quand des joueuses clés dans quelques formations ne jouent pas à cause des blessures, les adversaires tirent profit de la nouvelle situation.
Tango Bourges Basket, sans Marianna Tolo, a du mal à arracher une victoire à Charleville-Mézières. Mais un tir prime de Céline Dumerc dans le money-time et une bonne performance de Endy Miyem (22 points) font basculer le match en faveur des Tango qui gagnent de justesse (70-65).
Les efforts de Elodie Godin (18 rebonds, 11 points) et Valériane Ayayi (20 points) boostent Lattes Montpellier, privé de Mistie Bass et Jenna O'Hea, pour finalement se défaire de USO Mondeville (59-56). Courtney Hurt donne tout en défaite avec 22 points et 21 rebonds.
Angers - sans Lizanne Murphy - se plie (38-74) devant Villeneuve d'Ascq tout puissant pendant que les co-équipières de Alex Bentley (25 points) de Tarbes Gesperre s'imposent sur le parquet de Basket Landes (69-54) en dominant l'adversaire dans le dernier quart (30-9).
Arras (sans Maggie Lucas et Michelle Plouffe) est la proie de Toulouse qui l'attrape dans les deux premières minutes et l'avale (85-66) à la fin de la rencontre. A nouveau, Olivia Epoupa est omni-présente (12 points, 10 passes décisives, 4 rebonds, 4 interceptions).
Mélanie Plust (17 points), épaulée par Milina Dabovic (17 points chacune) et Sara Chevaugeon (16 points) de Lyon BF s'imposent contre COB Calais (91-57) pendant que Nantes-Rezé fait l'exploit contre Hainaut Basket (90-66) grace à une excellente prestation de Yuliya Andreyeva (30 points à 12/14 aux tirs).
---
Like this page / Aimez cette page