Championnat de la
Ligue Féminine de Basket
LIGUE FEMININE DE BASKETBALL
LFB Championship
The LIGUE FEMININE DE BASKETBALL, known in French as "Ligue Féminine de Basket" (LFB), is the top division for women playing basketball in France.
In 1998 - when the LFB championship was created - this division was not really a professional league. The women were high level basketball players of whom some were paid.
However 1998 marked the start of a five-year transition from amateur basketball through semi-professional to professional basketball.
Prior to 1998 the top division for women's basketball in France was played under different names:

1937-1950 Excellence
1951-1973 Nationale
1974-1998 Nationale féminine 1A
Upon opening our site in the winter of 2007 we started covering the history of the Championnat de la Ligue Féminine de Basket from 1998 until 2007.
After 2007 the championship format was modified again. The major change was the introduction of the LFB Challenge Round. It is a post-season play-off series while at the same time restricting the LFB Championship final to the top four teams only.
As a consequence the "Tournoi de la Fédération" (Federation Cup) was also stopped after the 2008 season.
Since 2008, Bourges Basket - under the management of Pierre Vincent - won the LFB Championship three times: in 2008, 2009 and 2011. However in 2010 the USVO/Bourges Basket monopoly of the LFB trophy came to an end with François Gomez guiding Tarbes Gespe Bigorre to their first national title.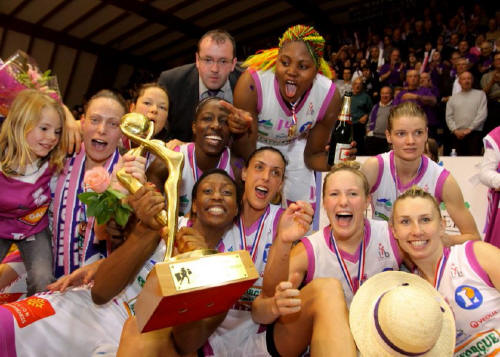 In 2005 the concept of playing the first round of games in one venue was put into action by Jean-Pierre Siutat who was then the President of the LFB. At the same time the term "Basket and the City" was born.
Yet the official name of the event is "Open LFB" and since 2008 Basket and the City has not been used on the official posters any more.
Since its inception in 2005 all the first-round games have been played at the Stade "Pierre de Coubertin" in Paris.
In 2009 Siutat moved into a senior role with the French Basketball Federation (FFBB). Therefore Thierry Balestrière became the second president of the LFB.
You are able to find the relevant links on the right side of this page of our covering the LFB events from 2007 right up to the current season.
---
LIGUE FEMININE DE BASKETBALL picture credits:

Olivier Saare
Laurent Dard

Date created: 26 August 2011
Last updated: 15 September 2012
Like this page / Aimez cette page