LFB Basketball
2012-2013 Championnat de la
Ligue Féminine de Basket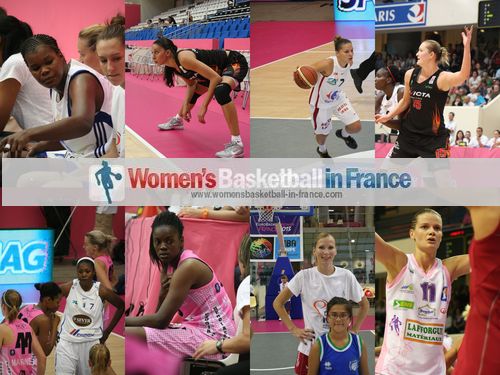 womensbasketball-in-france.com will cover the 15th season of LFB Basketball which starts with the traditional Open LFB in Paris in September and concludes with the LFB Championship play-off series in May 2013.
You will find the links for the latest stories below

Trouvez en bas du page des informations générales en français sur la saison 2012-2013 de la Ligue Féminine de Basket.

There are no rule changes this season and the competition follows the format used during the 2011-2012 season. The top 4 teams at the end of the regular season will play off for the title of Champions of France.
The LFB Challenge Round is the post-season competition for the teams that finish between 5th and 8th place. There is no post-season play for the remaining teams.

The teams that finish in the bottom two places face a possible relegation to LF2 for the following season.
Last season Lyon BF was saved from relegation after the fall of Challes-les-Eaux while Perpignan and Toulouse Métropole Basket won promotion from Ligue Féminine 2.
Read our LFB index page for more information on the history of LFB Basketball.
---
La saison de LFB démarre à Paris
Comme l'année dernière, il n'y a pas de changement pour le déroulement pendant la saison régulière, débutant le 22 septembre 2012.
A cause d'un déficit budgétaire, Challes-les-Eaux a été rétrogradé et ainsi Lyon BF a été repêché. Seule Cavigal Nice, le champion de la L2F en 2011, a été relégué.
Perpignan Basket, pour la première fois dans son histoire, et Toulouse Métropole Basket sont les promoues de cette saison.

Pendant la phase des play-offs les quatre méilleures équipes jouent pour le titre de champion de France pendant que les équipes de la 5ème à la 8ème place participent au LFB Challenge Round.
Pour les six formations en bas du tableau, la saison s'achève là avec la 13ième et 14ième équipe se trouvant sur des places de rélégation.
---
2012-2013 Regular season standings

| | | | | | | | | | |
| --- | --- | --- | --- | --- | --- | --- | --- | --- | --- |
| POS | Team Name | PLD | W | P | L | SF | SA | SD | PTS |
| 1 | Lattes Montpellier | 26 | 22 | 0 | 4 | 1843 | 1597 | 246 | 48 |
| 2 | Bourges Basket | 26 | 19 | 0 | 7 | 1674 | 1461 | 213 | 45 |
| 3 | Lyon BF | 26 | 16 | 0 | 10 | 1676 | 1579 | 97 | 42 |
| 4 | Perpignan Basket | 26 | 16 | 0 | 10 | 1748 | 1627 | 121 | 42 |
| 5 | Tarbes | 26 | 15 | 0 | 11 | 1769 | 1650 | 119 | 41 |
| 6 | Basket Landes | 26 | 14 | 0 | 12 | 1642 | 1590 | 52 | 40 |
| 7 | Nantes-Rezé | 26 | 13 | 0 | 13 | 1734 | 1761 | -27 | 39 |
| 8 | Villeneuve d'Ascq | 26 | 12 | 0 | 14 | 1722 | 1886 | -164 | 38 |
| 9 | Aix-en-Provence | 26 | 11 | 0 | 15 | 1780 | 1846 | -66 | 37 |
| 10 | Charleville-Mézières | 26 | 10 | 0 | 16 | 1509 | 1651 | -142 | 36 |
| 11 | USO Mondeville | 26 | 10 | 0 | 16 | 1661 | 1615 | 46 | 36 |
| 12 | Toulouse Métropole | 26 | 10 | 0 | 16 | 1594 | 1725 | -131 | 36 |
| 13 | Arras | 26 | 8 | 0 | 18 | 1590 | 1750 | -160 | 34 |
| 14 | Hainaut Basket | 26 | 6 | 0 | 20 | 1588 | 1761 | -173 | 32 |
Links for LFB season 2012-2013

LFB basketball stories for the season

17 April 2013: 2013 LFB player awards: Géraldine Robert, Marianna Tolo, Emma Meesseman
16 April 2013: Diandra Tchatchouang and Emma Meesseman drafted in the WNBA
09 October 2012: Belgium Basketball looking for new glory in 2012-13

03 October 2012: LFB team rosters - Effectifs: LFB

27 September 2012: All the news from the Open LFB 2012

---
Visit our home page
Visit our "What's New" page
LFB basketball picture credits:
womensbasketball-in-france.com

Date created: 14 September 2012
Last updated: 26  April 2013
Like this page / Aimez cette page