Open LFB 2012 sold out

The Open LFB 2012 goes down in the history of French basketball with the event completely sold out.
Women's basketball has really hit France since the Olympic Games with already 2500 EuroBasket Women 2013 tickets bought upon availability to the general public.
Most of the weekend was spent honouring the 12 players who represented France during the Olympic games so that even the traditional photo shoot kicking off the LFB Open was low keyed.
At the same time the draw for EuroBasket Women 2013 was also on the agenda.
With the disappearance of Challes-les-Eaux, only six teams have appeared in each Open LFB: Bourges Basket, Lattes Montpellier, USO Mondeville, Tarbes, Villeneuve d'Ascq and Aix-en-Provence.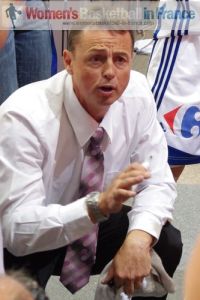 Valéry Demory (in picture) is the only coach to have participated at all the editions of the opening day in Paris. He was the coach at Mourenx for the first two editions and since 2007 he has been with Lattes Montpellier.
Bourges Basket are the only team to have won each time they have played at the Stade Pierre de Coubertin in Paris.
While there were no real shocks this weekend, Charleville-Mézières and Lyon BF walked away with an Open LFB victory for the first time.
womensbasketball-in-france (wbbif) also made a change this year by covering all the games in English and French.
By clicking on the links of the matches on the right, you may find on each page its match report, pictures and the video of the full game.
wbbif have also produced a video slideshow in association with Miguel Bordoy Cano and Rubén Moreno which can be viewed below.
Open LFB 2012 results with scorers:
Nantes-Rezé 55-51 Aix-en-Provence

Nantes-Reze: Viktoria Mircheva 4, Caroline Aubert 3 (5 assists), Claire Stievenard DNP, Sarah Michel 15 (5 steals and 9 rebounds), Isis Arrondo 7, Yuliya Andreyeva 3, Marielle Amant 7 (0 rebounds), Tatyana Troïna 8 (11 rebounds), Bernadette N'Goyisa 8

Aix-en-Provence: Lisa Lefèvre 0, Kelly Corre 0, Shona Thorburn 10, Sylvie Gruszczynski 6, Adja Konteh 0, Lizanne Murphy 10 (11 rebounds), Natty Chambertin 0, Marianna Tolo 16, Cayla Francis 9 (10 rebounds)
---
Lyon BF 75-63 Arras
Lyon: Maria Sanchez 0, Romy Bär 12 (10 rebounds), Alexia Plagnard 5, Leslie Makosso 0, Mélanie Plust 7, Leslie Ardon 5, Mame-Marie Sy-Diop 17, Sarah Chevaugeon 4, Danielle Page 10, Emilija Podrug 15 (6 assists)
Arras: Elodie Mendy 0, Mamignan Touré 3, Johanne Gomis-Halilovic 6 (4 assists), Aurélie Carmona 10, Krissy Bade 17, Sandra Dijon-Gérardin 7, Astan Dabo 6, Ines Ajanovic 4, Katerina Dorogobuzova, Dawn Evans 10
---
Basket Landes 68-64 Tarbes

Basket Landes: Olivia Epoupa 2, Carmen Guzman 3 (7 assists), Tamara Abalda 16, Kamila Stepanova 6, Anaïs Le Gluher-Cano 16, Alexia Lacaule DNP, Valériane Ayayi 11, Marion Laborde 0, Sabrina Reghaïssia 8, Jennifer Humphrey 6
Tarbes: Joyce Cousseins-Smith 2, Paoline Salagnac 16, Elise Marie 0, Gabriela Ocete 10, Lauren Ervi 7, Laurie Datchy 2, Naura El Gargati 7, Jovana Rad 9, Charlotte Preiss 2, Angelica Robinson 9
---
Bourges Basket 66-55 Perpignan Basket

Bourges Basket: Romane Bernies 0, Frida Eldebrink 14, Céline Dumerc 20, Pauline Krawczyk 4, Zoi Dimitrakou 2, Stephany Skrba 6 (14 rebounds), Emméline Ndongue 12, Christelle Diallo 7, Simona Ballardini 3
Perpignan Basket: Abby Bishop 18, Diandra Tchatchouang 12, Clémentine Samson 0, Laina Badiane 2, Isabelle Strunc 2, Fatou Dieng 7, Pauline Lo 2, Iva Ciglar 5 (4 assists), Elodie Bertal 0, Angie Bjorklund 5, Héléna Ciak 2

---
Hainaut Basket 40-71 USO Mondeville
Hainaut Basket: Laura Garcia 6, Romina Ciappina 2, Carine Paul 2, Emilie Silbande 5, Ashley Houts 2 (4 assists), Marie-Frédérique Ayissi 1, Stefanie Murphy 14, Vera Perostiyska 8
USO Mondeville: Touty Gandega DNP, K. B. Sharp 20, Ingrid Tanqueray 2 (8 assists), Marine Johannes 0, Kadidia Minte 6, Giedre Paugaite 11, Laëtitia Kamba 15, Marie-Bernadettte Mbuyamba 2, Naignouma Coulibaly 10, Amanda Lassiter 5

---

Lattes Montpellier 65-45 Toulouse Métropole

Lattes Montpellier: Lidija Turcinovic 0, Virginie Brémont 0 (5 assists), Ana Cata-Chitiga 6 (4 steals), Edwige Lawson-Wade 10, Géraldine Robert 13 (10 rebounds), Ana Lelas 12, Gaëlle Skrela 15, Justine Barthelemy 2, Fatimatou Sacko 7
Toulouse: Inesa Visagaudaite 0, Agathe Degorces 11, Julie Legoupil 4, Darline Nsoki 2, Demetress Adams 4, Maud Medenou 6, Carrem Gay 10, Adrijana Knezevic 6, Lorraine Lokoka 2
---
Villeneuve d'Ascq 48-59 Charleville-Mézières

Villeneuve d'Ascq: Émilie Duvivier 3, Bintou Dieme 12, Stéphanie Dubois 2, Amélie Pochet 9, Jennifer Digbeu 5, Alice Nayo, 7, Olayinka Sanni 4, Lenae Williams 2, Sandra Pirsic 4
Charleville-Mézières: Amel Bouderra 13, Anne-Sophie Pagnier 11, Claire Michell 3, Ekaterina Dimitrova 3, Djéné Diawara 12, Yacine Sene 11 (4 assists), Aminata Nar Diop 0, Aurélie Bonnan 6 (12 rebounds)

---
Visit our 2012-2013 Ligue Féminine de Basket section

Visit our home page
Visit our "What's New" page
Open LFB picture credits:
womensbasketball-in-france.com


Date created: 27 September 2012
Like this page / Aimez cette page