No mistakes by Montpellier
at the Open LFB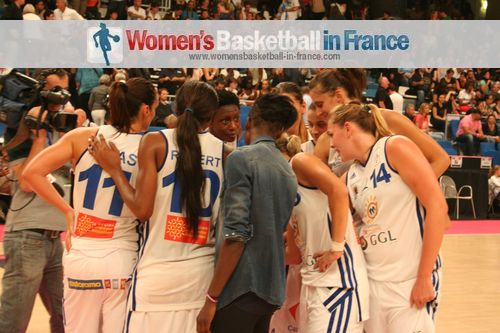 For Edwige Lawson-Wade and Montpellier it is two Open LFB victories in a row after their win against LFB newcomers Toulouse (65-45).
Neither coach was happy with their team's performance.
Video post-match comments from: Agathe Degorces, Matthieu Chauvet, Valéry Demory and Gaëlle Skrela further down the page.
Veuillez trouvez en bas du page un résumé en français du match de la deuxième journée de l'Open LFB entre Montpellier et Toulouse.

Montpellier did all
they needed to do and nothing more

In the first three minutes only 2 points were scored trough Agathe Degorces. Montpellier were not scoring but drawing fouls. So within four minutes Toulouse had 4 team fouls.
Gaëlle Skrela (in picture) scored the first 6 points for Montpellier before Géraldine Robert put them in front (7-6) with just under five minutes played.
Under the drive of Robert, Montpellier were able to keep Toulouse under their control and edged in front to finish the first quarter leading (19-11).

The second quarter started better for Toulouse by moving the ball around and hitting on the fast break. Within two minutes they had reduced the deficit to (27-21).
The rest of the quarter became more complicated for the LFB newcomers as they did not score again.
Montpellier were struggling but 2 three-pointers by Edwige Lawson-Wade and 2 points by Ana Lelas on the buzzer enabled them to go into the locker room ahead by 10 points (31-21).
A positive start from Toulouse into the third quarter gave their fans some hope, especially after a baseline trey by Julie Legoupil.
However Toulouse failed to take care of the ball and were punished each time by Montpeliier with easy baskets.
Montpellier's advantage grew (45-31) after 26 minutes.

Unfortunately the match as a spectacle never took off although Robert from Montpellier tried her best to bring some life to the game.
Montpellier were technically better and physically stronger and used all these qualities to push their advantage to (50-33) at the end of the third quarter to win (65-45) with four players in double digits.

Montpellier remporte leur deuxième LFB Open match successif avec une victoire

Quoique c'est Toulouse qui marque en premier par Degorces c'est Montpellier avec Skrela et puis Robert qui mettent leur formation sur le bon rail pour prendre l'avantage à la fin du premier quart (19-11).
Pourtant Toulouse répond avec ses intérieures Medenou et Lokoka pour se rapprocher du score de ses adversaires. Mais Lawson-Wade se rémue pour maintenir l'écart. Toulouse fait travailler Montpellier pour un score (31-21) à la mi-temps en faveur de Montpellier.
La deuxième mi-temps est un autre jeu dont les montpellériennes
gagnent du terrain avec leur expérience pour facilement remporter ce match à l'Open LFB (65-45).

Picture Gallery and match video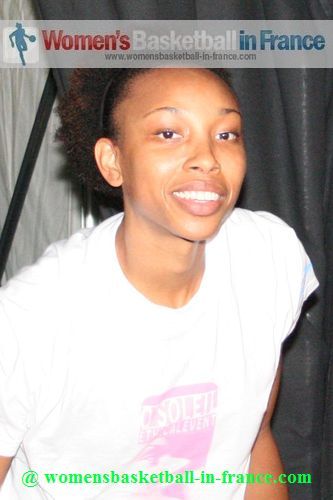 Move your mouse on the small pictures to view
---
Visit our home page
Visit our "What's New" page
picture credits:
womensbasketball-in-france.com

Date created: 23 September 2012
Like this page / Aimez cette page