Open LFB first match
won by Nantes-Reze

Nantes-Rezé opened the Open LFB 2012 with a hard fought victory against Aix-en-Provence (55-51). The match was decided in the final seconds with 2 points from former French youth international Sarah Michel.
Veuillez trouver en bas du page notre reportage sur le premier match de l'Open LFB en français.

Neither coach was satisfied with the performance of their team. But Emmaneul Coeuret had the satisfaction of coming away with the victory.
The game was decided on the smallest of details: Nantes-Rezé's bench had more experience. The press conference and pictures from the game will be added later. In a week you will also find a link here to watch the match.

LFB Open match report

It was a slow start to the first match of the 2012 Open LFB despite a (18-17) first-quarter lead for Nantes-Rezé.
Aix-en-Provence gave the impression of being more comfortable with the systems played while Bernie N'Goyisa was single-handedly keeping Nantes in the match with 8 first-quarter points.

Caroline Aubert collided with Kelly Corre at the end of the first quarter and had to limp off the court.
There was not a lot of action in the second quarter. Aubert recovered from her knock and returned to action. Thanks to a quarter ending buzzer beater by Sarah Michel Nantes went into the locker room leading (46-42).

The pace picked up after the break with inside players from both sidesm Marianna Tolo for Aix-en-Provence and N'Goyisa for Nantes going to work.
Then the chess match ended and finally the game opened up with Nantes' Yuliya Andreyeva firing in from long range and then Aubert weaving her way into the paint.
On the other side Sylvie Gruszczynski and Shona Thorburn were causing problems and edged their team in front (40-36) with 2:45 in the third quarter.
Aix continued to press defensively and went into the final quarter with a small advantage (42-38).
During the final 10 minutes the foul count against Aix-en-Povence hurt them as they could no longer defend against the inside players from Nantes.
It was not the most exciting game ever to be played at the Open but Nantes kept their composure and won the match (55-51).
Nantes ouvre l'Open LFB avec une victoire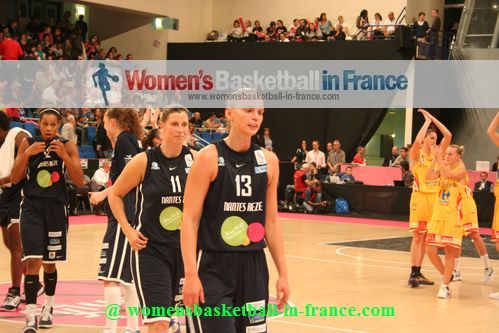 Le match d'ouverture de L'OPEN était un match très serré avec les équipes jouant au coup pour coup. Malgré un début de match lent, le premier quart s'acheva (18-17) en faveur des Nantaises mené par l'intérieure Bernie N'Goyisa marquant 8 points.
Sarah Michel donna l'avantage à son équipe avec un shoot au buzzer pour retourner au vestiaire avec un avantage (46-42). En dépit de cela, les Aixoises paraissaient plus à l'aise avec le système de jeu, et, à l'entame de la deuxième mi-temps, le tempo s'accéléra.
Le jeu intérieur-extérieur semblait marcher pour les deux équipes avec Marianna Tolo pour Aix-en-Provence et N'Goyisa pour Nantes dans la raquette.
Yuliya Andreyeva commenca à trouver son adresse et Aubert faisait circuler la balle en pénétration.
Cependant, Nantes n'arrivait pas à creuser l'écart; la pression défensive et le duo Sylvie Gruszczynski et Shona Thorburn leur causaient des problèmes.
Aix augmentèrent leur agressivité défensive au début du quatrième quart et prirent un longueur d'avance (42-38).
Mais les fautes d'équipe empêchèrent les Aixoises à arrêter l'intérieure nantaise qui continua à dominer dans la raquette. Nantes finit par remporter la victoire (55-51).
Picture Gallery and match video

Move your mouse on the small pictures to view
---
Visit our home page
Visit our "What's New" page
picture credits:
womensbasketball-in-france.com

Date created: 22 September 2012
Like this page / Aimez cette page