USO Mondeville win big at
the Open LFB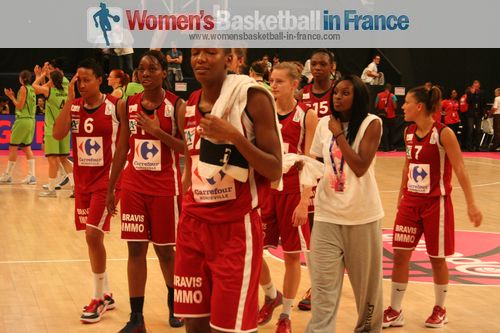 Last year at the Open LFB, USO Mondeville won in a dramatic fashion

Veuillez trouver en bas du page un résumé du match en français entre Union Hainaut Basket et Mondeville.
Video after-match comments from K. B. Sharp, Kadidia Minte and Hervé Coudray can be found after the English article.

USO Mondeville comfortably won against Union Hainaut Basket (71-40) with Kristen Broook Sharp (K. B. Sharp) getting the show going with a three-pointer with her first shot of the game. The fireworks continued all through the first quarter (30-7).
The contest was over well before half time (42-15) but USO Mondeville still played hard at both ends of the court.
All business for USO Mondeville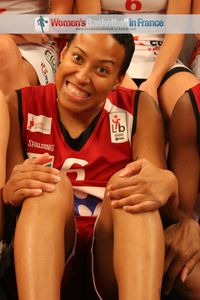 Mondeville got off to an elctric start with K. B. Sharp and Naignouma Coulibaly on fire with 8 and 5 points each racing off to a (17-5) lead with five minutes on the game clock.
Mondeville were in electrifying form and finished the first quarter with a buzzer beater by Coulibaly for a (30-7) advantage.
For the first three minutes of the second quarter Union Hainaut kept Mondeville silent while scoring points. But then it was one way traffic in favour of Mondeville.
Sharp and Lætitia Kamba - at both ends of the court - helped their side to race off to a (42-15) lead at half time.
Mondeville did not slow down after the break and increased their lead to (62-24).
The rest of the match was played out in good spirit with USOM walking away with all the points and a nice start to their season.
Binta Drammeh from Mondeville had to sit out this match because she can only replace Touty Gandega (DNP) as a medical replacement after the first game of the season.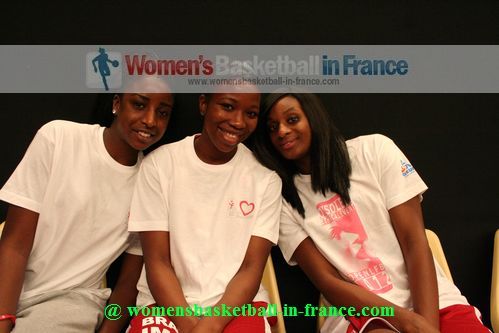 Encore une Open LFB victoire pour Mondeville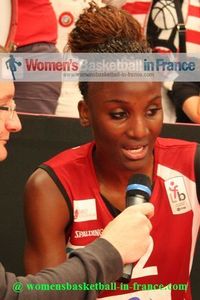 Hainaut Basket succombe à un USO Mondeville très en forme (40-71) avec K. B. Sharp, Naignouma Coulibaly et Laetitia Kamba d'une explosive agilité.
Dès le début Mondeville prend le dessus avec un tir prime de Sharp au premier shoot.
Hainaut Basket n'arrive pas à répondre à l'aggressivité de leurs adversaires et perd de plus en plus ses moyens et n'arrive pas à rentrer dans le jeu.
Pourtant Mondeville continue de bien jouer à l'attaque et à la défense pour finalement célébrer leur victoire en saluant les spectateurs.
Picture Gallery and match video

Move your mouse on the small pictures to view
---
Visit our home page
Visit our "What's New" page
picture credits:
womensbasketball-in-france.com

Date created: 23 September 2012
Like this page / Aimez cette page