Bourges Basket won
at the Open LFB: who else?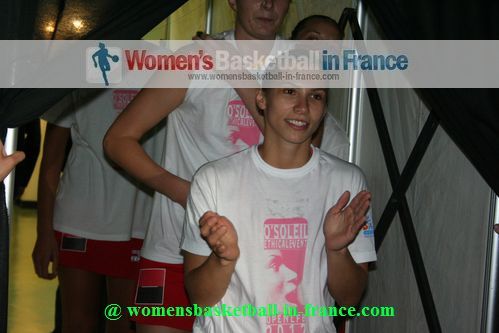 Bourges Baket have never had it easy at the Open LFB. But once again they used their experience of big events to notch up another victory at the Open by beating Perpignan (65-55).
Veuillez trouver en bas du page un résumé du match en français.

The first 10 minutes of the game belonged to Bourges Basket controlling while Perpignan were chasing. The LF2 champions used a lot of energy as they forced 4 lead changes and 2 ties within the quarter.
The two teams had fun beyond the arc with two three-pointers each as Bourges held on to the lead (16-13) to finish the quarter.
Abby Bishop was causing Bourges all kinds of problems at the start of the second quarter for her side to draw level (19-19).
While the shooting percentage remained low both sides fought it out technically in an interesting match-up of pick-and-roll systems.
Just when Perpignan thought they were back in the game, Emméline Ndongue (above in picture) came up with great plays at both ends of the court. So her side opened up a slight lead at the break (37-34).
Bourges Baket stepped up defensively at the start of the third quarter and conceded just 8 points during the first eight minute. Céline Dumerc continued shooting (10 points in this quarter) as Bourges moved 15 points clear (50-35) with 90 seconds to play in the quarter.
At the start of the final quarter, François Gomis changed his tactics completely with his team trailing (38-58) and Héléna Ciak in foul problems. But nothing changed for Bourges Basket to remain unbeaten at the Open LFB with a comfortable victory (65-55).

Bourges Basket s'impose logiquement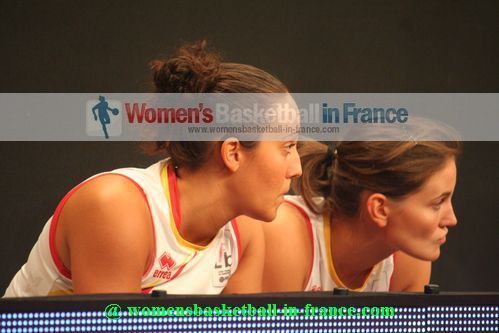 Dès le début du match, Perpignan montre qu'elle mérite d'être promues en LFB avec une Iva Ciglar et une Abby Bishop confiantes et elle reste devant jusq'au moment où Emméline Ndongue met deux paniers consécutifs.
Seulement au deuxième quart quand Perpignan passe à nouveau devant, Bourges explose avec une Céline Dumerc adroite au shoot.
Mais Perpignan répond présent et le chassé-croisé continue. A la fin le duo Dumerc et Ndongue creusent l'écart pour leur formation de mener (34-27) à la mi-temps.
Pourtant Perpignan ne se décourage pas avec Bishop, Ciglar et Diandra Tchatchouang attaquant les Berruyères pour réduire le déficit à 3 points.
Mais c'est à nouveau Dumerc qui met fin à la chasse et inscrit des points précieux permettant à son équipe de prendre 15 points d'avance.
Son élan est contagieux avec Frida Eldebrink et Skrba marquant des points. En réponse l'adversaire en personne de Bishop inscrit encore un tir prime. Mais les Berruyères reprennent le dessus et gagnent le dernier match de la première journée de l'Open LFB (66-55).

Picture Gallery and match video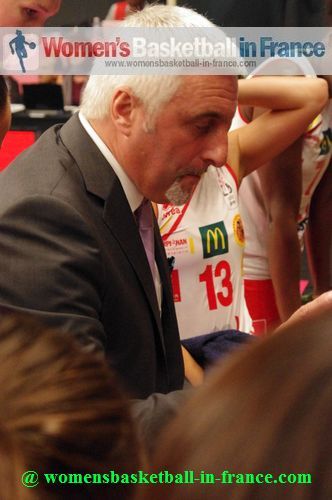 Move your mouse on the small pictures to view
Like this page / Aimez cette page