2011 Open LFB
Not a vintage Bourges Basket team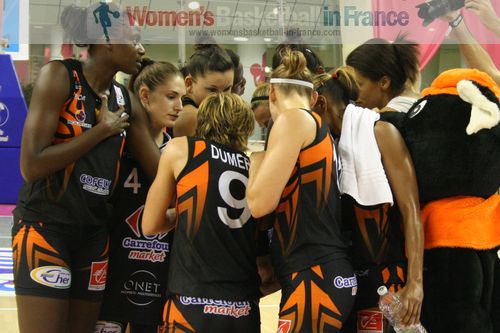 At the Open LFB the second division champions have never beaten the defending LFB champions. Cavigal Nice was not able to end that sequence either.
Bourges Basket were not able to reproduce the style of basketball that we have become used to over the years. Instead they got drawn into a dog fight with their opponents and almost came out second best.
Cathy Joens became MVP of this match while Céline Dumerc was able to turn her team around at crucial moments in the game to stop Nice from troubling them.
For Nice Aminata Konate (14 points) was on fire: she hustled, she scored and she out-jumped everybody for some amazing rebounds. Her combination play with Krysten Boogard and the clutch shooting from Stéphanie Dubois were the only highlights in what was a disappointing game.
Open LFB match report: Bourges could not get out
of second gear but still won
Bourges Basket failed to get into the game from the start and fell behind with less than ten seconds played after Jennifer Digbeu was called for a shooting foul.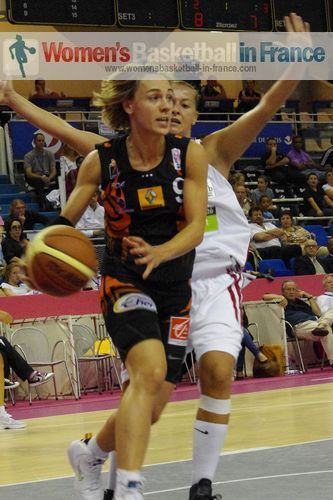 Jeanne Senghor-Sy made it 3-0 20 second later. However Cathy Joens connected from beyond the arc with a trey to level the score with a minute played.
Bourges controlled the boards and led (10-7) with five minutes played.
When Aminata Konate came on for Nice she basically hustled her way to make something out of nothing to score 2 quick points. Bourges hit back quickly with a trey by Joens.
The first quarter then fizzled out with Bourges just holding on to the lead (16-14).
Olga Tarasenko the coach from Nice must have sensed that her side could upset Bourges. Her side then started the second quarter aggressively and tied the game (18-18).
Bourges somehow lifted themselves up and got the lead back through Nwal-Endéné Miyem. However the real match-up was between Céline Dumerc (above in picture) and Konate.
Initially Dumerc had the upper hand as Bourges stretched their advantage (26-18) with four minutes to go until the break.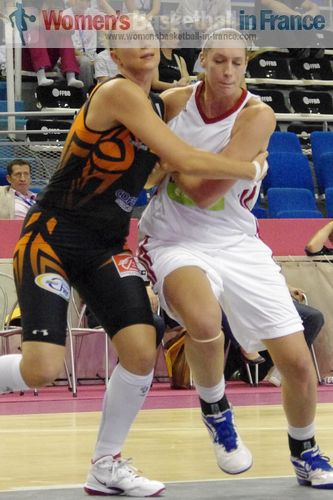 Nice did not panic and with the exuberance of Konate and the power of Boogaard (player right in picture) they found ways to score to go into the interval trailing by just 7 points (28-35).
Konate started the second half strongly and even provoked Dumerc into an intentional foul. The Nice machine was working as they reduced the deficit (36-37) half through the third quarter.
Nice continued to be rough while Bourges were losing the key duels in the middle of the court. Dumerc had to take things on herself as Bourges finally pulled away (44-37).
A trey by Elodie Decker briefly stopped the defending French champions. However players from Valérie Garnier were in a good phase and went into the final quarter leading (49-40).
Marielle Amant went down 30 seconds into the final quarter and had to be carried off the court. The rest of the quarter turned into a festival of missed opportunities.
Although Bourges were completely out of sync, they were just too experienced to allow Nice a chance of getting back into the game.
So Styliani Kaltsidou who was suited up to play but had an ice pack on her knee in the end did not play.
Bourges Basket: Romane Bernies 0, Margaux Galliou Loko 0, Ieva Kublina 6 (12 rebounds), Nwal-Endéné Miyem 11, Styliani Kaltsidou DNP, Céline Dumerc 13 (3 assists), Jennifer Digbeu 6, Cathy Joens 15 (5 steals), Marielle Amant 3, Kiesha Brown 6
Nice: Aminata Konate 14 (7 rebounds), Merike Anderson 0, Barbara Cousin 3, Kelsey Bolte 0, Krysten Boogaard 9, Stéphanie Dubois 3, Elodie Decker 4, Fabienne Constant 6, Guiday Mendy 0, Majda Ghariani 2,Jeanne Senghor-Sy 7
Picture gallery - Bourges Basket vs. Cavigal Nice
(2011 Open LFB)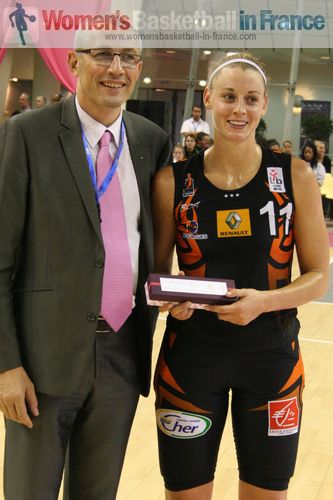 Move your mouse on the small pictures to view
---
Leave Open LFB and return to home page
Return to the top of page
Picture credits:


womensbasketball-in-france.com


Date created: 25 September 2011
---