FIBA Europe Under 16
European Championship for Women
FIBA introduced the U6 European Championship in 1975 with the first final played in 1976.
Prior to 2004 all the teams that participated had to play in a series of qualification tournaments in order to qualify for the final round. This was the major reason that the final round was played once every two years.
The Soviet Union (USSR) was the most dominant force in women's basketball during the first ten years of this competition. Their U16 team won the first seven tournaments: 1976, 1978, 1980, 1982, 1984, 1985 and 1987.
Czechoslovakia took the title in 1989 while the USSR had to settle for Bronze. The USSR won the title for the last time in 1991.
Russia took over from the USSR with three titles in a row between 1993 and 1997.
Spain ended the Eastern European hold of the title in 1999 while in 2001 France picked up its first title.
Yugoslavia won the very last European championship under the old format in 2003.
In 2004 FIBA Europe introduced the Division A and B concept, thereby removing the qualification tournaments.
The top 16 teams would play in Division A and contest for the title of European Champions. The teams that finished in 15th and 16th place would be demoted at the end of the competition to Division B the following year.
All the remaining nations outside the top 16 play in Division B, with the top two teams winning promotion to Division A each year.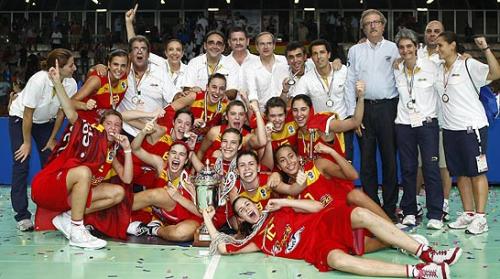 Under this new format Spain became the Queens of U16 basketball.
They won the first three titles: 2004, 2005, 2006 and have added five more gold medals to their collection in 2008, 2009, 2011, 2012 and 2013.
2010 had been the first time that Spain were not involved in the final since the creation of Division A.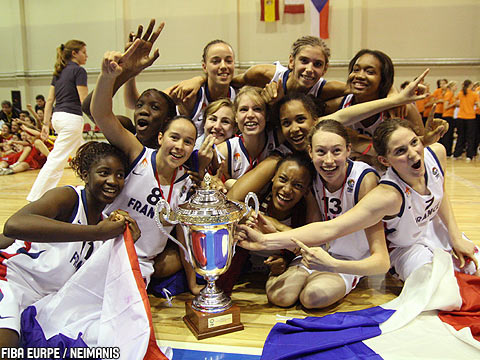 France (players in picture) won the title in 2007 while Russia picked up their first Division A crown in 2010, 13 years after their last European success.
Since 2009 the U16 tournament is used every other year as the U17 World Championship qualification tournament for the European zone.
You find the links in the right menu of this page of womensbasketball-in-france's (wbbif) coverage from previous U16 European championships.

---



Picture credits:


womensbasketball-in-france.com
FIBA Europe: Ciamillo-Castoria and Niemanis


Date created: 10 August 2011
Last updated: 11 August  2013



Like this page / Aimez cette page