Webcast TV
The LFB channel for matches
on the internet
Live stats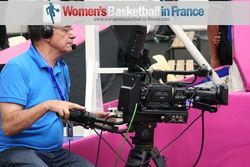 After two seasons of uncertainty, Webcast TV returned for the 2011-12 season of the Ligue Féminine de Basket (LFB).
LFB TV is a free channel for viewers from all over the world to watch a number of live games from the LFB in France.
Due to the fact that local TV channels in France may also broadcast games during the weekend, all LFB TV live games are played on Friday evening.
You find below the links giving you access on demand to archived games from the new service. Please note that the LFB determine how long games are available for.
Due to the fact that the LFB are providing a high definition channel free, we at womensbasketball-in-france.com are not providing links to all the presentations and documentaries.

However you can still view games from the previous seasons (2008-2010) by checking on the Webcast TV links on the right side of the page.
Starting from 2012-2013 we broadcast more live games from other webcast services providers on this page.
This includes games from the LFB, EuroLeague Women, EuroCup and other domestic leagues.

This page is updated frequently with the times of matches to be broadcast.

Archived games from the 2012-13 season
05 October 2012: Bourges Basket vs. Arras
12 October 2012: Villeneuve vs. Lattes Montpellier
07 December 2012: Lyon BF vs. Toulouse
19 December 2012: Tarbes vs. Basket Landes
5 January 2013: Lattes Montpellier vs. Tarbes
11 January 2013: Nantes Rezé vs. Basket Landes
01 March 2013: Hainaut Basket vs. Nantes Rezé
08 March 2013: Arras vs. Perpignan
Only four games from the 2011-12 season's schedule are available for viewing:
14 October 2011 : Villeneuve d'Ascq vs. Charleville-Mézières
21 October 2011 : Pays d'Aix vs. Challes-les-Eaux
16 December 2011 : Basket Landes vs. USO Mondeville
02 March 2012 : Challes-les-Eaux vs. Basket Landes
---
Leave webcast TV and return to home page
Picture credits:

womensbasketball-in-france

Date created: 29 September 2011
Last update: 11 October 2013
Like this page / Aimez cette page