Bourges Basket are still number one when it comes to LFB Basketball
The third round in the LFB started with two Friday night games (5 October 2013) where Bourges Basket in their first home game of the season defeated Arras (67-51). In the second match Basket Landes lost at home to Nantes-Rezé.

The home of Bourges Basket was almost filled to capacity for the first home game of the season. In addition just about everybody had an orange tee-shirt on.
Over the past five seasons Arras have caused Bourges numerous problems and in 2009 won a regular season game in Bourges.
Arrras were not allowed to play Ines Ajanovic, for reasons not clear to wbbif because halfway through the match she was apparently cleared.
But as her name was not on the scoresheet she spent all the whole 40 minutes sitting on the bench.
Bourges Basket were not brilliant for 30 minutes. But in the last 10 minutes they demonstrated why they are the team to beat during the LFB regular season.
You may watch the full game below, broadcast on LFB-TV:

Notes from the game:

With just seven players Arras made things difficult for themselves with Sandra Dijon-Gérardin and Dawn Evans collecting a couple of fouls each during the first quarter.
This did not stop them from leading (14-11) at the end of the first quarter. Bourges' shooting was off. Yet with a 6-0 run at the start of the second quarter they were able to move in front and stay there at half time (25-24).
Bourges continued to huff while Arras stayed on their tail in an entertaining third quarter (45-40).
In the final quarter Sandra Dijon-Gérardin fouled out, while her coach Thibaut Petit lost his cool and picked up a technical foul.
Arras ran out of steam while Bourges stepped on the gas to cruise to victory.
Céline Dumerc finally hit a three-pointer on the buzzer. But as usual with Bourges it was a total team performance with all the players contributing what was necessary for the victory.
Stephany Skrba (in picture) with yet another double of 14 points and 14 rebounds was the best player in this match although Simona Ballardini's 6 points in less than eight minutes on the court was impressive.

Bourges Basket: Romane Bernies 3, Frida Eldebrink 11, Céline Dumerc 11 (6 assists), Pauline Krawczyk 2, Zoi Dimitrakou 8, Stephany Skrba 14 (15 rebounds), Emméline Ndongue 8, Christelle Diallo 4, Simona Ballardini 6

Arras: Mamignan Touré 10, Johanne Gomis-Halilovic 6, Aurélie Carmona 8, Krissy Bade 12, Sandra Dijon-Gérardin 6, Astan Dabo 4, Dawn Evans 5

Basket Landes do not like losing at home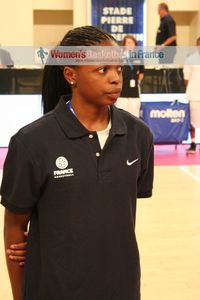 Basket Landes lost their unbeaten record for the season to Nantes-Rezé (62-65). Nantes-Rezé's 9-of-19 from behind the arc enabled them to weather the storm and escape the show by Olivia Epoupa (in picture).
Basket Landes were without Marion Laborde for this match and within three minutes they had lost also their point guard Carmen Guzman.
However in Epoupa Basket Landes have one of the most exciting prospects in LFB basketball. She finished the game with 16 points, 6 rebounds and 5 assists.
On the other hand for Nantes, Caroline Aubert is still the three-point queen of the EuroLeague Women all-star-game of 2007. She went 4-of-6 from behind the arc as well as dishing out 3 assists.
The game was a ding-dong affair with 13 lead changes and 8 ties. The match was scrappy which led to a lot of errors and turnovers. Nantes were creditedwith 19 turnovers.
Then at the start of the final quarter Nantes produced their best basketball with Aubert, Isis Arrondo and Tatyana Troïna all connecting from beyond the arc in a 13-3 run to lead (61-52) with five minutes to play.
The hosts rallied back to trail by just 3 points. However they were unable to hit the basket once during the last 50 seconds.

Nantes-Rezé remain on top of the LFB basketball tree together with Bourges on three wins each.

Basket Landes: Olivia Epoupa 16 (5 assists), Carmen Guzman 2, Tamara Abalde 4, Kamila Stepanova 2, Anaïs Le Gluher-Cano 13, Sarah Ousfar DNP, Valériane Ayayi 6, Sabrina Reghaïssia 5, Anaïs Deyres DNP, Jennifer Humphrey 14 (11 rebounds)

Nantes-Rezé: Viktoria Mircheva 4, Caroline Aubert 14, Sarah Michel 3, Isis Arrondo 8, Yuliya Andreyeva 2, Marielle Amant 14, Tatyana Troïna 13, Zöe Chalumeau DNP, Bernadette N'Goyisa 11

---
Visit our 2012-2013 Ligue Féminine de Basket section

Visit our home page
Visit our "What's New" page
picture credits:
womensbasketball-in-france.com


Date created: 06 October 2012
Like this page / Aimez cette page