LFB Basketball News
Arras taking down Bourges Basket in overtime at the Prado
---
---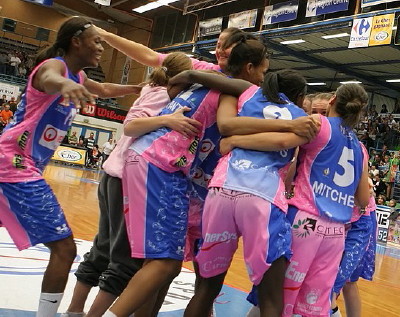 In the days when USVO and Bourges made all the basketball news in French women's basketball, USVO were able to win matches against Bourges at the Prado.
Only one other club in the LFB had won a regular season game in Bourges in the last four years. That was Mondeville (77-74) during round 7 of the 2005-2006 season.
Arras'
feat should be front page basketball news in most of the regional papers in France.
In 2006 when Arras entered the LFB they gave Bourges a scare before losing (66-68) at the Open LFB. However Arras did get their victory when the two teams played in January 2007.
This defeat (81-68) cost Bourges Basket the regular season title that season. Bourges did not lose another regular season game at home or away until April 2008 when they lost on the road to Challes-les-Eaux (60-61).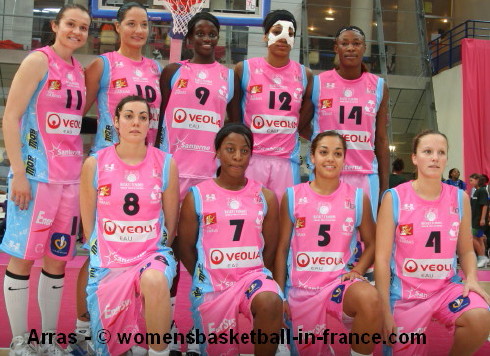 Is winning in the Prado basketball news?
Sarah Michel scored 6 of Arras first 9 points of the game. They stretched their lead to 10 points (12-2) after four minutes.
Bourges came storming back with Katrina Manic running the plays and Ana Lelas doing most of the scoring to bring the teams level (12-12) three minutes later.
The end of the first quarter was hectic with bodies flying all over the court with both teams trading shot for shot (19-19) until Styliani Kaltsidou from Bourges broke the sequence with a 3-point play (2 points + 1 free-throw).
Anaël Lardy finished the scoring as Bourges edged the first period (24-19).
Bourges appeared to have taken control of the game and moved 9 points clear (28-19) with a little over 12 minutes played in the game. However Arras managed to stay in the game as Bourges became careless.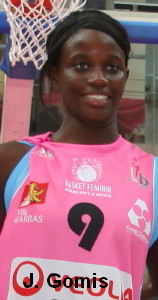 Johanne Gomis from Arras profited with steals and points as her side reduced the deficit (33-37).
Bourges were struggling to find a way to break their opponents' zone defense. Yet they made matters worse as they continued to miss free-throws. However they led (40-36) at the interval.
Arras were soon on level terms (40-40) with points coming from Hanna Bouldwin-Biernacka and Leilani Mitchell.
The rest of the quarter belonged to the officials blowing their whistles for fouls which interrupted the flow of the game.
The two teams were still level (47-47) with four minutes left to play in the quarter.
Paoline Salagnac used her pace to good effect for Bourges and scored on two occasions. Also with perfect shooting from the foul line Bourges moved 8 points clear (55-47) going into the final quarter leading (59-49).
Arras' problems with the officials continued as Olesia Malashenko's game ended with her 5th foul with less than a minute played in the final period. Worse was to come when Marielle Amant also had to return to the bench with 5 fouls.
Bruno Blier, the coach from Arras, decided to call for a time-out with his side trailing (50-60) with almost eight minutes to play in regulation time.
Whatever he said to his players worked because Pauline Akonga-Nsimbo (right) and Bouldwin-Biernacka started to find their way into the Bourges defense to score.
The game picked up in intensity and Arras kept on bring the score down. With 21 seconds left to play in regulation time Bourges' advantage was just 2 points.
Arras came up with the last play and Akonga-Nsimbo scored for the game to go into overtime.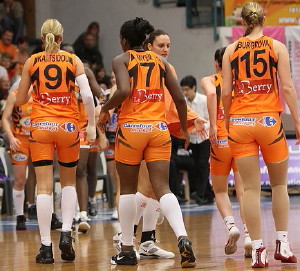 Mitchell lasted just 30 seconds in overtime as she picked up her 5th foul.
An intentional (unsportsmanlike) foul was called on Lardy. This incident turned the game in favour of Arras with two minutes left to play.
Gomis hit th resulting free-throws and Arras went into the lead (79-78) for good.
The end was messy for Bourges with Arras holding their nerve at the free-throw line to win (84-81).
Basketball news game report Box Score
Game roster:

Bourges: Anaël Lardy 11 (8 assists), Katarina Manic 2, Nwal-Endéné Miyem 13 (7 rebounds), Styliani Kaltsidou 10, Jennifer Digbeu 4, Ana Lelas 13 (6 rebounds), Paoline Salagnac 13, Emméline Ndongue 13 (14 rebounds), Ilona Burgrova 2.
Arras: Leilani Mitchell 7, Sarah Michel 10 (5 rebounds), Johanne Gomis 22 (5 steals), Olesia Malashenko 7, Hanna Bouldwin-Biernacka 14, Marielle Amant 7 (8 rebounds), Pauline Akonga-Nsimbo 16 (8 rebounds), Princesse Goubo 1.
---
Return from Basketball News to Ligue Féminine de BasketBall index
Return to "what new" - WBBiF page
Return to women playing basketball in France home page
Read all the news from the second round LFB matches
Basketball news picture credits:

womensbasketball-in-france.com
Olivier Martin @ Basquetebol.org

Date: 11 October 2009

---
---