2012 FIBA
Olympic Qualifying Tournament for Women
Tournoi de Qualification Olympique féminin
The 2012 FIBA Olympic Qualifying Tournament for Women (WOQT) will take place in Ankara, Turkey from 25 June - 1 July 2012.
The 12 teams participating qualified via the FIBA zone continental championship in 2011.
The Olympic Qualifying Tournament was brought back in 2008 after a break of 16 years and was hosted by Spain in Madrid.
The format used in 2008 remains in place:
The group stages will see each team play the two others in their respective groups in a standard round robin format (12 games in total).
The top two teams in each group will progress to the Quarter-Finals, that are to be played as follows: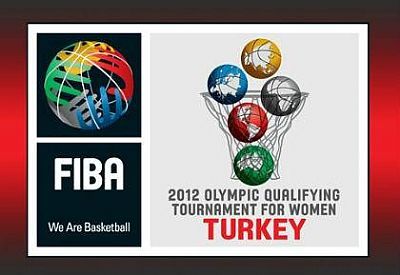 A1 v B2
B1 v A2
C1 v D2
D1 v C2


The four winning quarter-finalists qualify automatically for the London Olympics, while the four losing teams will play for the last remaining place as follows:
Loser [A1 v B2] v Loser [C1 v D2]
Loser [B1 v A2] v Loser [D1 v C2]

The two winning semi-finalists will go head to head for the 12th and final Olympic berth.
Cuba and Senegal declined their qualification and were replaced by Puerto Rico and Mozambique. France picked up one of the five spots for the FIBA Europe zone by finishing third at EuroBasket Women 2011.
They have been drawn in Group D with Canada and Mali.
The 12 teams have been placed into the following groups:
Group A: Japan, Puerto Rico, Turkey

Group B: Argentina, Czech Republic, New Zealand

Group C: Croatia, Korea, Mozambique

Group D: Canada, France, Mali

You can find our coverage from the 2008 competition by following the link on the right of the page.
This page will be updated regularly during the competition and appears in our RSS Feed to help you keep track. In order to subscribe to our RSS Feed please read: What is a RSS Feed?
Tournoi de Qualification Olympique féminin (TQO) - Tirage au sort
L'Équipe de France a été versée dans le groupe D en compagnie du Canada et du Mali. Ce tournoi de qualification délivrera les cinq derniers billets pour participer aux Jeux Olympiques de Londres.
Groupe A: Porto Rico, Japon, Turquie
Groupe B: République Tchèque, Argentine, Nouvelle Zélande
Groupe C: Croatie, Corée du Sud, Mozambique
Groupe D: Mali, France, Canada
Système de la compétition:

1. Les deux premières équipes de chaque poule seront qualifiées pour les quarts de finale de la compétition.
2. Les vainqueurs des quarts de finale seront qualifiés pour les Jeux Olympiques.
3. La dernière place disponible sera attribuée au vainqueur des matches classement.
---
Return to the top of page
---
Picture credit:


FIBA

Date created: 15 February 2012