Olympic Qualifying Tournament
Day 1 in Ankara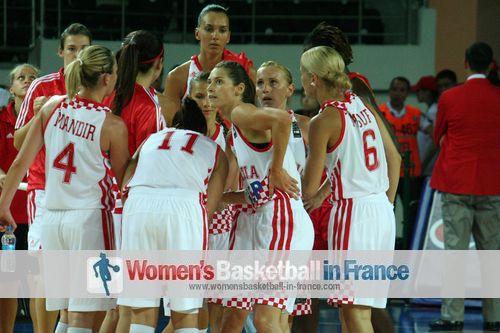 Turkey are hosting the 2012 Olympic Qualifying Tournament for Women's basketball in which 12 nations are competing for the last five places for the 2012 Olympic Games.
Croatia won the first game of the day (84-62) thanks to a strong first half (44-25) and excellent three-point shooting. Sandra Mandir, the captain of Croatia, explained after the game that they did not know much about their opponents but she was happy with the final result.
In the second game the Czech Republic used their height advantage to knock off New Zealand (70-51) with 22 points coming from Eva Vitecková while in the third game Turkey won (65-53) against Puerto Rico with Tugba Palazoglu and Kuanitra Hollingsworth (better known as Quanitra Hollingsworth) combining for 26 points.
Although Turkey were not brilliant their 9-0 burst at the end of the first quarter gave them the 12-point advantage they needed (24-12) to take control of the game. Yet Puerto Rico were not intimated by the home fans and kept the game close.
The last match of day 1 of the Olympic Qualifying Tournament never took off with Canada winning (89-23) against Mali.
You can move to any section by clicking on the links below or by scrolling down the page.
Day 1 picture gallery
Croatia 84-62 Mozambique
Czech Republic 70-51 New Zealand
Puerto Rico 53-65 Turkey
Mali 23-89 Canada

Olympic Qualifying Tournament Day 1: Picture Gallery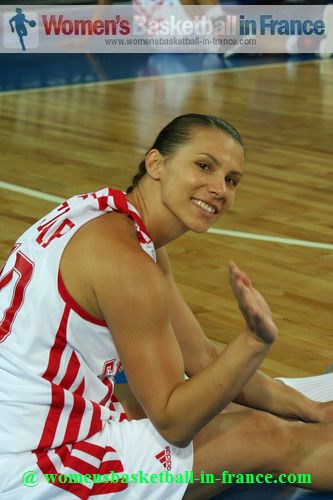 Move your mouse on the small pictures to view
Return to Olympic Qualifying Tournament index at top of page
Croatia's experience helped them to victory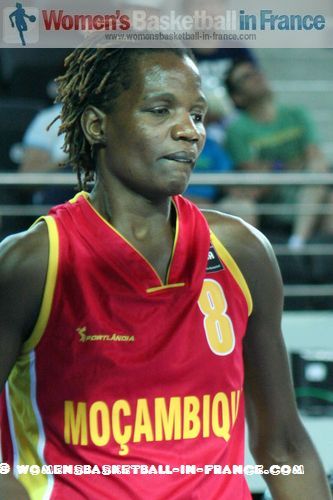 Croatia had a comfortable victory (84-62). But the star of the match was former WNBA player
Clarisse Machanguana
(in picture) from Mozambique who is 39 years old.
Despite foul problem early in the first quarter, she still top scored with 23 points while picking up 13 rebounds.
Croatia appeared to have the game won by half time (42-25) with hitting 6-of-10 from behind the arc. Jelena Ivezic and Ana Lelas had 11 points each.
Yet after the break Mozambique came out on fire with a 7-0 start that forced the Croatian head coach Stipce Bralic to call a time-out after 55 seconds.
His words worked as his team responded with back to back three-pointers.
Mozambique fought tooth and nail the rest of the way keeping the game interesting. However Croatia were too experienced to allow an upset.
Croatia finished the game with three players in double digits, Lelas (20), Sandra Mandir (16) and Ivezic with 14.
Mozambique need to win their next game against Korea. Otherwise they will be the first team eliminated from the Olympic Qualifying Tournament.
Croatia: Sandra Mandir 16 (4 assists), Andja Jelavic 2, Antonija Misura 0, Lisa Ann Karcic 2, Emanuela Salopek 9, Marija Vrsaljko 8, Iva Ciglar 7, Ana Lelas 20 (4 steals), Iva Sliskovic 4, Mirna Mazic 2, Luca Ivankovic DNP, Jelena Ivezic 14
Mozambique: Valerdina Manhonga 0, Deolinda Ngulela 0, Ana Flavia Joao De Azinheira 10, Anabela Cossa 11, Clarisse Machanguana 23 (13 rebounds), Catia Halar 7, Filomena Micato 0, Leia Dongue 9, Rute Muianga 0, Iliana Ventura 0, Odélia 0, Deolinda Gimo 2
Return to Olympic Qualifying Tournament index at top of page
Czech Republic, too tall for New Zealand
The Czech Republic showed no mercy to their opponents during the first 10 minutes with a (20-6) advantage.
Eva Vitecková scored first as her team started with a 6-0 opening. She was also the catalyst when the Czech Republic went on a 6-0 run to put her side back into control.
The New Zealand head coach Kennedy Kerema used a time-out after six minutes but had to wait until the last couple of minutes for his team to score some points again.
New Zealand played much better in the second quarter but were powerless in stopping Vitecková who scored 12 of her team's 24 points.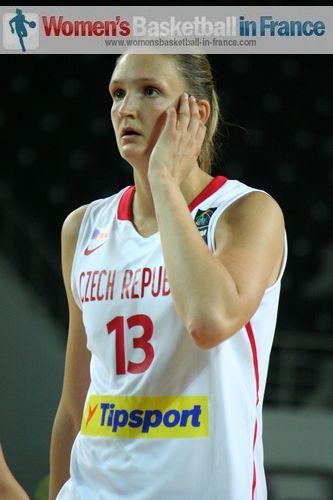 The Czech Republic used their height advantage to increase their lead going into the locker room (44-25) while Petra Kulichová (in picture dominated the rebounds:
During the second half of the match, New Zealand looked more relaxed and started to compete more for the defensive rebounds. As a result they matched the Czech Republic basket for basket to evenly play out the game.
Czech Republic: Jana Veselá DNP, Michaela Zrustova DNP, Katerina Bartonova 0, Katerina Zohnová 2, Ilona Burgrová 12 (9 rebounds), Hana Horakova 7 (4 assists), Alena Hanusová 2, Katerina Elhotova 10, Lenka Bartáková 0, Petra Kulichová 13 (13 rebounds), Tereza Peckova 0, Eva Vitecková 22
New Zealand: Charmian Purcell 4, Erin Jane Rooney 0, Noni Wharemate 4, Antonia Edmondson 4, Natalie Taylor 7, Micaela Cocks 4 (3 assists), Lisa Wallbutton 7, Kate McMeeken-Ruscoe 2, Casey Laing Lockwood 0, Jordan Taiana Hunter 9, Jillian Harmon, Karlene Kingi 4
Return to Olympic Qualifying Tournament index at top of page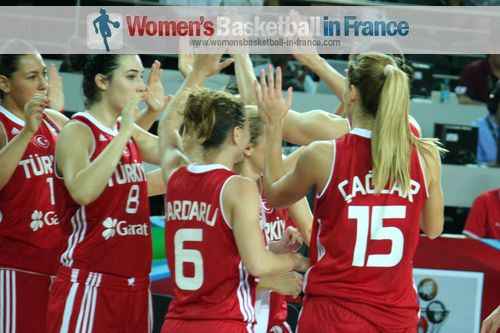 Puerto Rico did not make it easy for Turkey
The match started with a festival of three-pointers in the opening minutes with Birsel Vardarli and Tugba Palazoglu from Turkey replying to a three-point opening shot from Jazmine Sepulveda from Puerto Rico.
Puerto Rico continued to be aggressive during the first five minutes to lead (9-8).
Turkey, on the other hand, kept on shooting from far and regained the advantage with their third three-pointer of the game by Saziye Ivegin (11-9).
Turkey finally gained the upper hand with excellent shooting by Palazoglu. They finished the first quarter with a 9-0 run concluded with a three-point quarter ending buzzer beater by Palazoglu (24-12).
The second quarter was defensive and low scoring with neither side gaining the upper hand for long. Turkey maintained their advantage going into the locker room leading (35-22).
The third quarter resembled a game of cat and mouse with both teams playing both parts. The Puerto Rican captain Jazmine Sepulveda was all over the court causing Turkey most of their problems.
The scoring was steady but the game was not flowing as neither side was able to put together more than three passes without losing the ball. All the same Turkey went into the final quarter leading (59-39).
During the final quarter the two teams neutralised themselves as the game fizzled out with Turkey winning (65-53).
Puerto Rico: Stephanie Rosado 4, Pamela Rosado 0, Jazmine Sepulveda 20, Angelica Bermudez 0, Carla Cortijo 15, Jennifer O'Neil 0, Deana Ortiz 5, Sandra Garcia 0, Angiely Morales 2, Carla Escalera 3, Marie Placido 2, Esmary Vargas 2
Turkey: Tugba Palazoglu 13, Yasemin Dalgalar 0, Birsel Vardarli 5, Nilay Kartaltepe 0, Nilay Kartaltepe 8, Esmeral Tuncluer 6, Isil Alben 2, Nevriye Yilmaz 4, Kuanitra Hollingsworth 13, Yasemin Horasan 0, Saziye Ivegin 3, Bahar Caglar 11
Return to Olympic Qualifying Tournament index at top of page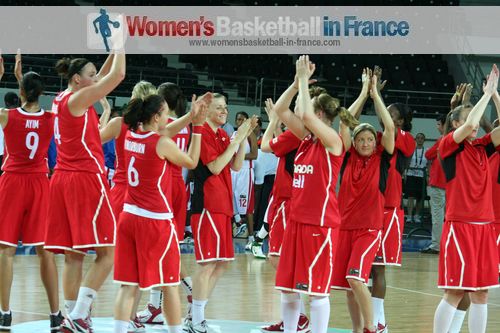 Canada walked over Mali
Mali turned up for the 2012 Olympic Qualifying Tournament with a roster of only 11 players. The team was weakened by the absence of so many key players.
The match started with a festival of misses by both sides. Mali eventually opened the scoring and led (4-0) with just under four minutes played.
Canada eventually got themselves out of the slump. They finished the first quarter with a 19-0 run to lead (22-6) to kill the game as a contest.
Mali were completely out of their depth and were blown away by their opponents by the interval (10-46).
All the Canadian players registered at least 10 minutes on the court. Only Courtnay Pilypaitis played more than 20 minutes (a total of 26). Pilypaitis also led the scoring with 15 points while dishing out 10 assists.
Mali: Nassira Traore 7, Djénébou Damba 0, Adizatou Maiga 2, Fatoumata Bagayoko 2, Diana Gandega 2, Aminata Sissoko 1, Fanta Guindo 6, Farima Toure 0, Djenaba Samake 0, Aminata Traore 0, Aminata Sininta 3
Canada: Krista Phillips 6, Teresa Gabriele 9, Shona Thorburn 4, Courtnay Pilypaitis 15 (10 assists), Kimberley Smith 11, Miranda Joy Ayim 10, Alisha Tatham 5, Natalie Achonwa 7, Lizanne Murphy 8, Tamara Tatham 9, Chelsea Aubry 3, Michelle Plouffe 2
Return to Olympic Qualifying Tournament index at top of page
---
Visit our FIBA information section
Return to the top of page
---
Olympic Qualifying Tournament picture credit:


womensbasketball-in-france.com

Date created: 25 June 2012