French basketball players abroad
The increase in the numbers of French basketball players abroad warrants a section of its own.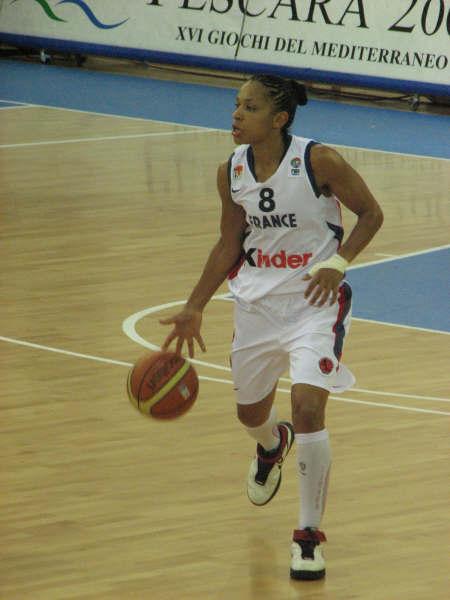 It is s common practise for the WNBA to use the term overseas players while referring to foreign players like Sandrine Gruda and Edwige Lawson-Wade (in picture) when they are playing in the American WNBA.
However we will use the term coming from abroad for players coming from outside France.
You will find a number of French players in some of the top clubs in the Czech Republic, Latvia, Italy, Russia, Spain and Turkey.
There are also a number of players who are not French but have had such an impact in France that they been adopted by their French clubs. So we will also follow their career from time to time.
All the links to stories from these women playing basketball abroad will be found on this page .
You can move between the sections as they appear by clicking on the links below or by scrolling down the page.
1.
French Players abroad
2.
NCAA and news from North America
3.
Former stars from the French League
---
French players abroad/overseas
10 January 2013: Myriam Igoufe never played in America but earned a master degree
11 October 2012: Anaël Lardy playing basketball abroad for USK Praha in 2012-13
14 May 2011: Isabelle Yacoubou-Dehoui moves from Italy to Spain

13 April 2010: Sandra Le Dréan brings an end to her professional career as a player

30 December 2009: Sandrine Gruda is La Gazzetta Dello Sport European player of the year

6 November 2009: Sandrine Gruda is in her eighth season away from home

06 November 2009: Edwige Lawson-Wade in Russia and the USA

06 November 2009: Sandra Le Dréan is back at ZVVK USK Praha

03 November 2009: Krissy Bade and and Allison Feaster in Spain

03 November 2009: Elodie Godin remains at Cras Basket

03 November 2009: Géraldine Robert is in Italy with C. A. Faenza

03 November 2009: Nicole Antibe, Audrey Sauret-Gillespie, Bernadette (Mudju) Ngoyisa and Marlous Nieuwveen play for Beretta Famila in Italy
03 February 2009: Emilie Gomis moves from Turkey to Italy

21 November 2008: Krissy Bade is playing for Gescom MC1 Viterbo in Italy

20 November 2008: Nicole Antibe and Allison Feaster play for Beretta Famila Basket Schio, Italy

11 October 2008: Elodie Godin joins Audrey Sauret-Gillespie at Cras Basket Taranto, Italy
Return to the page index
---
NCAA and news from North America
Stories from the NCAA

2012-2013
04 April 2013 Studying and playing basketball at Davidson College - Katrin Chiemeka
20 March 2013 2013 NCAA Basketball Selection Monday concerned 3 players from France
18 February 2013 2013 NCAA basketball - Who from France may dance in March?
21 November 2012 NCAA basketball in North Carolina wih Katrin Chiemeka and Allison Vernerey

13 October 2012 Tamzin Barroilhet from the Kent State Golden Flashes has a ring on her mind

29 August 2012 Jodie Cornelie, ready for the Dayton Flyers

14 August 2012 Duke University brings Allison Vernerey home
2011-2012
21 March 2012 Another Sweet 16 for Allison Vernerey and Duke
13 March 2012 Selection Monday delight for some French players
09 March 2012 Update on French players in NJCAA

06 March 2012 March Madness smiling at some French players
06 March 2012 What is Esther Niamké-Moisan doing in the USA?
28 February 2012 NCAA March Madness around the corner
25 January 2012 How are the juniors from France playing in NCAA basketball?
2010-2011
02 May 2011 The American adventure is over for Diandra Tchatchouang
29 April 2011 Playing basketball soon with Dayton Flyers - Jodie Cornelie
2009-2010
12 April 2010 Diandra Tchatchouang and coach Frese at Maryland
19 March 2010 March madness with Allison Vernerey and Coach P
18 November 2009 NCAA freshmen from France 2009-2010
Return to the page index
---
Former stars from the French League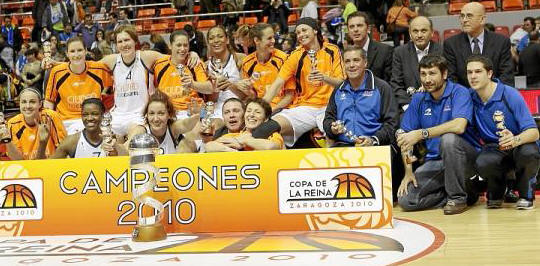 09 January 2011: Rivas Ecópolis take La Copa de la Reina

10 January 2010: Ros Casares win Queen's cup again and Laia Palau is MVP

10 January 2010: Ros Casaras and Perfumerias Avenida qualify for 2010 Copa de la Reina final

07 October 2009: Ros Casaras wins Spanish Super Copa

08 March 2009: Laia Palau and Ros Casaras Ros Casaras defended the Copa de la Reina

Return to the page index
---
Return from French Basketball Players Abroad to Women playing basketball blog
French Basketball Players Abroad picture credits:
womensbasketball-in-france.com

Date created: 11 October 2008
Last update: 04 April  2013
Like this page / Aimez cette page