Emilie Gomis joining other French basketball players abroad in Italy
---
---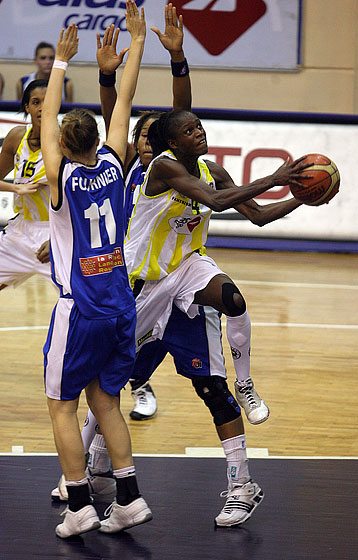 Italy has become the location this season for French basketball players abroad.
Emile Gomis, "Miss Go", has had an eventful season.
In June 2008 we wrote a paragraph What is the story about Emilie Gomis?.
Gomis' time in Fernerbahçe came to an end just before Christmas although nothing was officially released.
However the signing of Katie Smith at Fernerbahçe more or less confirmed Gomis' exit.
"Miss Go" did not waste much time finding a new club and has joined Phard Napoli (Napoli Basket Vomero) in Italy, who are currently in 10th place in the championship.
She led her team with 17 points. However her new team were beaten on the road by Acer Erg Priolo (63-48)in her first game.
Krissy Bade, a former team mate of Gomis, another French women playing abroad has also changed clubs but is still in Italy with ACP Livorno.
---
Other French player's overseas in 2008-2009
Krissy Bade is playing in Italy
Elodin Godin and Audrey Sauret Gillespie - Cras Basket 2008-2009
Nicole Antibe and Alison Feaster at Beretta Famila
Return to Women playing basketball blog
Return to French basketball players abroad index page
picture credits:
FIBA Europe

Date created: 03 February 2009

---