LFB team roster news from around the clubs in the LFB
---
---
The LFB team roster for ASPTT Arras is almost complete after the confirmation that WNBA rookie Leilani Mitchell (left) would join.
She was the 25th pick in the WNBA draft for Phoenix but was immediately traded to New York Liberty in exchange for the third round pick in the 2009 WNBA draft.
She played for the University of Utah during her NCAA career where she averaged 17.1 points per game and dished out 5.8 assists.
Sonja Petrovic (right)who did not take up her second year offer with Bourges Basket will be playing at Spartak Moscow Region in Russia next season.
Challes-les-Eaux have confirmed that Johanne Gomis will play at Nice in NF1 next season once she will recover from her injury.

Clermont-Ferrand have also finished their recruitment after signing Lourdes-Palaez from Spanish club side Baloncesto Dato Badajoz. She is 32 years old and is making her first move outside the Spanish League. She was a member of the Spanish team at EuroBasket 2001.
Lattes Montpellier have been one of the most lively clubs over the past couple of seasons with a lot of players coming and going.
With only three players left from last season's squad, they recently announced the signing of two youth players Alexia Plagnard from the CFBB and Linda Bousbaa from Nice in NF1.
Bousbaa, who does not turn 17 until December, is a product of Nancy Neuve Maison and played for SLUC Nancy before joining Nice Cavigal two seasons ago. She played a few games for Nice in the LFB during their relegation season.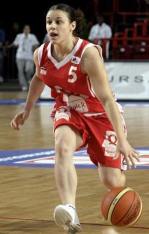 The Mondeville LFB team roster has been complete for some time but with only nine players on the roster, they have added two youth players fromtheir Academy to their first team, Kelly Corre and Stéphanie Dufour. Furthermore Melissa Micaletto (left)will continue her career in NF1 with Nice. Meredith Alexis is off to Spain and will play for Extrugasa. She will be joined in Extrugasa by former Tarbes Bulgarian youth international Jaklyn Zlatanova.

Nantes-Rezé have signed their fifth player, 24 year old Tiffani Williams.
She played in Hungary last season with Cegledi EKK and led thestatistic in points, rebounds and blocks in the Hungarian league.She is 2 metres tall and comes from Trinidad and Tobago.
Liad Suez Karni (right) returns to play in Israel with her former club Ramat Hasharon. She spent the last 18 months of her playing career in France with Nice for the second part of the 2006-2007 season and with Aix-en-Provence in the season that has just ended.
What is the story about Emilie Gomis?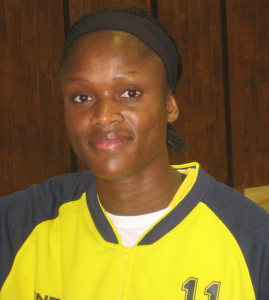 Miss GO, as she is known, is gone from France. She announced recently that she wanted to stay with the new clubs
Union Hainaut Basket
.
The contract negotiation broke down because of her knee injury.She explained that she wanted to stay in the North of France after spending three seasons with Villeneuve D'Ascq and two seasons with USVO because of the way she was treated by the people from the region.
She also explained that the problem with her knee was not new and that she accepted to play the whole season in pain and did not miss a single match. Yet all this was forgotten.
Gomis also stated that her injury was not as bad as reported.She has not been very happy with the way the whole affair of herinjury was broadcasted in the media. But Gomis is very happy with the way the French Basketball Federation and Pierre Vincent have handled the affair.
She is currently undergoing her rehabilitation at Clairefontaine in France under the supervision of the French Basketball Federation.
She hopes to help France out this summer as they try to qualify for EuroBasket 2009.
All the same she will be fit and ready to join her new club Fernerbahçe Istanbul where she will play in EuroLeagueWomen.
Return from LFB team roster change basketball news to "What's New" page
Return from LFB Team Roster Changes to LFB Basketball news
Previous roster changes from around the clubs
LFB team roster basketball news picture credit:
Leilani Mitchell - Utah University
Sonja Petrovic and Melissa Micaletto - Ligue Féminine de Basketball


Date: 23 June 2008
---