FIBA U(nder) 19
World Championship for Women
In 1985 during the first U19 FIBA World Championship for Women only 10 nations participated. This was increased to 12 for the 1989 edition.
In 2007 the number was increased to the current format of 16 teams. To qualify for the World Championship, national teams must compete in their continental championship in the year prior to the World Championship.
FIBA Europe are responsible for the European zone and currently the top five teams in the U18 Division A championship are awarded a ticket for the World Championship.
Australia, Russia (Soviet Union) and the USA have participated in each championship and only four nations have been crowned champions.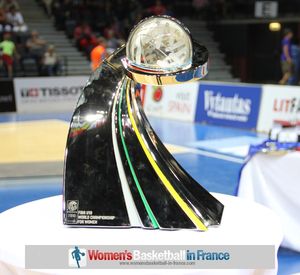 The USA have won the trophy six times: 1997, 2005, 2007, 2009, 2011 and 2013. The Soviet Union won the first two editions in 1985 and 1989. Australia in 1993 and the Czech Republic in 2001 are the other winners.
France have qualified five times and have finished on the podium once in 2013, when they won the silver medal. They first qualified in 1993 and finished sixth. In 2001 they improved to fifth place while in 2009 they dropped to seventh. In 2011 they finished for the second time in sixth place.
The format of the competition is identical to the senior world championship with a preliminary round, qualifying round (eighth final round) and a final round.
The four teams eliminated during the preliminary round play in 13th - 16th place classification.
The four teams that fail to qualify for the quarter-final then play in the 9th - 12th place classification.
The links to all our coverages of this competition are in the right menu of this page.
---
Picture credits:
Miguel Bordoy Cano



Date created: 21 July 2011
Last updated: 28 July 2013
Like this page / Aimez cette page