FIBA U19
World Championship for Women
The 2011 U19 FIBA Championship for Women is hosted by the Chilean Basketball Federation for the first time in the 26-year history of the event.
The tournament is played in two towns about 12 km apart (7 1/2 miles): Puerto Montt and Puerto Varas.
Puerto Montt is the main venue and hosts the majority of the games. On the days of the competition in which more than six games are to be played then Puerto Varas is also used for two evening games.
The 16 teams were drawn in the following groups:
Group A: Canada, P.R. of China, Egypt, Italy
Group B: Argentina, Japan, Russia, USA
Group C: Australia, Chile, France, Nigeria
Group D: Brazil, Taiwan, Slovenia, Spain

The competition format for the World Championship is likely to be modified slightly because of the late withdrawal by Nigeria.
It was not possible to replace Nigeria and hence the remaining teams from Group C qualified by default for the second phase of the competition.
France are participating in a U19 World Championship for the fourth time in their history and the12 players selected for this edition were named four weeks before the start. Éléonore Grossemy and Adja Konteh were members of the French team that participated in the 2009 tournament in Thailand.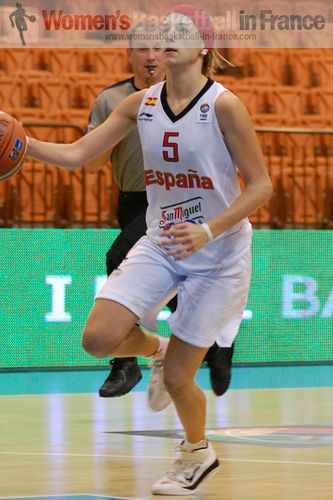 While France decided against players participating at the U20 European championship, the Spain's World Championship roster contains three members including tournament MVP Queralt Casas (left).
Italy included Irene Cigliani who played in the first three games of the U20 championship before leaving to join up with the U19 team.
Slovenia did not field a team in the U20 championship while Russia adopted the same approach as France.
womensbasketball-in-france.com is covering the French team's progress from the third day till the end of the competition.
The semi-final, bronze medal and final will be streamed live by FIBA TV and should be available in most countries.
---
Leave FIBA U19 Championship 2011 page and go to U19 index page
Return to the top of page
---
Basketball picture credits:


womensbasketball-in-france.com

Date created: 23 July 2011
---