In terms of qualification for the next phase of the U19 FIBA World Championship for Women the only winner-take-all match was between China and Egypt. Slovenia also had a mathematical chance of avoiding elimination provided they won against Spain.
In the end there was little suspense on day three with Australia, Brazil, Canada and the USA maintaining their unbeaten records to top their respective groups.
Argentina that won bronze two years ago will now play in the 13th-15th classification round.
Casas led her team to victory (75-58) by scoring 20 points, dishing out 3 assists and collecting 3 steals. Tjasa Gortnar fired in 21 points for Slovenia.
Slovenia are out of the race for the title and must play in the classification round.
Australia, too tall and quick for France
The Australian Gems have been regular visitors to France in recent years so that many of the players on the current roster are youth basketball international household names in Europe.
The Australians know that youth teams from France struggle against a disciplined zone application. So they used their height advantage with a simple zone defensive system to keep France at bay from the start of the game.
In addition Rebecca Cole (left) who was unknown to the French players and staff was in an amazing form.
Cole was a thorn in the French side from the tip-off and scored 6 points and handed out 1 assist as Australia raced out to a (9-0) start with five minutes played.
France had no answer to the zone played by Australia and were forced to rush their shots and hence went 0-from-9 to start the game.
Valériane Ayayi finally got France on the scoreboard from the free-throw line. But it was only after Gretel Tippet scored for Australia that Ayayi hit a basket for France from open play.
Ayayi scored the first 7 points for France. Yet with Cole running the play Australia maintained the advantage (14-7).
France were not able to take advantage of Cole not being on the field to reduce the deficit as Australia edged the first quarter (17-10).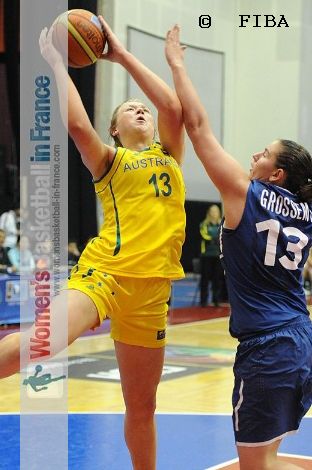 Australia stopped Ayayi getting the ball during the second quarter and quickly stretched their lead into double digits and appeared to be cruising towards a record score after Kerryn Harrington hit a trey (26-10) with just over 13 minutes played.
France tried to rally back with individual exploits by Sabrine Bouzenna, Mélanie Devaux and Adja Konteh. However Australia controlled the situation and went into the locker room leading (37-21).
France huffed and puffed all through the third quarter but Australia always had an answer with Cole, Allen, Harrington and Tayla Roberts (right) as they went into the final quarter (56-36) ahead.
France had no answer to the Australian defensive systems and more or less conceded the game at the beginning of the final quarter. Hence the quarter was played out in training mode with Australia having to settle with a 22-point victory (67-45).
Cole led the scoring with 18 points and 9 assists while Tayla Roberts and Sara Blicavs added 11 and 10 points each.
For France Valériane Ayayi was the leading scorer with 13 points with Adja Konteh and Sabrine Bouzenna (4 assists) scoring 7 points each.
With Australia taking maximum points into the next stage they need just one victory to assure a place in the U19 FIBA World Championship quarter-final. France may need to win at least two of their next three games to be sure of a place in the last 8.
Australia: Rebecca Cole 18 (9 assists), Aimie Clydesdale 0, Kerryn Harrington 7, Ashleigh Karaitiana 0, Carley Mijovic 1, Rebecca Allen 9 (10 rebounds), Madeleine Garrick 0, Gretel Tippett 7, Nadeen Payne 4, Tayla Roberts 11, Alexandra Bunton 0, Sara Blicavs 10
France: Jenny Fouasseau 0, Sabrine Bouzenna 7 (4 assists), Agathe Degorces 2, Valeriane Ayayi 13, Johanna Joseph DNP, Hélèna Akmouche 2, Martine Barba 5, Adja Konteh 7, Mélanie Devaux 3, Eléonore Grossemy 2, Mousdandy Djaldi-TABD 4, Mathilde Roche 0
---