FIBA U19 World Championship for Women
Baric and Gortnar say bye bye
The day Slovenia qualified for the U19 FIBA World Championship Nika Baric was in tears because
Tjasa Gortnar was seriously injured during the game
.
She explained after the game that at half time in the locker room she told her girls that they had to win for Tjasa. Baric went on to score 38 points that day and to dish out 10 assists as Slovenia beat Lithuania (82-76).
Baric and Gortnar played for different youth teams in Slovenia. But since they first joined up together on the national team in 2006 they developed a telepathy second to none.
Gortnar is the taller of the two players and was the player who controlled the boards at both ends of the court and had the unrecognised habit of drawing players away from Baric.
Baric's creativity is something that has always made her difficult to play against in youth basketball competitions. Her ability to play off Gortnar was what made their partnership so strong.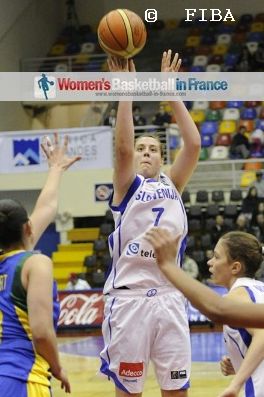 The two players have taken a lot of hits when playing for Slovenia and it has been very rare that both of them have gone through a tournament without getting hurt.
In the summer of 2009 while playing in the FIBA Europe U18 Divsion B championship, Gortnar (left) sprained her ankle. Yet for the all important promotion game she played on one leg.
In that same match Baric was knocked over several times and ended up rolling her ankle. Both players did not play in the final, but somehow both of them went through the pain barrier to complete the promotion game (semi-final).
The U19 World Championship for Women is likely to be the last time both players play as youth internationals because Slovenia have not fielded a U20 team in a number of years. Also with EuroBasket Women qualification next summer the senior team will take priority.
Baric, getting hurt during these championships, may have cut Slovenia's participation short. It should be noted that Gortnar herself is playing in her first competition for almost one year out of the game.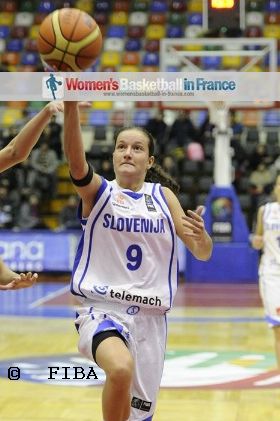 Baric (right) returned for the 13th place classification game against Argentina and finished the match with 27 points. Gortnar also had a good game with 14 points and 7 rebounds.
Slovenia matched Argentina for the first 30 minutes and started the final quarter on level terms (63-63).
Baric and Gortnar were to score for Slovenia. However the game ran away from them as Melisa Gretter sparked Argentina into a 21-2 finish.
When Damir Grgič took off Gortnar with 90 seconds to play, this signalled the end of a six-year partnership.
10 seconds later Baric was taken out of the game. For Grgič this was a hard moment because he was her club coach. So this was their last game together.
Baric moves to Spartak Moscow next season while Gortnar will be in America as a student athlete at Georgia Tech.
---
Leave FIBA U19 Championship 2011 page and go to U19 index page
Return to the top of page
---
Basketball picture credits:


FIBA

Date created: 27 July 2011
---