FIBA U19 World Championship for Women
Canada and USA ready for match-up
Canada and the USA have passed all their tests so far in the U19 FIBA World Championship for Women in Chile, so that it is easy to say they must be among the favourites for this competition.
However youth international basketball has a habit of coming up with shocks. The format of the competition in which the top 8 teams end up playing 9 games in 11 days can also play a factor, especially when it comes to the knock-out stage of the competition.
Head coaches Rich Chambers from Canada and Jennifer Rizzotti from the USA are well aware of the pitfalls of this competition and remain focused on the next game and nothing more.
Both teams' places in the quarter-finals were assured after victories on day 4 and they face each other in the final group game to determine who will be seeded 1 and 2 in Group E.
The USA once again had four players in double digits in their victory against Italy (90-64). The USA learned from their hard fought victory against China the previous day and stormed out of the starting blocks with a (15-7) lead with just over five minutes played.
They finished the first quarter with an 11-0 run to open up a commanding lead (31-13). The USA continued the full court pressure during the second quarter and went into the locker room in front (51-28).
The USA did not miss much during the first 20 minutes and made almost 62% of their shots. Italy turned the ball over 15 times of which 11 came off the press.
Italy improved during the second half of the match but the USA were too far ahead and remained focused. Cierra Burdick led the USA with 17 points while Breanna Stewart had 15 points.
Future Allison Vernerey's team-mate at Duke, Elizabeth Williams also scored 15 points while Stefanie Dolson had 14. Ariel Massengal had a game high 9 assists. For Italy Nene Diene had 11 points.
Canada had an up and down day in seeing off Japan (68-60). The Canadians appeared home and dry leading (41-29) at the interval.
Yet Japan changed tactics and rallied back and with eight minutes to play they went in front (56-55).
Nirra Fields came to the rescue for Canada with a couple of steals but more importantly 6 points.
Wumi Agunbiade led the way for Canada with 21 points and 10 rebounds while Michelle Plouffe scored 17 points.
Korissa Williams (in picture) and Fields also finished in double digits with 11 points each.
For Japan Rui Machida was close for a triple double with 15 points, 11 assists and 8 rebounds, while Sanae Motokawa and Aoi Katsura finished with 20 and 11 points respectively.
Despite the defeat Japan have qualified for the quarter-finals of the 2011 U19 FIBA World Championship for Women.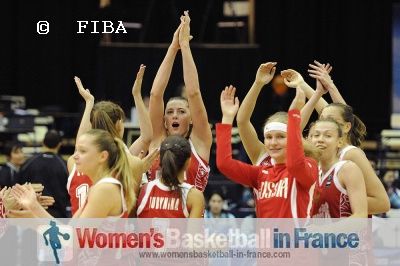 Russia made hard work of beating China (65-53). China missed their first nine shots of the game and took nine minutes to hit a shot from open play. They also went 2-of-6 from the charity stripes but trailed just (4-10) at the end of the first quarter.
Russia were unable to take full advantage of China's short-coming and had to thank Ksenia Tikhonenko with her 20 points and 8 rebounds for hanging on to victory.
Ekaterina Fedorenkova and Anastasia Maksimova added 17 and 11 points to the Russian total. China had a bad day from the free-throw line scoring just 9-from-20.
China are eliminated from the title race while Russia meet Italy in a winner-take-all match for the last quarter-final place from this group.
---
Leave FIBA U19 Championship 2011 page and go to U19 index page
Return to the top of page
---
U19 FIBA World Championship basketball picture credits:


FIBA
womensbasketball-in-france.com
Date created: 26 July 2011
---