FIBA
International Basketball Federation
Fédération Internationale de Basketball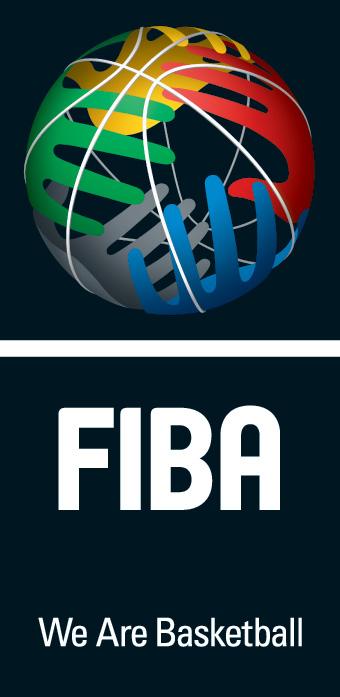 FIBA is actually the acronym from the French name of the organisation Fédération Internationale de Basketball.
However when the organisation was formed in 1932 it was called Fédération Internationale de Basketball Amateur.
The headquarters remained in Switzerland (Geneva and Bern) until 1956 when it moved to Munich in Germany.
In 2002 it was decided to move back to Geneva.
The current Secretary General is Patrick Baumann who has been in this role since 2003.

The word Amateur was officially dropped from the title in 1989.
But the acronym remained because of the first two first letters from the word basketball.
The role of the International Basketball Federation is to:
define the rules of basketball,
specify the equipment and to facilitate requirements of the game,
regulate the movement of players around the world,
control the appointment of international referees,
and controls and governs all international competitions.

With the growth of basketball in 1989 the members of the organisation were split into five zones or commissions:
Africa, Americas, Asia, Europe and Oceania.
This resulted in continental tournaments such as EuroBasket that is organised in zones leaving FIBA to organise world championships.
The first world championship for men was held in 1950 and in 1953 for women.
In 2014 the men's championship will be held in Spain (FIBA world Cup) while for the women it will be in the Turkey.
Changes to the structure of international youth basketball resulted in dropping the U21 world championships after the 2007 edition.
The U19 world championships cycle changed from four years to two years and from the summer of 2010 a U17 world championship has been added to the calendar.
FIBA are also responsible for the Olympic qualifying tournament.
You can find fast link in the right margin to various events that womensbasketball-in-france.com have covered.
With the development of competition sections on the site, only the General news section on this page is updated.

You can move between sections as they appear by clicking on the links below or by scrolling down the page.

1. General News

2. Senior Women World Championship

3. EuroBasket Women Qualification -2010

4. Youth World Championships news till March 2011

---
General News
28 January 2014: European Championships youth basketball dates and hosts for 2014
11 February 2013:2012 European player of the year is Céline Dumerc

06 February 2013:2012 European young player of the year is Alina Iagupova
14 December 2012: EuroBasket Women 2015: 1st Qualification Round draw
30 November 2012: European Championships youth basketball dates and hosts for 2013
08 July 2012 London 2012 Olympic Basketball Tournament: Groups and Schedule

07 February 2012: 2011 European player of the year is Alba Torrens

06 February 2012: 2011 European young player of the year is Emma Meesseman from Belgium

04 February 2012: 2011 Europe player of the year voting is closed

05 December 2011: EuroBasket Women 2013 Qualification round groups

26 November 2011: European Championships youth basketball dates and hosts for 2012

29 October 2011: FIBA World Olympic Qualifying Tournament for women not in France

12 October 2011: 2012 London Olympic basketball jigsaw puzzle nearing completion

18 February 2011: Hana Horáková is the 2010 European player of the year

11 February 2011: Nika Baric from Slovenia is 2010 European young player of the year

06 December 2010: European Championships youth basketball dates and venues

05 December 2010: EuroBasket Women 2013:held in France / La France organisera l'Euro féminin 2013

12 February 2010: Sandrine Gruda is 2009 European player of the year

08 February 2010: Alba Torrens from Spain is 2009 European young player of the year

09 December 2009: The new rules for 2010 and court markings

22 September 2008: New rules for 2008 in English & French

Return to the FIBA page index
---
Senior Women World Championship news
03 October 2010:
USA win the title for the eighth time
25 November 2009:
France seeded 2, drawn in same group as the USA
19 November 2009:
Draw information for the 16th World Championship Women
Return to the FIBA page index
---
EuroBasket Women Qualification
07 December 2010:
Women 2011 AQT's to be hosted by Italy and Hungary
06 September 2010:
Div A: New format for Additional Qualification Round and end of Division B
29 August 2010:
Div A: The qualification series has come to an end
26 August 2010:
Div A: Great Britain, Montenegro and Turkey qualify
23 August 2010:
Div A: Lithuania are going to EuroBasket Women 2011
20 August 2010:
Div A: It is all about grinding it out
18 August 2010:
Div A: Playing on the road is not that bad
14 August 2010:
Div A: Montenegro setting the pace in Group C
12 August 2010:
Div A: EuroBasket Women 2011 week 1 summary
16 January 2010:
Div A: EuroBasket Women 2011 qualifying round groups
Return to the FIBA page index
---
Youth World Championships
21 March 2011:
2011 U19 World Championship for Women draw
25 July 2010:
USA are the U17 World Champions
25 July 2010:
France and USA qualify for the finals
24 July 2010:
France eliminated Australia in quarter-final
22 July 2010:
Group phase ends with France qualifying for quarter-final
20 July 2010:
Results from the second and third day
17 July 2010:
USA too strong for France in opening game
12 February 2010:
France drawn in Group A with the USA
24 January 2010:
12 qualifiers ready for draw
Return to top of page
---
Return from FIBA international to "What's New" page
picture credit:
womensbasketball-in-france.com

Date created: 14 October 2009
Page update: 21 March 2010
News Update: 01 February 2014
Like this page / Aimez cette page