2013 EuroBasket Women
Qualification round draw
Already qualified for the EuroBasket Women 2013 final are the Olympic Games or Olympic Qualifying Tournament participants Russia, Turkey, France, Czech Republic, Croatia and Great Britain.
With the
abolishment of Division A and Division B
the way was open for all FIBA Europe members to participate in the EuroBasket qualification.
Initially 26 nations registered but unfortunately Bosnia and Herzegovina had to withdraw.
The 25 teams are divided into 5 groups of 5 teams. The first and second placed team from each group will qualify directly to the Final Round.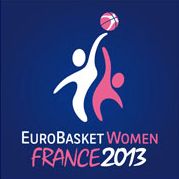 What this implies is that the Additional Qualification Tournament (AQT) - as used in 2011 - will not take place.
The timetable for the qualifiers has been scheduled to take place between 13 June 2012 until 14 July 2012 while the 2013 EuroBasket Final Round will take place in France between 15-30 June 2013.
The seeding for the draw was determined by FIBA Europe in their official competition guide. Basically teams of the same seed could be drawn against each other. The seeding used for the draw was as follows:
Seed I: Montenegro, Lithuania, Latvia, Belarus, Spain

Seed II: Poland, Greece, Slovakia, Germany, Israel

Seed III: Hungary, Italy, Serbia, Bulgaria, Netherlands

Seed IV: Ukraine, Finland, Romania, Belgium, Estonia

Seed V: Sweden, Slovenia, Switzerland, Portugal, Luxembourg

The teams have been drawn as follows:
| | | | | |
| --- | --- | --- | --- | --- |
| Group A | Group B | Group C | Group D | Group E |
| Israel | Poland | Slovak Republic | Germany | Greece |
| Belarus | Montenegro | Lithuania | Spain | Latvia |
| Portugal | Switzerland | Slovenia | Sweden | Luxemburg |
| Ukraine | Estonia | Belgium | Romania | Finland |
| Hungary | Serbia | Netherlands | Bulgaria | Italy |
---
Leave our EuroBasket Women page and visit our FIBA news page
Visit our French senior women page
Visit our blog page for latest news
Return to the top of page
Picture credit


FIBA Europe

Date created: 5 December 2011
---