Additional Qualification Tournament 2011
EuroBasket Women AQT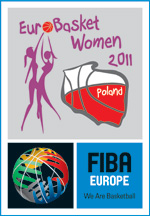 FIBA Europe changed the EuroBasket qualification procedure in September 2010 by abolishing Division B in senior international basketball.
By removing this division the Additional Qualification Tournament was created.
This tournament will allow all the teams that missed out on direct qualification for the final phase of the 2011 European Championship to have one last chance of qualifying.
At the end of the European Championship qualification series the following nations found themselves in the AQT: Belgium, Bulgaria, Finland, Germany, Italy, Hungary, Netherlands, Romania and Serbia.
Competition format
The teams were divided into two groups of five with Hungary and Italy elected to host each group.
Group A: Hungary, Bulgaria, Finland, Netherlands, Ukraine
Group B: Italy, Belgium, Germany, Romania, Serbia
All teams play each other once during a round robin competition from 3 June 2011 until 8 June 2011.
In Hungary all the games will be played in Sopron while in Italy they are played in the Cras Basket arena in Taranto. Sport 1 in Hungary and RAI Sports in Italy will be providing live television coverage for their teams.
The winner from each group then will square off against each other in home-and-away games on 2 June and 15 June to determine who will qualify for the finals.
The prize for the winner is a place in Group C with host nation Poland, Spain and Montenegro.
The European Championship will tip off on 18 June 2011 in the cities of Bydgoszcz and Katowice in Poland.
---
Return to EuroBasket Women 2011 senior international basketball
Return to the top of page
---
AQT basketball picture credits:


FIBA Europe

Date created: 04 June 2011
---