AQT EuroBasket Women 2011
Hosts shine on day 2
Italy opened their EuroBasket Women qualification bid with a comfortable 21 point victory against Serbia (76-55).
Chiara Consolini led the Italian attack with 17 points while Jenifer Nadalin and Kathrin Ress both reached double digits scoring 11 and 10 points.
Hungary by made it two wins from two games by beating Finland (65-51) and are now top of Group B.
In the remaining two games Bulgaria and Romania bounced back from opening day defeats with victories.
Bulgaria beat Ukraine (70-68) with 27 points coming from Donneka Hodges. Romania needed 21 points from Gabriela Marginean to overcome Germany (65-59).
Italy start EuroBasket Women bid in style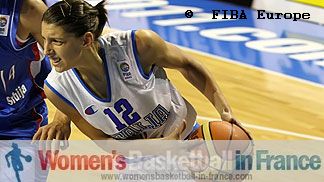 Chiara Consolini (right) had a productive 19 minutes for Italy in scoring 17 points in their opening victory against Serbia (76-55).
Serbia were quickly on the scoreboard but their joy was short lived as the hosts took control (8-3) with 3 minutes played.
Serbia were on the back foot for the rest of the first half and kept the game close until the last minute.
Consolini with a trey and two points from Jenifer Nadalin gave the Azzurre a 9 point lead going into the interval (40-31).
The Italians stretched their advantage to 15 points at one stage (54-39) but Serbia did not panic and went into the final quarter still down by 9 points (49-58).
Italy and in particular Consolini put an end to Serbia's challenge with a 9-0 final quarter opening and then cruised to victory (76-55).
Francesca Zara dished out 5 assists while scoring 9 points in her first EuroBasket Women game since 2007.
Hungary alone at the top
Hungary are making home court advantage count as they are currently alone at the top of group B.
Hungary sealed their victory against Finland with a 15-4 run during the second quarter which enabled them to lead at the half-time break (39-29).
The Hungarian players used their EuroLeague and EuroCup experience to keep Finland at bay for the rest of the game as they secured their second victory (65-51).
Dóra Horti (left) was the top scorer for Hungary with 18 points while Heta Korpivaara led Finland with 13 points.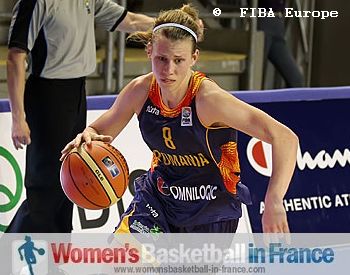 Romania needed to win in order to keep their EuroBasket dreams alive and they achieved that by beating Germany (65-59).
Romania went on a 14-0 run early in the first quarter to lead (20-5) with five minutes played.
Germany spent the rest of the game chasing after the score but the damaged had been done. Gabriela Marginean (right) was the hero of the evening with 21 points and 6 rebounds for Romania.
Dorothea Richter led the scoring with 18 points while Romy Bär complied a double-double of 17 points and 10 rebounds.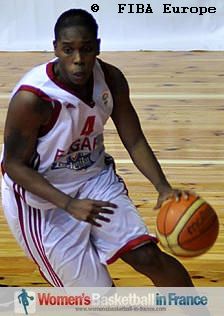 Bulgaria needed 27 points from Doneeka Hodges (left) to get past Ukraine (70-68).
Bulgaria held the lead most of the time during the first 25 minutes but went into the final quarter trailing (50-53).
Ukraine hit two quick baskets to lead by 7 points with nine minutes remaining to play.
Dimana Georgieva came to the rescue with 7 points as the team drew level (61-61).
The last five minutes became an offensive battle between Inna Kochubei and Alina Iagupova from Ukraine against Hodges for Bulgaria.
The game right down to the wire with the final points coming from the charity stripes.
For Bulgaria former Tarbes player Jaklin Zlatanova added 16 points and pull down 7 rebounds.
---
Return to EuroBasket Women 2011 AQT
Return to the top of page
---
EuroBasket Women AQT basketball picture credits:


FIBA Europe

Date created: 04 June 2011
---