2011 EuroBasket Women AQT
Hungary eliminate Ukraine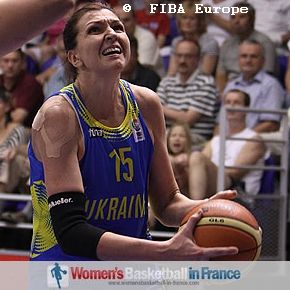 Hungary are close to qualifying for the EuroBasket Women AQT play-off final. Bulgaria are the only team that can stop them from winning the group.
For Ukraine and Finland the dreams of EuroBasket are already over after losing for the second time.
Hungary (left) made things a little difficult for themselves during the first half despite leading (25-13) after 12 minutes.
They relaxed a little too much and Ukraine, led by Olena Zherzherunova, reduced the deficit to 6 points by half time (29-35).
After the break Hungary's concentration had returned and they opened up a double digit lead which they maintained till the end of the match.
Zsófia Fegyverneky who led Hungary with 19 points and 5 assists said after the match "Our schedule is good, because our oppenents are stronger day by day. Our game is improving game by game, we are going into the right direction. On Tuesday against Bulgaria we have to keep playing defense like we played today."
Although Ukraine are now out, their coach Iryna Shchypakina is looking to the future: "The Hungarian team is very good. They are young but already have international experience. They know how to play in tough situations. We have young players too, but they play in Ukraine only."
Netherlands are still in the AQT
Meindert Van Veen, the coach from the Netherlands, was made to sweat it out. Her team appeared home and dry leading (81-72) with three minutes to play.
Yet with 10 seconds remaining Finland trailed by 3 points.
Tanya Bröring from Holland had the chance to settle the match from the free-throw line but missed both shots.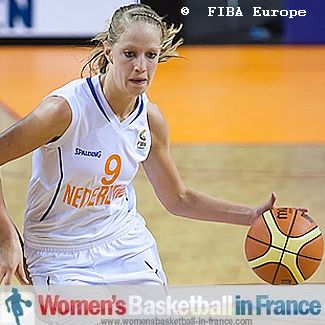 Finland had about eight seconds to save the game but left it a little too long to set up the final shot. As a consequence Reetta Piipari had to fire off a shot on the buzzer.
The ball failed to drop and Finland found themselves out of contention for the Eurobasket Women AQT.
Myrthe Beld (right) was the top scorer for the Netherlands with 21 points while Clara van der Hoek added 15 points.
Taru Tuukkanen was the best scorer for Finland with 22 points.
Results from day 1 to day 3
Netherlands 83-80 Finland
Hungary 68-56 Ukraine
Finland 51-67 Hungary
Ukraine 68-70 Bulgaria
Hungary 68-39 Netherlands
Finland 61-57 Bulgaria

---
Return to EuroBasket Women 2011 AQT
Return to the top of page
---
AQT basketball picture credits:


womensbasketball-in-france.com

Date created: 06 June 2011
---