Women Amateur Basketball News Index Page
---
---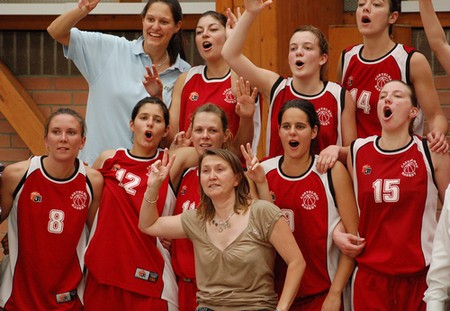 Amateur Basketball news: 2007-2008 NF3 Champions Castelnau Basket
All the divisions below the LFB are amateur basketball leagues in France for women playing basketball. The
NF
designation stands for
Nationale Féminine
while for the men's league the designation used is NM.
We have given Nationale Féminine 1 its own page as we will be following this league during the season.
During the 2007-2008 season we started our coverage of Amateur Basketball (NF2) for the lower division by following Strasbourg IG (SIG)
as they were called then. They went on to complete the amateur grand slam and are now playing in NF1.
For this season we will give Nationale Féminine 2 (NF2) more coverage with brief reports from one of the four groups per week. If the clubs in the division provide us with more information then we will write some club reports.
We will also follow the progress of the LFB Espoir teams playing in the division.
Nationale Féminine 3 (NF3), the fourth division, is split into eight groups. For this season our main interest will be the LFB Espoir teams, however like last season we will follow the play-off.
The fifth division, known as Pré-nationale, is split into 24 regional divisions. We will follow some of the teams from around the region as they play in the French Amateur Cup.
You will be able to find detailed information about the various league structures by reading our page on the competition guide for the 2007-2008 season
.
Amatuer Basketball news index
You will be able to find all the stories for the current season by following the links below or scrolling down the page.

Nationale Féminine 2

Nationale Féminine 3

News from the other leagues

---
Nationale Féminine 2
01 April 2010: NF2 2009-2010 player awards

05 March 2009: NF2 2008-2009 player awards

Return to Basketball news index
---
Nationale Féminine 3
24 September 2008: Stéphanie Vivenot is back in NF3

Return to Amateur basketball news index
---
Return from Women Amateur Basketball news to Women Playing Basketball blog page
Picture credits:basquetebol.org
Date created: 21 September 2008
Last update: 01 April 2010
---