SIG in all its colours
Philippe Breitenbucher (left) and Jean Claude Geyer are two men who have been training the ladies of Strasbourg Illkirch-Graffenstaden (SIG) in NF2 for many years. The club is in its eleventh season in this division and is currently leading group D.

When people talk of the SIG they tend to think of the men's professional team but the actual owners of the name is the Amateur section of the club. The club has one of the largest numbers of licensed players in France. Furthermore it is also one of the few clubs that have teams playing in national leagues in all categories.
In the women's basketball section the SIG has teams in national championships at all the levels possible: from minimes (U15), cadettes (U18 women), NF3 up to NF2.
On the men's side there is the team in Pro A and an Espoir junior team (U21). The SIG also runs a cadets team playing in the national championship. The minimes (U15) boys play under the colour of the amateur basketball section.
The NF2 team of the SIG had missed out on promotion to NF1 on numerous occasions. This season winning the group does not guarantee promotion but only a play-off spot.
The SIG women were runners-up in 2006 and 2007 in the Trophée Coupe de France. Also did they end the monopoly of their local rivals, Racing club de Strasbourg in 2006, by winning the Crédit Mutuel Cup.
---
---
SIG's youth policy for women
The club managed to qualify for national final four finals between 2004 and 2006. This success required them to put a new structure in place this season as they were not able to keep hold of a lot of their talented players after the age of 15.
A number of the minimes girls that shined for the SIG during this period have successfully continued for other clubs nationally as well as internationally:
Mélissa Micaletto has won two national championships with Mondeville U18. She was also a member of the France U16 squad in 2006. Katrin Chiemeka, a blog writer for FIBA Europe, has played for England U16 at the last two European Championships.
Stephanie Cabald and Charlotte Plumere picked up French Cup runners-up medals with Etoile de Voiron in 2007 while Julie Hildenbrand won a U18 Championship medal with Mondeville last season. Claire Lickel did not travel as far as some of the other players from this group. But she has had plenty of success with CJS Geispolsheim in NF2 and NF3.
Some of the other players who have stayed in the club and who were part of the 2004 U18 squad such as Lucy Battaglia have national honours in helping Strasbourg University to become Champions of France.
The SIG twins Pauline and Maud Schultz (left in picture) as well as Aliette Soubiran have also played in national finals for the institutions of higher learning.
Aline Fischbach, a player caught between two generations, missed out on playing in youth final fours. She is one of the few youth players that the club managed to hold on to. She made her debut for the team in NF2 while only 16. Today she is a key member of the team (she recently turned 19). Lucie Froehly, another young product of the club, has joined the young coaching staff. For young players to become coaches is also a SIG tradition.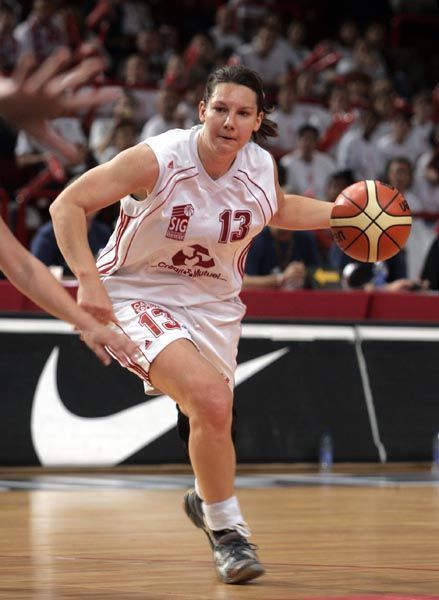 The SIG has worked on a project over the last two years in preparation for NF1. Last season they laid in a new floor. Furthermore they have recruited players such as Caroline Nestor (in picture) who have been playing in the LFB and NF1. They have also put in place a centre de formation for their youth programme, which should further promote women's basketball in their region.

---
---
NF2 round 20 round-up
Amateur basketball news from group A
US Laveyron are the only team in all the groups with a 100% record. They had no problems this weekend beating Saint Etienne (89-69).

Nice CAB are close on their heals in second place. They had a tricky road trip against Beûmont but held on to win (83-72). Sabine Falcoz is now playing for Nice and passing all her experience on to the younger players.

Beumont, Venelles and Venissieux Parily's survival is uncertain. One of the five clubs on 28 points, including Montpellier Espoir, is also a candidate for relegation.
Amateur basketball news from group B
The match between ATB 79 and Anglet was screened live on the internet on 1 March 2008. ATB were the better side and won (71-48). Yet Anglet's performance in the third period was interesting to watch from a development perspective. Anglet were not able to field their strongest team and came along with five youth players. They did not have the physical strength to trouble their opponents but their running game during the third period gave the hosts a scare.
Anglet are lying in thirteenth place and are very unlikely to leave the relegation zone. ATB are currently sixth in the table. Their chance of picking a play-off spot are very slim, so they will be trying to go as far as possible in the coupe de France.
The leaders Colomiers had no problem in beating Tarbes Espoir (60-44). They remain two games up on Rezé who held off the challenge of Montois(69-68).
Amateur basketball news from group C
USVO Espoir have only lost one game this season. They are a maximum of two victories away from wining the group. Three clubs are in the chase for the second play-off spot: Ifs, Sceaux and Legardère Paris Racing.

Nantes and Cherbourg are currently the clubs at the bottom while Evreux, Chesnay-Versailles and Ronchin are in a three-way contest with the winner avoiding the drop.
Amateur basketball news from group D
The SIG are leading their group. After completing the double this weekend against Charnay-les-Mâcon (66-59) they only require three more wins to take a play-off spot. Furdenheim, a club that is not far from Strasbourg and with a rich history in Amateur basketball, are currently second. They got back to winning ways this weekend (73-41) against Charlon-sur-Saône.
This group has two LFB Espoir teams: Bourges Basket and Villeneuve d'Ascq. Bourges Basket are currently in fourth place but back to back defeats have complicated their season. Most of the players for this team are U18 players and will now be involved in the second round of the U18 championship. Villeneuve had a roller coaster ride in NF2 this season. They are only one game above the relegation battle.
Alison Vernerey carried Mulhouse 2006/2007 in NF3 and is the focal point of the team again this season. Mulhouse found the going tough during the first phase of games. At the halfway point in the season they were candidates for relegation. Actually they have won their last three games and are moving up the table. With three home games to finish the season they have a good chance of beating relegation.
Return from Amateur Basketball News to "What's New" page
Return from Amateur Basketball News to Amateur Basketball
Amateur basketball news pictures courtesy of the Ligue Féminine de BasketBall

Amateur basketball news SIG team picture courtesy of SIG Amateur

Date: 03 March 2008
---