Amateur basketball news from NF3 with a surprise at SJS Reims
---
---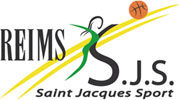 Saint Jacques Sports Reims tipped off the Amateur basketball season from lower divisions (NF3) with a surprise as
Stéphanie Vivenot
returned to competitive action.
Vivenot is a former French international player who retired from the game five seasons ago. She has been involved with the Reims Basketball Academy since her retirement.
She is also responsible for the training of most of the junior teams in the club from the age of six to eighteen.
At the end of last season Reims Espoir lost all but two of the players from their team including their coach Olivier Audegond as they all decided to move on to pastures new.
Despite building a new team for the second year following, injuries have disturbed their preparation. Since the objective of the club is a promotion this season, Vivenot (1m94) was included to the roster to add some height inside the paint.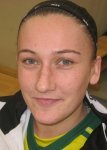 Reims won on the road (46-40) against Avenir Sportif d'Orly, coached by Olivier Audegond and with ex-LFB/NF1 player Stéphanie Blanquart (left) on the roster.
Another player from the LFB making her return to Nationale Féminine 3 is the former captain of Saint Amand Marie Foutère (right). She will be playing for Aulnoye NS and has already made a good start with a victory (77-65) against CS Ministère Finance Paris.
Another basketball news is the return of Anne-Laure Coudray to coaching. The wife of Hervé Coudray is now in charge of Douvres in group E. In their first match of the season they held off US Palaiseau (68-67).
COB Calais Espoir are also playing in group E this season. Most of the players that have been playing for the Espoir over the last two seasons left the structure this summer. Hence the team has no resemblance to previous years.
According to the news Céline Hedevin who spent the last three years at the CFBB will be returning to COB this season. As of last week she had not been registered to play.
---
Return from NF3 Amateur Basketball News to "What's New" page
Return from NF3 Amateur Basketball to Amateur Basketball page
picture credits:
Stephanie Blanquart © womensbasketball-in-france.com
Marie fouteret © FFBB press office
Date: 24 September 2008
---