2011 EuroBasket Women
Last to qualify is Germany
The 2011 EuroBasket Women Additional Qualification Tournament (AQT) and Additional Qualification Round (AQR) has come to an end with Germany picking up the last EuroBasket ticket.
Germany came into the second game leading (59-53). But within seven minutes they found themselves trailing to the hosts (7-15), on aggregate score by 2 points.
Germany rallied back before the end of the first quarter to regain the overall lead despite trailing (13-17).
In a pulsating second quarter in which Hungary initially had the upper hand leading (24-15), it was Germany that finally took command of the game for good with a 10-0 run (27-25).
The teams traded baskets during the final three minutes of the first half and went into the locker room all square (33-33).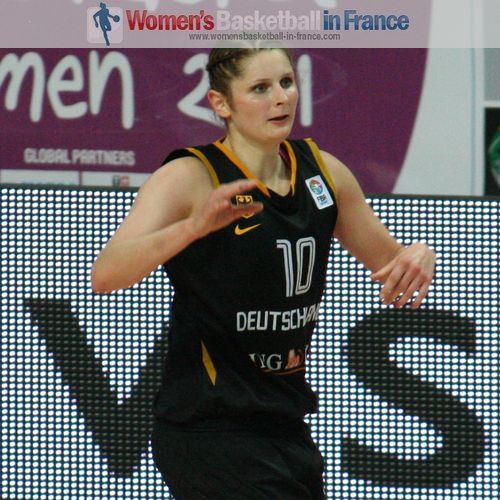 Hungary were unable to raise their game during the third quarter and allowed Germany to open up a 9-point advantage (49-40) going into the last quarter.
The Germans, playing more collectively with Dorothea Richter, Sarah Austmann and Romy Bär (left) all contributing 4 assists, silenced the home fans as they cruised to victory (67-56).
Svenja Greunke led the way with 14 points while Richter and Bär had 13 and 11 points apiece.
For Hungary Zsófia Fegyverneky led the scoring with 12 points.
Germany will head to the EuroBasket finals as the 42nd ranked team in the world and will face Spain in their first game.
For Hungary who had qualified for the European Championship in 2009, the competition has come an end.
---
Return to EuroBasket Women 2011 AQT
Return to the top of page
---
Basketball picture credits:


FIBA Europe

Date created: 15 June 2011
---