EuroBasket Women 2011: Three more teams in the final for the qualifyers
With their victory against Lithuania (83-81),
Italy
keep their hopes alive to qualify for EuroBasket Women 2011. They are second behind Lithuania in Group A.
Without Jelena Molovanovic's 25 points for Serbia, her side might have lost to Romania that came back strong after the first half.
Romania lost (81-83) with Gabriela Marginean's 25 points not being enough to edge this match.
Serbia still top Group B.
In Group C Turkey fought back against Hungary to win in overtime (78-75) in an exciting game to also book their ticket for the 2011 EuroBasket Women competition.
With Ukraine winning (80-78) against the Slovak Republic and Great Britain beating Germany (77-59), Great Britain stays top in Group D while all the other teams are on 2 wins and 3 losses.
All the results:

Group A:
Lithuania 81-83 Italy
Netherlands 91-88 Belgium

Group B:
Romania 83-85 Serbia
Israel 82-83 Latvia

Group C:
Hungary 75-78 Turkey
Montenegro 89-61 Finland

Group D:
Great Britain 77-59 Germany
Ukraine 80-78 Slovak Republic

You can read the EuroBasket Women 2011 news from all the groups by clicking on the links below or by scrolling down the page:


Group A: Italy still in the race for direct qualification

Group B: Tight finishes for both team games

Group C: Montenegro and Turkey top the group

Group D: Great Britain qualified for EuroBasket Women 2011

Look back on the EuroBasket Women news from Lithuania first to qualify and all the other groups' results.
---
---
Italy still in the race for direct qualification for EuroBasket Women 2011
Italy required a victory against Lithuania for a possible direct qualification. If they had lost, Croatia would have been secured 2nd place without playing this evening.
It was the turn of Marte Alexander to lead the Italian attack with almost perfect shooting. She finished the night with 21 points, hitting 8 of her 9 shots from the field.
Lithuania, playing their last game of the qualifiers, appeared to have everything under control going into the final quarter leading (65-56) to the delight of the home fans.
Yet Italy started to come back right from the start of the final quarter with Giorgia Sottana landing a three-pointer. Raffaella Masciadri and Kathrin Ress continued to bring their side closer and finally as the game entered money-time Alexander fired in the 7th three-pointer of night to regain the lead (78-77).
Egle Sulciute Stakneviciene managed to get the advantage back for the hosts from the free-throw line before Maria Franchini sealed the victory with a 3-point play (and 1).
Masciadri and Ress scored 12 points apiece while Sottana contributed 10 points in the Italian victory (83-81).
For Lithuania Sandra Linkeviciene was the leading scorer with 17 points.
For Italy to qualify they must beat the Netherlands in their last game while Croatia must lose to Belgium.
---
The Netherlands got past Belgium (91-88) in a tension packed game. Belgium who were without Kathy Wambe had a first quarter to forget trailing (19-29).
However Belgium picked themselves up during the second quarter and made up the deficit to lead briefly. But they were unable to maintain their momentum.
The Netherlands were back in front by the time of the half-time break.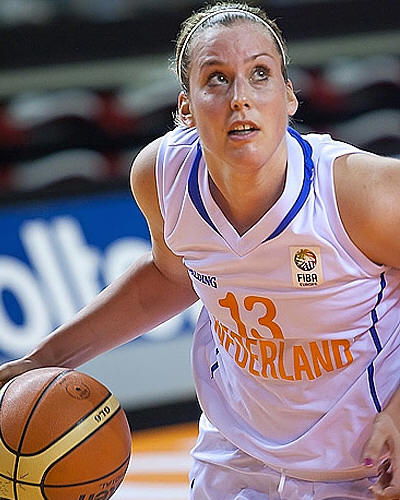 The Netherlands got themselves back on track as they dominated the third quarter and looked all set for victory leading (74-61) with eight minutes to play.
Yet the Benelux derby swung in favour of Belgium who were back in front through Ann Wauters with less than a minute to play.
Leonie Kooij (left) who finished the game with 39 points and 10 rebounds, restored the advantage for the Netherlands from the charity stripes. She then finished the night with a three-pointer.
Wauters was again the leading scorer for Belgium with 23 points.
The fate of both countries will be decided this weekend: defeat for the Netherlands means that they will finish bottom of the group.
Tight finishes for both group games
Serbia dominated Romania for most of the game and yet required a pair of free-thows by Jovana Vukoje to win the match (85-83). However Jelena Milovanovic's 25 points was the key factor in their victory.
Romania are not easy to manoeuvre at home and started to rally back during the third quarter with a 14-4 run to reduce their defict (57-61) going into the final quarter.
Gabriela Marginean who led the Romanian attack with 25 points completed the comeback with a three-pointer that gave her team the lead for 15 seconds.
Yet Milovanovic hit back for Serbia before the teams traded basket for basket with the lead changing hands six times in a pulsating finish.
---
In the other group game Latvia required double overtime to get past their hosts Israel (83-82). Elina Babkina secured the victory by splitting a pair from the charity stripes right at the end of the second overtime.
Ieva Kublina top scored with 20 points while Zane Tamane had 19 points and also collected 15 rebounds for Latvia.
Liron Cohen fired in 24 points for Israel.
Depending on the results on the final day the calculator may have to be used to determine which team misses out on direct qualification for EuroBasket Women 2011.
---
---
Montenegro and Turkey top the group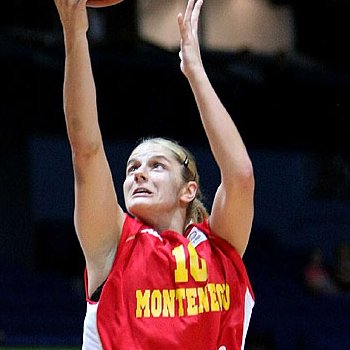 Montenegro were given a tough time for 14 minutes (27-27) before giving their supporters something to cheer about as they pulled away to go into the interval leading (45-34).
Finland did not give up but had no answer to Jelena Dubljevic (left) and Milka Bjelica who scored 22 and 17 points for the hosts as their side cruised to victory (89-61).
Jelena Skerovic was on fine form for Montenegro as she dished out 9 assists and scored 14 points.
For Finland Iina Sten, Taru Tuukkanen and Heta Korpibaara all finished in double digits with 15, 14 and 12 points each.
---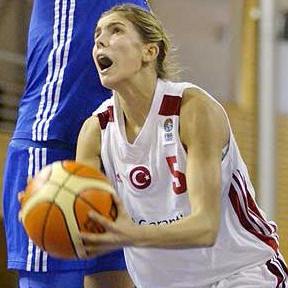 Turkey needed overtime to get past Hungary (78-75) in the comeback of the evening.
Hungary playing at home went into the fourth quarter leading (69-54) but then failed to score a single point during 10 points.
Turkey pulled level with a minute to play in regulation time by Kübra Siyhademir (right).
Turkey then kept Hungary scoreless for almost three minutes of overtime while establishing a lead (73-69).
Bahar Caglar with the last 5 points for Turkey put her side in the driving seat. But Hungary did come back and almost took the game into double overtime.
Nevriye Yilmaz and Dóra Hortiled led their team in scoring with 19 points each.
With this victory Turkey join Montenegro in Poland for the final of EuroBasket Women 2011.
Great Britain qualified for EuroBasket Women 2011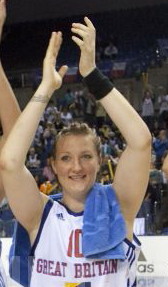 Great Britain Women have qualified for Eurobasket Women 2011 from Group D after completing the double over Germany with a home victory (77-59).
Julie Page (left) top scored for Great Britain.
Great Britain led from start to finish and went into the locker room (47-24).
Germany had the better of the third quarter but were unable to continue their momentum in the final quarter.
Tom Maher, the Great Britain coach, gave Liz Hutchinson and Joanna Clayden their first start in the qualification series as his players made it four wins in a row.
Jo Leedham and Kim Butler contributed 15 and 12 points each for the winners while Roli-Ann Nikagbatse led the German attack with 14 points.
---
Ukraine came out on top against the Slovak Republic (80-78) in a dramatic finish to an evenly contested match.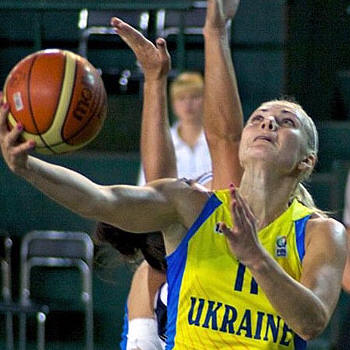 The game went to the wire with the Slovak Republic having the last chance to win the game.
But Luisa Michulkova's trey failed to connect and then Lucia Kupcikova final attempt to take the game into overtime also went astray.
Nataliia Isachenko (right) led the Ukraine attack with 19 points while Erin Lawless scored 20 points for the guests.
Ukraine need to beat Great Britain in their last match and hope that Germany beat the Slovak Republic to take the second place in the group.
---
Return from EuroBasket Women qualification basketball news to FIBA Europe competition index
Return from news bulletin to France senior international basketball page
GO Back to the top of the page
---
EuroBasket Women picture credits:
womensbasketball-in-france.com

FIBA Europe
Dan Woller

Date created: 26 August 2010
---