EuroBasket Women 2011: Lithuania is in the final for the qualifyers
Lithuania
became the first team from the EuroBasket Women Qualifiers to book their ticket for the finals with a road victory against Belgium (64-61).
In Group B Serbia and Israel are tied in first place with 3 wins and 1 defeat each.
Montenegro's perfect record in Group C came to an end with a defeat by Bulgaria.
Group D is still wide open with all four teams still in the qualification picture.
You can read the EuroBasket Women 2011 news from all the groups by clicking on the links below or by scrolling down the page:


Group A: Lithuania in the final

Group B: Two teams in first place

Group C: Montenegro had their first defeat

Group D: Great Britain top their group

Look back on the EuroBasket Women news from all groups results of previous game action.
---
---
Lithuania qualified for final
Belgium, needing to win to keep their own hopes of direct qualification alive, started the final quarter trailing by 7 points (44-51).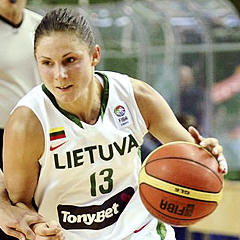 With 2 1/2 left to play, they went in front (58-56) thanks to Kathy Wambe and Ann Wauters.
Yet Sandra Linkeviciene (left) turned things around for Lithuania in a hectic finish with a couple of baskets for the guests to edge in front (62-60).
Wambe had the chance to tie the game from the charity stripes but split the pair and the chance was gone.
Lithuania won the game (64-61).
---
Jelena Ivezic fired in 23 points for Croatia in their home victory against the Netherlands (75-66).
Ana Lelas who will play in Montpellier this season added 11 points for Croatia while former Challes-les-Eaux player Marlous Nieuwveen scored 10 points for the Netherlands.
Croatia have won three of their four games and move into second place in group A behind Lithuania.
Two teams in first place
Latvia got back to winning ways with a comfortable home victory against Romania (83-70). Zane Tamane proved to be the match winner for the hosts with 15 points and 14 rebounds.
For Romania Eurobasket Women for 2011 is over. They will finish bottom of group b and will be involved once again the relegation round.
---
In the other game in this group 5000 people roared on Serbia as they defeated Israel (70-68) in a cliff hanger finish.
The players went toe for toe for the duration of the game. Serbia gained the advantage with a 10-1 run at the start of the final quarter. They still led by 7 points as the game entered the final minute.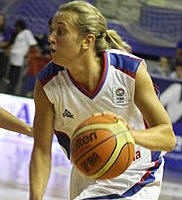 Israel almost closed their deficit with a trey by Laine Selwyn quickly followed by 2 points by Shay Doron.
Serbia felt the pressure. When Jelena Maksimovic was called for travelling with 13 seconds to play, Israel had the chance to win the game or take it to overtime.
Israel worked the ball to Liad Suez Karni who fired a shot from beyond the arc. However the attempt failed to connect and they lost.
Adrijana Knezevic (right) led the Serbian attack with 15 points.
---
---
Montenegro had their first defeat
Bulgaria ended the perfect record of Montenegro by beating them (89-57).
Montenegro started the game well and led (12-11) with five minutes played but then fell asleep.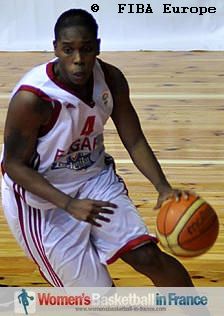 Jaklin Zlatanova scored 9 points as Bulgaria outscored Montenegro 17-5 to finish the first quarter leading (28-17).
The misery continued in the second quarter for Montenegro with just 6 points while Bulgaria fired in 23 points to end the game as a contest by the interval (51-23).
Donneka Hodges (right) finished the game with 20 points for Bulgaria while Zlatanova who did not score in the second half was the other player in double digits with 18 points.
Jelena Dubljevic led Montenegro with 17 points.
---
Finland will finish bottom of Group C after falling at home to Hungary (56-61). 20-year old Tijana Krivacevic saved Hungary from possible defeat by making 4 free throws in the last 90 seconds.
Krivacevic led the Hungarian attack with 16 points while Taru Tuukkanen also scored 16 points for Finland.
Great Britain top their group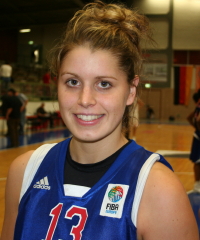 You would not have known that Tom Maher was the coach of a winning team after Great Britain recorded another win on the road, this time (70-63) against the Slovak Republic.
A gusty second-half performance by Great Britain and 26 points from Jo Leedham (left) was enough to down Slovakia and sent them to the top of their group.
Leedham went 6-of-9 from behind the arc while Natalie Stafford was the only other player in double digits. Ivana Jalcová was the most productive player for the hosts with 15 points.
---
Playing at home does not seem to help Germany in winning games. They let a 14-point advantage disappear in the defeat against Ukraine.
Maryna Sazonenko went 6-of-10 from beyond the arc and finished with 23 points for Ukraine while Linda Fröhlich was again the main scorer for Germany with 19 points.
Germany's home programme has finished.
---
Return from EuroBasket Women qualification basketball news to FIBA Europe competition index
Return from news bulletin to France senior international basketball page
GO Back to the top of the page
---
EuroBasket Women picture credits:
womensbasketball-in-france.com

FIBA Europe

Date created: 24 August 2010
---