2009 FIBA Europe women's player of the year
Sandrine Gruda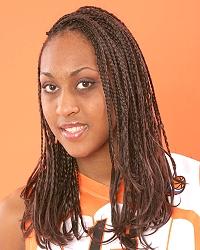 Sandrine Gruda
is the third player who has won the FIBA Europe women's player of the year award. She came 13th in the public vote but received enough expert votes to edge out Latvian international
Anete Jekabsone-Zogota
and club team-mate Maria Stepanova.
In 2009 Gruda had won almost everything. She celebrated the Russian championship title and Cup victory with UMMC Ekaterinburg. Gruda was also voted the best player in the Russian League.
She then went on to win EuroBasket 2009 with France and was voted into the all-tournament team. She also picked up the prestigious Gazzetta dello Sport player of the year award.
The only thing missing from her European season was the EuroLeague Women title.
When we spoke with Gruda during EuroBasket Women 2009, she explained that she was just doing her job.
Gruda follows in the footsteps of Jekabsone-Zogota who had also won the title of young player in 2005 before picking up the senior title in 2007.
The voting system used to determine
the young player of the year
was also used for the senior award.
womensbasketball-in-france.com has been included in FIBA Europe expert panel.
The table below shows how the experts and public voted.
| Name | Expert | Public | Score |
| --- | --- | --- | --- |
| Sandrine Gruda | 101 | 2,585 | 0,135 |
| Anete Jekabsone-Zogota | 88 | 8,741 | 0,126 |
| Maria Stepanova | 82 | 4,325 | 0,112 |
| Evanthia Maltsi | 70 | 6,217 | 0,099 |
| Amaya Valdemoro | 37 | 6,946 | 0,057 |
| Céline Dumerc | 36 | 4,220 | 0,052 |
| Anna Montanana | 33 | 6,913 | 0,052 |
| Zuzana Zirkova | 24 | 4,569 | 0,037 |
| Yelena Leuchanka | 16 | 4,001 | 0,026 |
| Anna Vajda | 12 | 6,692 | 0,025 |
| Laura Macchi | 14 | 2,147 | 0,021 |
| Anastasia Veremeenko | 9 | 4,246 | 0,017 |
| Ann Wauters | 7 | 5,506 | 0,016 |
| Shay Doron | 8 | 4,017 | 0,016 |
| Jana Vesela | 2 | 3,435 | 0,007 |
GO Back to the top of the page
---
Return from FIBA Europe player of the year news to EuroBasket Women news index
Go to Women Playing Basketball In France Home Page
---
Picture credits:
basket.ugmk

Date created: 12 February 2010
---