France are one of three unbeaten teams at EuroBasket Women 2009
---
---
France remain perfect at the EuroBasket Women 2009 after beating Turkey in a difficult tactical game (55-43).
Pierre Vincent was able to give all his players a run in this game.
Once again when things went tough at the end of the match Cathy Melain's experience in reading situations helped France to weather the storm.
She may have only scored 4 points but she dished out 8 assists. Sandrine Gruda led France with 20 points.
After match audio comments from Sandrine Gruda, Pierre Vincent and Anaël Lardy are found after the match report.
---
France hold off Turkey in a defensive game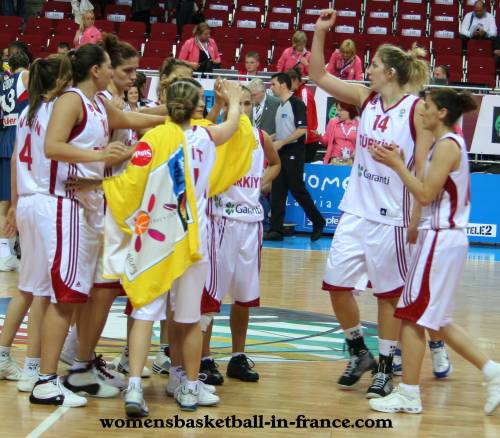 Emméline Ndongue
had four attempts at scoring before a foul was called on her. She then split a pair of free-throws for France to score the first points of the game with 21 seconds played. Turkey were soon on the scoreboard as Yasemen Saylar lifted a pass to
Nevin Kristen Nevlin
to score.
Sandrine Gruda
scored three times for France to go ahead (7-2) with just over three minutes played.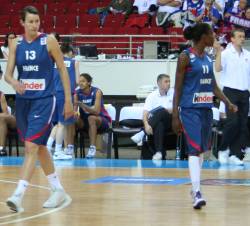 France extended their lead after
Emilie Gomis
created an opening that left Céline Dumerc open for a trey (10-2). Turkey came back with
Tugba Palazoglu
running along the baseline to lay up. This was quickly followed by a three-pointer by Saziye Ivegin. Gruda continued her offensive festival for France with her fourth basket of the quarter before she was substituted (12-7). Pierre Vincent changed the starting five at once with
Anaël Lardy
sharing point guard duties with Florence Lepron for the remaining 3 1/2 minutes of the first period. France's only other points came from the charity stripes as they held on to the lead at the end of the first period (14-11).
Lepron
opened the second period with a three-pointer. But France failed to convert their domination into points. So Pierre Vincent called for an early time-out.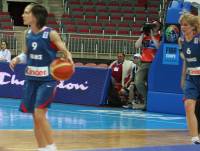 Cathy Melain
was called back into action and came up with a behind-the-back pass directly to Gruda who scored (19-13).
Tugba Palazoglu
was causing France all kinds of trouble and Gruda was called for an intentional foul on her. Palazogu split the resulting free-throws. France quickly got back into their stride and went on a 7-0 run that was started with a three-pointer by Melain (27-18). Palazogu ended France's run but Gruda replied almost immediately for her 14th point of the game. Ceyhyn Yildizoglu, the head coach from Turkey, called for his second time-out of the quarter with 52 seconds left to play. Only 2 points were scored after the time-out by Nevlin from Turkey. France went into the locker room leading (29-20). Gruda and Palazogu continued their personal point festival during a difficult third quarter for both sides.
Foul problems for Dumerc saw her leave the game for a while. Turkey were not able to make up the deficit fast and France extended their advantage (35-26). Pierre Vincent continued to turn his bench which allowed Turkey to cut into France's advantage by the end of the third period. France started the final quarter leading (38-32) with Gruda and Dumerc still sitting on the bench.
Birsel Vardarli
from Turkey made use of the extra space for her second trey of the match. Then Vincent decided to call Melain and Dumerc back in the game (40-35) with 81/2 minutes to play. France were not making much progress offensively as Vincent continued to turn his bench as he searched for some rhythm. The coach from Turkey may have noticed this and called for a time-out with five minutes to play with his side trailing (39-44).
Nilay Yigit
was a handful for France but Lardy stuck to her task of guading her. With Melain steadying the ship France extended their lead (48-41) . Turkey used up another time-out with three minutes to play. Yet once again it was France that found the way to the basket as
Ndongue
concluded another play conducted by Melain. Turkey finally gave up and France had a free run at the end and won (43-55) with once again Gruda leading the scoring with 20 points.
EuroBasket Women 2009 Box Scores.
EuroBasket Women 2009 audio after match comments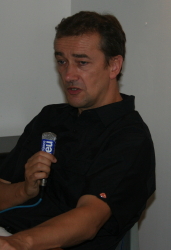 Pierre Vincent
was delighted with the victory and explained that he was happy with the defense in the match. He hopes that this will help them in achieving the second objective which is to qualify for the 2010 World Championship. With the way the team defended, he also hopes that this will help in the EuroBasket Women quarter-final final which is the qualification match for the World Championship. He is happy with the way the team has improved defensively every match and that he will see what happens against Russia. But the most important match is the quarter-final.
---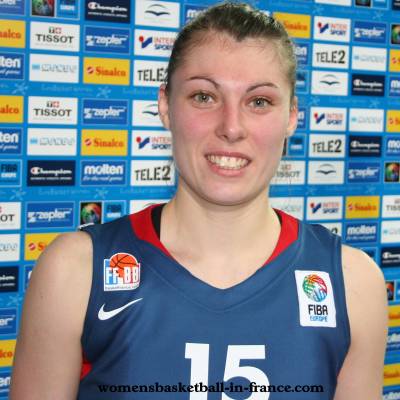 Anaël Lardy, who will be joining Bourges Basket in France next season, is a former French youth international player.
She said that all the matches were important and the match tonight against Turkey was difficult offensively. But they stuck it out and won.
She went on to explain that she was more than happy to be with the squad for her first senior international tournament at the EuroBasket Women.
It was completely different to what she had experienced as a youth international and in the LFB.
She admitted that she had learned a lot here and when she got the chance to play she would give her all but at the same time learn as much as possible to improve her game.
She concluded by expressing her admiration of players like Cathy Melain and other senior players in the French team and that she would try and learn from them because it was not everyday you got the chance to play with such players.
---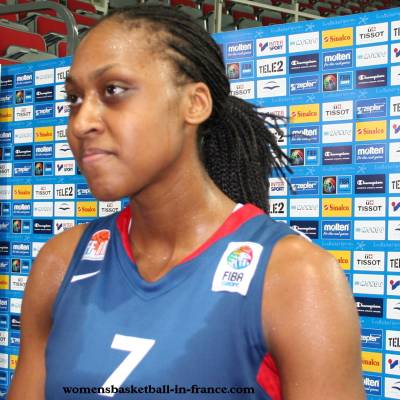 Sandrine Gruda explained that she had a certain task for the team and that was what she was doing at EuroBasket Women.
Some days were good other days not so good when the teams, the opponents put up different defensive systems. All the same for each match she had to show up.
She said that so far the team had had some tough games but up to then everything was okay.
(Note: If you are using Internet Explorer click twice on the triangle)


---
France taken to the wire against Lithuania (57-55
France beat Israel (73-70)to end first phase unbeaten
France need overtime to bear Belarus (63-61)
Return from EuroBasket Women 2009 finals to "What's New" page
Return to Senior International Basketball
EuroBasket Women 2009 pictures credit :

womensbasketball-in-france.com

Date: 14 June 2009
---