First overtime in EuroBasket Women 2009 goes to France
---
---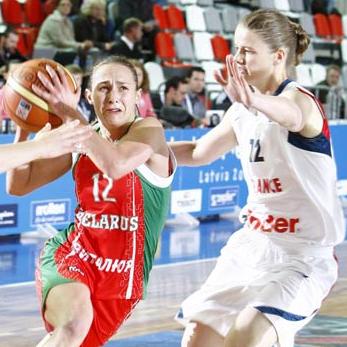 France had a hard time on the second day of the EuroBasket Women 2009 tournament in Latvia.
They have booked their ticket for the Qualifying Round after overcoming 2007 EuroBasket bronze medallist Belarus (63-61) in overtime.
Céline Dumerc led the scoring with 15 points.
She also dished out 5 assists. Sandrine Gruda and Emméline Ndongue finished as well in double digits with 12 and 10 points each.
France advance to EuroBasket Women Qualification Round
France scored the first 6 points of the match with Sandrine Gruda, Céline Dumerc and Emméline Ndongue hitting their shots during the first three minutes of the game.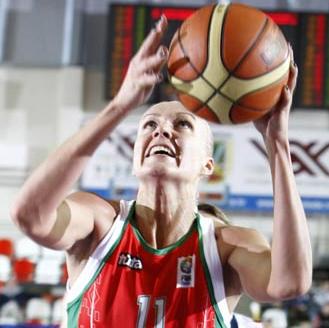 Yelena Leuchanka (left) finally got Belarus off the mark with her trademark drive to the basket.
She also managed to draw Gruda into committing a foul that allowed her a trip to the charity stripe.
Leuchanka made the free-throw and her side was suddenly in the game.
Belarus then compensated with good three-point shooting for their lack of presence in the paint to reduce their deficit to a single point (9-10).
Pierre Vincent called for a time-out and did not mince his words.
His team took notice of his words and finished the first period with a 6-point lead (16-10).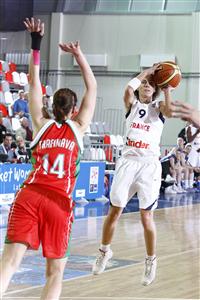 The two-minute break did wonders for Belarus as Anastasiya Verameyenka, Leuchanka and Natallia Marchanka all scored to get level (16-16).
Belarus took the lead for the first time in the game as Tatyana Troina fired in a trey. This lead was short lived as Céline Dumerc (right) fired in a shot from the land of many (21-19).
The game lost its shape briefly with a flourish of basket that left the teams level (24-24) and both coaches angry.
France were the first team to get back into a rhythm.
Dumerc conducted the play and Emmanuelle Hermouet fired a trey from her favourite position. 30 seconds later it was the turn of Emilie Gomis to set up the play for Dumerc to hit her second three-pointer of the game (30-24).
Anatoli Buyalski, the coach from Belarus, had seen enough and called for a time-out. He may have stopped the outside shooting.
But France went inside with Gruda, Nwal-Endéné Miyem and Ndongue all scoring as France went into the interval leading (35-25).
France continued from where they left off after the break with Dumerc and Gruda extending the advantage (40-27) with 22 minutes played.
The game became rather technical, which suited Belarus as they reduced their deficit to 3 points (40-43).
A series of substitutions from both coaches did not help the flow of the game.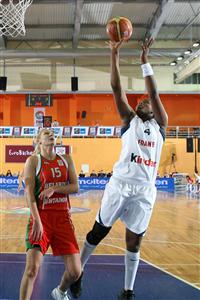 France continued to struggle and Belarus profited by taking the lead briefly through Natallia Anufryienka (46-45).
Dumerc and Isabelle Yacoubou-Dehoui (left) came to rescue of Pierre Vincent as France regained the lead before the end of the third period (49-46).
Katsiaryna Snytsina had a habit of coming out strong with clutch shooting during the final quarter at matches during EuroBasket 2007.
She lived up to her reputation with back to back scores for Belarus to bring her side to within 1 point of France with seven minutes left to play (54-55).
For almost five minutes neither side was able to hit the basket and the tension rose. France looked out of sorts while Belarus played with confidence.
Belarus finally broke the dead lock and went in front with Marina Kress finishing off a move from Anastasiya Verameyenka.
Yuliya Dureika from Belarus then scored a three-pointer after the nice work from Marchanka. (59-55).
France still had two minutes to save the game.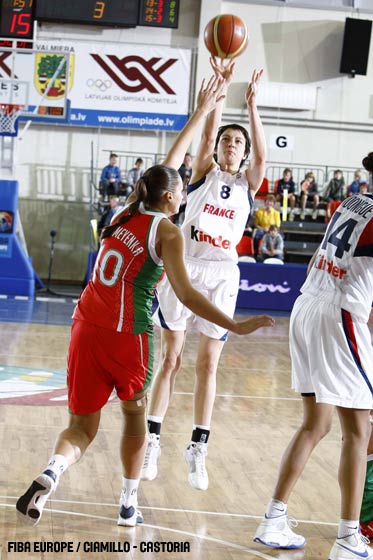 Ndongue hit a pair of free-throws but the drama came right at the end of regulation time with France having a time-out and trailing by 2 points.
Vincent explained the last play which resembled a Bourges Basket play.
The execution was perfect as Cathy Melain delivered the pass to Hermouet (right), who hit the jumper to force overtime.
Overtime was dull in comparison to what happened in the last minute of regulation time.
Hermouet's two free-throws were the only points in the first three minutes.
Ndongue (left) scored the first points from open play with just under two minutes remaining in period.
Snytsina set up another dramatic finish as she scored for Belarus with just under a minute to play.
Ndongue had the chance to secure the victory for France from the free-throw line with 10 seconds to play.
She missed both free-throws but Belarus were unable to construct another attack.
France sneaked through (63-61) and have qualified for the next phase of EuroBasket Women 2009.
Dumerc led the scoring for France with 15 points. She also had 5 assists. Gruda chipped in 12 points while Ndongue finished with 10 points and 10 rebounds.
EuroBasket Women 2009 Box Scores.
---
Return from EuroBasket Women 2009 finals to "What's New" page
Return to Senior International Basketball
EuroBasket Women 2009 pictures credit :

Castoria - FIBA Europe
Date: 08 June 2009
---