Nika Baric is FIBA Europe
young player of the year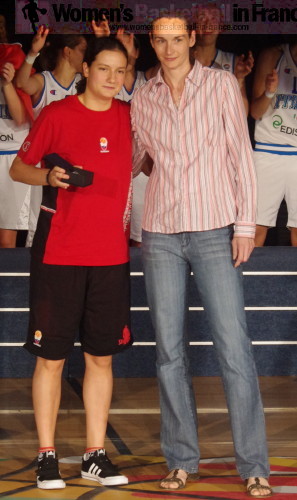 Nika Baric
is the newest member of the FIBA Europe young player of the year.
Anete Jekabsone was the first winner in 2005. She then passed the award over in 2006 to Sandrine Gruda.
In 2007 it was the turn of Sonja Petrovic to hold the trophy.
The LFB's hold on the trophy came to an end in 2008 with Gintare Petronyte's election as player of the year, while the 2009 accolade went to Alba Torrens.
European youth championship accolades
Baric who is 18 years old has been been picking up international youth awards since the age of 12.
In 2005 she first played for Slovenia in a youth European Championship Division B where her team finished in 7th place and Baric averaged 13 points per game.
However it was the 12th August 2006 during her second championship that the phenomenon Baric started to become a household name after scoring 39 points in Slovenia's victory against Bulgaria (73-56).
Slovenia finished fifth that season.
In 2007 Baric played in the U16 and U18 championship. She picked up her first MVP award during the U16 championship and also a bronze medal with Slovenia.
In 2008 she made her first appearance with the national senior team and played only for the U18 team, where she picked up another bronze medal and the MVP award.
In 2009 her dream came true when Slovenia finally won promotion to Division A.
Baric was injured during the semi-final match and did not play in the final. However she picked up her third MVP award.
In the summer of 2010 she once again excelled and helped the 1992 generation to qualify for the 2011 FIBA World Championship with a fourth place finish.
Baric again was voted MVP but also dedicated the qualification to her team-mates.
Baric plays her club basketball in Slovenia under the guidance of Damir Grgic at ŽKK Merkur Celje.
The awards for player of the year are decided by a public vote and an expert voting panel. Once again
womensbasketball-in-france.com
has been part of the expert panel.
Fiba Europe have a weighting formula to determine the final ranking. The table below shows how the experts and public voted.
| Name | Expert | Public | Score |
| --- | --- | --- | --- |
| Nika Baric | 119 | 6995 | 0.145 |
| Alina Iagupova | 80 | 2454 | 0.094 |
| Olesia Malaschenko | 72 | 3911 | 0.087 |
| Sabine Niedola | 65 | 5546 | 0.082 |
| Marina Solopova | 62 | 3695 | 0.076 |
| Marta Xargay | 58 | 6874 | 0.076 |
| Anastasia Logunova | 38 | 3253 | 0.048 |
| Cristina Bigica | 23 | 8698 | 0.038 |
| Leonor Rodriguez | 24 | 6578 | 0.037 |
| Olivia Epoupa | 23 | 3482 | 0.031 |
| Emma Meesseman | 16 | 6032 | 0.027 |
| Ksenia Tikhonenko | 16 | 4283 | 0.024 |
| Artemis Spanou | 11 | 4407 | 0.019 |
| Gaia Gorini | 9 | 2360 | 0.014 |
| Diandra Tchatchouang | 0 | 1871 | 0.003 |
Go back to the top of the page
---
Return from FIBA Europe young player of the year news to European youth competition index
Go to Women Playing Basketball In France Home Page
---
Women picture credits:

womensbasketall-in-france.com

Date created: 11 February 2011
---