U18 youth international basketball: Belgium and Latvia thriving for first place
---
---
The 2008 youth international basketball edition for the U18 Women Division B ends on 15 August:
Later this evening you will be updated on the results of the final between Belgium and Latvia, as well as the match for third place.
---
Latvia won final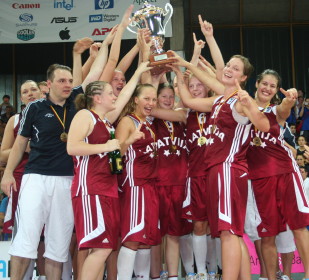 It took just 27 seconds for Belgium and Kim Mestdagh to open the scoring with a three-pointer. Five seconds later Anete Steinberga was down the other end to score for Latvia and draw the foul (3-3).
Both coaches kept on calling out instructions as they were looking for every opportunity to gain the upper hand. The contrasting styles of the sides made the early exchange compelling: Belgium's switch between three-point plays and fast breaks against the Latvian long pass and inside play.
However it was Latvia who had the early advantage (11-8) as Sabine Niedola gave a display of her shooting game.
The action became more intense as Noémie Mayombo started her runs into the heart of the Latvian defence. Every time Belgium appeared to find a solution Latvia came up with something else to stay ahead (21-16) after the first period.
A change in offensive options by Latvia and Belgium's poor free-throw shooting (5-of-13) allowed Latvia to open the first significant advantage of the game (35-21).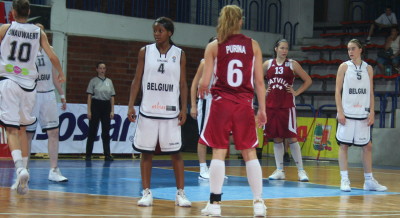 Belgium decided not to go for the long shots but run face on into the Latvian defence with direct passes on the fast break. The results was 6 straight points for Belgium and a lot of shouting by Latvian head coach Martins Zibarts.
Latvia did not panic and finished the quarter with a three-pointer by Arta Strupovica to go into the interval leading (44-27).
Latvia opened the third period with a trey by Ieva Krastina. Furthermore they extended their advantage as Liene Priede scored their next points.
Belgium made a mini-recovery with Mayombo scoring 5 points (3+2). Still Latvia continued to dominate the boards with in particular Niedola causing havoc with 19 points and 13 rebounds after 25 minutes (59-34).
Things went from bad to worse for Belgium as they were hit 7-0 and trailed by more than 20 points (35-66).
Latvia went on to control the game and went into the final quarter with a commanding advantage (73-41) after Strupovica hit a three-point buzzer beater.
It was one-way traffic in the final period as Latvia pushed their advantage up (83-45). The game was played out with Latvia winning (96-64).
For Latvia Niedola top scored with 25 points, including 15 rebounds. Steinberga had 16 points. Priede and Strupovica scored 11 points each.
For Belgium Mayombo had 19 points, followed by Raman with 16 and Strubbe with 12 points apiece.
---
Slovenia taking bronze

Greece started the game more aggressively compared to the one in the qualification round.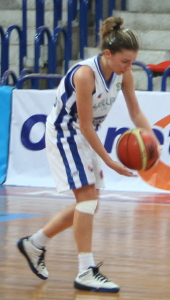 Aikaterini Kontali opened the scoring from the free-throw line as she split a pair of free-throws.
Ines Kerin started her scoring with her customary three-pointer. However Angeliki Nikolopoulou from Greece also hit one from the land of many and the match was launched.
Greece took advantage of Slovenia's lack of attention to open up a gap (10-5) after scoring 6 points. Slovenia then woken up went on a 9-0 run to regain the lead (14-10). They accelerated the pace to finish the first period leading (21-13).
The game had no real pattern as the two teams dragged their tired bodies up and down the hall with Slovenia going into the locker room leading (39-29).
Slovenia attempted to end the game as a contest early in the third period. They had decided to display their offensive repertoire as they scored from all over the court to increase their advantage (53-40).
Greece survived the onslaught and responded with back to back three-pointer s from Kontali and Angeliki to reduced the deficit. Yet they forgot to guard Kerin. She obliged with a three-pointer.
Slovenia went into the final quarter leading (57-48).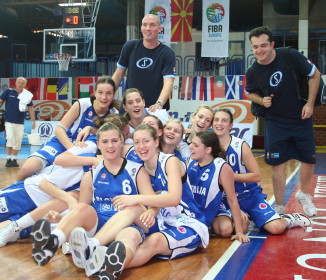 Then Slovenia cruised to victory (80-66) and got bronze with Kerin putting in a buzzzer three-pointer to end the game.
Top scorers for Slovenia were Kerin and Oblak with 20 points apiece while Nika Baric had 15 points (8 assists).
Greece had in double figures Kontali with 18 points, followed by Ionna Diela with 12 points. Nikolopoulou and Anna Kavasali had 10 points each.
---
Nika Baric is MVP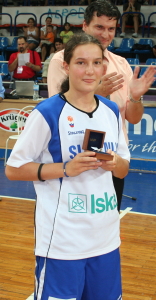 Nika Baric was elected MVP. This is the second time she been elected MVP of a FIBA Europe event.
The all star teams contains two players from Latvia, Sabine Niedola and Anete Steinberga. They are joined by Jana Raman from Belgium, Marianne van den Hoek from The Netherlands and Naama Shafir from Israel.

---
Youth international basketball news from the U18 European Championship Women Division B - Day 8
Youth international basketball news from the U18 European Championship Women Division B - Day 7
Qualifying preview: Eight nations fight it out for promotion
Youth international basketball news from the U18 European Championship Women Division B - Day 6
Youth international basketball news from the U18 European Championship Women Division B - Day 5
Youth international basketball news from the U18 European Championship Women Division B - Day 4
Youth international basketball news from the U18 European Championship Women Division B - Day 3
Youth international basketball news from the U18 European Championship Women Division B - Day 2
Youth international basketball news from the U18 European Championship Women Division B - Day 1
Read Division B - Skopje preview
Return from U18 European Championship Women Division B Basketball news to youth international basketball index

Date created: 15 August 2008
---