Skopje's Basketball U18 European championship Women B top eight preview
---
---
The Basketball U18 European Championship Women Division B has reached its second phase. Eight nations are left in the battle for promotion.
In Group E there are Greece and Slovenia with an advantage as they start the qualifying round with a win as they had beaten group members Estonia and Germany.
In their last group match Greece demonstrated against Germany some of their defensive strengths. So far they have economised key players such as point guard Aikaterini Kontali and power forward Ioanna Diela.
They have also a strong bench to count on when things are not going right. They are the only team in Group E who have won all their first-round matches.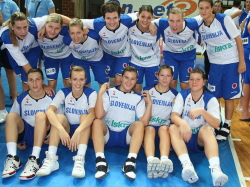 On the other hand Slovenia did not have the best of start in this tournament as they were narrowly beaten on the first day by Macedonia, the hosts (74-73).
Since then they have bounced back and most importantly shown that the team is not only Nika Baric. Their coach, Damir Grgic, has built a solid backbone with Tjasa Gortnar, Ines Kerin, Teja Oblak, Polona Zalar and captain Lea Jagodic.
All of the Slovenian players have taken responsibility in key moments of the different matches.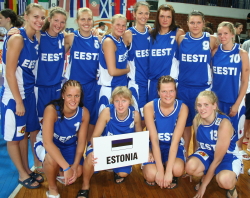 Estonia hunt in packs of three. So far at least two of these three key players Triin Mitt, Triin Teppo, Kerttu Gallai have been involved in this sort of offensive attack.
The Estonian team have also shown the ability to take pressure in close matches. Most impressive was their performance against Macedonia.
They were trailing by 5 points before a power failure and remained focused waiting for the restart to take the win (57-50).
Their point guard Anastassia Ptitsona is also a player to watch out for clutch three-point shooting.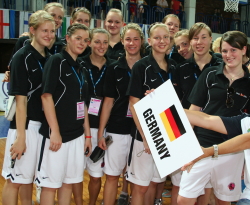 Germany's head coach Reiner Chromik is the driving force behind his team.
Chromik decided not to bring the three players back down from U20 and feels comfortable with his roster. He rotates frequently that causes problem for the opposing teams.
---
---
In Group F Latvia and The Netherlands are unbeaten while Belgium and Hungary start the second phase a game down.
Latvia were the pre-tournament favourites due to the fact that they are the best placed team remaining from the 2006 U16 B championship.
Their current coach, Martins Zibarts, led this generation of players to silver two years ago. With Anete Steinberga and Sabine Niedola, who have excelled in the recent 2008 U20 championship Division B, the team has two power houses in the European category for youth basketball to count on.
Furthermore the Latvian team probably has the most complete roster of this European Championship.
The Netherlands have gone from strength to strength since their preparation finished.
They have managed to integrate three players from the U20 Division B championship into the team. Their strength has always been shooting from beyond the arc.
They have also added an interesting inside game to their armoury with Karina van den Nieuwendijk.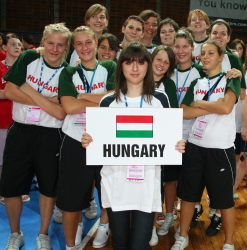 Hungary is an unknown side in Division B as they are more accustomed to Division A competitions. Lilla Horváth is the motor behind the team.
In their first match in Skopje against The Netherlands with a defeat they had to learn to come back strong and are under pressure since.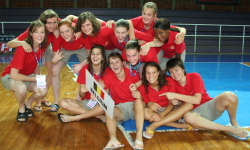 Belgium's coach, Arvid Diels, has already stated that he wants his team to make at least the semi-final.
Most of the players on the squad had played in Division A under U16. Their captain Jana Raman and Noémie Mayombo have experienced the U21 world championship in 2007 where Belgium finished fifth.
Add the three-point shooting qualities of Kim Mestdagh the team has all the elements to go all the way in this tournament.
---
Basketball U18 European Championship Women Division news from Skopje
Youth international basketball news from the U18 European Championship Women Division B - Day 5
Youth international basketball news from the U18 European Championship Women Division B - Day 4
Youth international basketball news from the U18 European Championship Women Division B - Day 3
Youth international basketball news from the U18 European Championship Women Division B - Day 2
Youth international basketball news from the U18 European Championship Women Division B - Day 1
Basketball U18 European Championship Women Division B - Skopje preview
Return from Basketball U18 European Championship Women Division B Basketball to "What's New" page
Return from basketball U18 European Championship Women Division B Basketball news to youth international basketball index

Date created: 12 August 2008
---