On day 3 of the youth international basketball campaign in Skopje the following teams have already been eliminated from the qualification rounds: Austria, England and Scotland.
Group C and D full match reports will be found on this page by either scrolling down the page or clicking on the link below.
In Group A Germany secured their qualification by beating Luxembourg (57-51). Despite Lynn Schreiner's efforts with 24 points the Luxembourg team was not able to end Germany's unbeaten run.
Austria's dreams of making the qualification round have been put to an end by Greece (47-78).
Group B is living up to its title of group of death as all of the teams have picked up at least one victory as Portugal beat Macedonia (67-56). Furthermore Slovenia bounced back after their opening day loss to beat Israel (86-66) with Tjasa Gortna scoring 32 points and taking 22 rebounds for Slovenia.
Latvia went back to defence and hit England on quick transitions that ended up in either three-pointers or lay-ups. They went into the interval leading (54-26).
The Latvian coach had the luxury of turning his bench as his side continued to dominate and stretch their lead (83-39). The English coach also decided to play her bench as nothing was going her way.
In double figures for Latvia were Ilze Gotfrida, Klintsone, Nimane and Laura Vetra with 16, 12 and 10 points respectively.
England's top scorers were Kelsey Bardsley with 11 and Katrin Chiemeka with 10 points.
Finland bouncing back to beat Bosnia
Ana Niksic got the first points on the boards as Bosnia fouled her while going to the basket.
However it was Finland's shooting from beyond the arc with Saara Väre, Johanna Lemmetty and Meri Eerikinharju all making early shots to take the lead (13-7).
Bosnia replied with 9 straight points to briefly regain the lead. But the game was tied (16-16) entering the final two minutes of the first quarter.
Finland won the basket-for-basket exchange to go in front (20-18) at the end of the first period.
The second quarter was played at a much slower pace with the lead changing hands six times as neither side was able to impose their style on the game.
Finland went into the locker room leading (36-35).
A complete change in attitude by both sides at the start of the second half resulted in end-to-end basketball in typical youth fashion with players and coaches contesting everything as they all tried to get the upper hand.
Finland started the festival of three-points with Lemmetty and continued to hit from distance for the rest of the period.
Bosnia did most of their work on fast breaks and tied the game for the 10th time on the period ending buzzer (55-55) as Tamara Kapor hit a jump shot in the paint.
The two sides continued to play cat and mouse all round the court: Finland prefered to shoot from distance while Bosnia worked just outside the paint.
With just under four minutes to play Bosnia held the advantage (63-60). Yet they once again allowed Finland too much room and Suvi Hakkarainen hit a trey from the top of the arc to tie the game (63-63).
Bosnia did not learn their lesson and Lemmetty put another shot from the land of many as Finland regained the lead for good (66-63).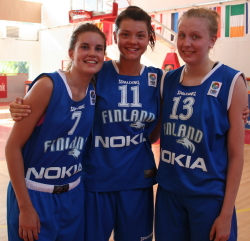 The last 29 seconds belonged to Finland as they controlled the situation perfectly with Kia Ignatious hitting 3-of-4 from the free-throw line to win the game (70-67).
Lelletty (no. 11) finished with 21 points including 4-of-6 from behind the arc. Ignatius (no. 7) joined her in double digits with 11 and Titta Lepistö (no. 13) scored 10 points.
Tamara Kapoor led the scoring for Bosnia with 19 points and Irena Vrancic joined her in double digits with 11 points.
---
Holland was made to sweat before beating Denmark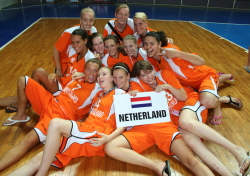 Denmark played a different offensive system to the one displayed the previous evening. This confused their opponents.
Yet The Netherlands had the better start and led after the early exchange (6-4). Denmark's response was to switch to a zig-zag cross play that forced the Dutch players to start running all over the court.
Denmark scored 10 quick points off this tactic (14-6). The Netherlands struggled for the rest of the period and were trying to work out the Danish offensive. They only survived the onslaught due to their height advantage.
Ida Preetzmann led the Danish offence and scored 9-of-20 of her team's points as they held on to the lead (20-14) at the end of the first quarter.
The Netherlands switched to zone after the break which slowed Denmark down. Maaike Klein completed the Dutch recovery as she nailed a three-pointer (23-22).
Natalie van den Adel came up with a couple of individual actions that took the Dutch side into the interval with an 8-point lead (34-26).
Denmark played another offensive system at the start of the third period which created space for them to either drive to the basket or shoot. By the time Ida Krough performed a reverse spin left-hand lay-up (34-38), Denmark was right back into the game.
The Netherlands required individual exploits by Adel and Karen von den Nieuwendijk to keep Denmark at bay (43-38). This was not enough as Denmark were playing yet another system. They started to press more and more which resulted in normally Preetzmann or Emilie Hesseldal scoring.
The Dutch coaching staff called for a time-out and explained to their players what they wanted them to do. It worked as they scored the last 4 points of the period to go into the final period in front (49-44).
It is difficult to describe what offence Denmark played. But it was exciting to watch and difficult to play against. Denmark punished their opponent's turnovers with points with Preetzmann tying the game (55-55) with just under five minutes to play. She was fouled in the process and hit her free-throws to give Denmark the lead (56-55).
The last four minutes was typical of youth basketball as both sides were running up and down the court and falling all over the floor. This tactic suited the Dutch team.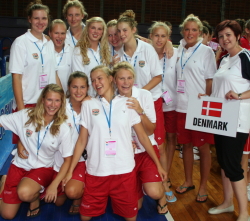 The Dutch skill in fast breaks, mixed with excellent three-point shooting allowed them to score 13 straight points (68-56) to make the game safe.
The Netherlands went on to win (71-58).
Nieuwendijk led the scoring for The Netherlands with 19 points. She also had 20 rebounds. Marianne van der Hoek chipped in 17 points and also picked up 10 rebounds in an unselfish display.
Preetzmann led Denmark with 25 points while Hesseldal finished on 17 points.
---
Ireland won first match of the tournament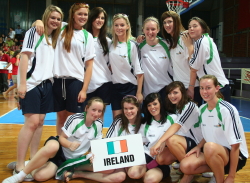 Carol Mc Carthy opened the scoring with a three-pointer baseline jumper. Both sides played a similar type of zone to start the match. Ireland played this system much better to start with. Scotland had to wait until the fifth minute before scoring from open play through Rebecca Allison. In the meantime Ireland had opened a 10-point lead (14-4) with Claire Rockall and Christine O'Gorman combining for 11 points. Ireland continued to control the game and stretched their advantage by the end of the first period (19-7). The game became rather stale at the start of the second period. We had to wait for 2 ½ minutes for anything to happen offensively for Rowan to score off a drive for Scotland. Yet Mc Carthy hit back on the next play for Ireland. Ireland had been doing a good job guarding Mari Buchan and keeping her scoreless. However they left her open for a fraction of a second and she nailed a three-point baseline jumper, her first points of the game. The pace went up a notch and Rockall from Ireland found space where there was no space to get into the box to lay up (23-12). This action was the trigger for both teams to play at a higher speed. This actually favoured Scotland and Buchan in particular as her side reduced their deficit (22-29). The game became very physical as the half-time buzzer approached. However Ireland went to the locker room in front (30-23). Both sides went back to a standard zone at the start of the second half, which made scoring very tough. The game was already physical. Unfortunately Kara Gilles from Scotland received an unintentional blow to the nose and had to leave the court for treatment. Ireland had managed to stop Buchan offensively but then had to deal with Rowan as they held on to their lead (35-28). Both sides stopped playing zone at the same time. All of a sudden the baskets started to flow. Rockall once again made something out of nothing and fed the ball out to Orla O'Reilly who hit a two-point jumper just within the three-point line. However Deanne Hayword was quickly down the other end for Scotland to score. There was no time to catch one's breath as Rockall ran back to score and was fouled in her attempt. She hit her free-throws. The two sides continued running up and down. Scotland called for a time-out with 41 seconds left to play in the third period. Ireland had opened up the first significant lead of the game (44-32) and added 2 more points to their tally as Rockall scored her 11th point of the game (46-32). Kara Gilles was back in the game ending Ireland's 10-0 run by splitting a pair from the charity stripes (33-48). The two teams continued to play at pace and basically went basket for basket with Ireland holding the advantage (57-39). Sinead O'Reilly was to pick up a technical foul as she contested an official decision. Scotland were to hit 3-of-4 free-throws and then started to take control of the game to reduce their deficit to 11 points as Gilles and Buchan started to hit their free-throws (48-59). Rockall came up with a couple of crucial plays to give Ireland some breathing space (63-48). Scotland had not given this game up and did everything in their power to bring down the score but just ran out of time and luck as Ireland went on to win (69-56). Ireland's top scorers were Orla O'Reilly with 16 points, followed by Rockall with 15 and Mc Carthy with 14 points. For Scotland Buchan had a double-double with 17 points and 13 rebounds. Allison scored 15 points. 10 points came from Gillies.
Jimmy Diggans, the head coach of Ireland U18, is happy with the way things are going in this youth international basketball competition.




(Note: If you are using Internet Explorer click twice on the triangle)


---
Youth international basketball news from the U18 European Championship Women Division B - Day 2
Youth international basketball news from the U18 European Championship Women Division B - Day 1
Read about the Youth International Basketball Division B - Skopje preview
Return from Youth International Basketball news to "What's New" page
Return from U18 European Championship Women Division B Basketball news to youth international basketball index
Youth international basketball from Division A in Nitra, July 2008
Youth international basketball news from the U18 European Championship Women Division A Day 8
Youth international basketball news from the U18 European Championship Women Division A Day 7
Youth international basketball news from the U18 European Championship Women Division A Day 6
Youth international basketball news from the U18 European Championship Women Division A Day 5
Youth international basketball news from the U18 European Championship Women Division A Day 4
Youth international basketball news from the U18 European Championship Women Division A - Day 3
Youth international basketball news from the U18 European Championship Women Division A - Day 2
Youth international basketball news from the U18 European Championship Women Division A - Day 1

Date created: 08 August 2008
---